Dir. Bouli Lanners, France/Belgium, 98 minutes, 2016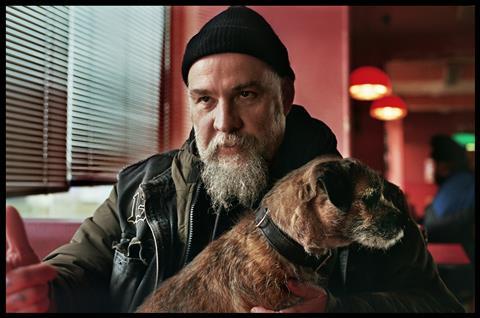 This homage to the road movie and other things American on the plains of Belgium reaches for gestural absurdity, and captures it. Actor-director Bouli Lanners' cocktail of cameraderie and satire is structured around the quest for a lost mobile phone, which provides the mock-heroic core for his comedy.
Lanners and his team get you almost all the way until the black humour runs out
With hipster wit, endless film allusions, and deadpan Belgian surrealism, The First, The Last should have a solid run in festivals, although its theatrical future beyond French-speaking countries is likely to be in art houses and midnight movies.
The motors get running, literally, when two ageing bounty hunters in need of work, Gilou (Lanners) and Cochise (Albert Dupontel), get orders to recover the lost mobile phone. Its contents are one of many punch-lines. Both men have the grizzled look of retired warriors and Lanners's script puts them on a collision course with a duo of even more unfortunate souls, the homeless itinerant Willy (David Murgia) and his unhinged fearful girlfriend, Esther (Aurore Broutin).
As with any road movie, this comprises a string of accidental encounters with collateral fallout that makes the deadpan all the more entertaining. Gilou collapses from a heart attack. Cochise, in a landscape where anyone could wander alone for days, meets the only available woman for many miles. Willy is mistaken by locals for an attacker of someone's wife. A homeless man named Jesus (Philippe Rebbot) has the stigmata of the passion on his hand – a bullet hole that you can see through. Max von Sydow has an inspiring walk-on reminiscent of Waiting for Godot as a priest who eulogises a long-dead corpse that Gilou's dog stumbles upon.
Shot in a grey Belgian winter, and in an abandoned industrial interior with low light, The First, the Last comes close to the monochrome of black and white, with the odd effect of turning its bearded characters into the faces that one might find either in 17th century prints or in the chiaroscuro of comic book melodrama.
The poker-faced inanity of so much of The First, The Last calls to mind The Kidnapping of Michel Houellebecq by Guillaume Nicloux (2014), which observed a similar outcast milieu in its salute to the absurd. Yet Lanners seems more in a swoon for American images and genres – everything from the pickup trick to blues music to bounty hunting to shotguns to a hopeless quest. The mix of reverie and mockery works until the film's too-happy conclusion. Lanners and his team get you almost all the way until the black humour runs out.
Production company: Versus Production, ADCB Films
International sales; Wild Bunch obarbier@wildbunch.eu
Producers: Jacques-Henri Bronckart, Olivier Bronckart, Catherine Bozorgan
Screenwriter: Bouli Lanners
Cinematography: Jean-Paul de Zaeytijd
Editor: Ewin Ryckaert
Music: Pascal Humbert
Production Design: Paul Rouschop
Main cast: Albert Dupontel, Bouli Lanners, Suzanne Clément, Michael Lonsdale, David Murgia, Aurore Broutin, Philippe Rebbot, Serge Riaboukine, Lionel Abelanski, Virgile Bramly, Max von Sydow