Michael Keaton returns as Batman to mentor Ezra Miller's The Flash in this race through the DC multiverse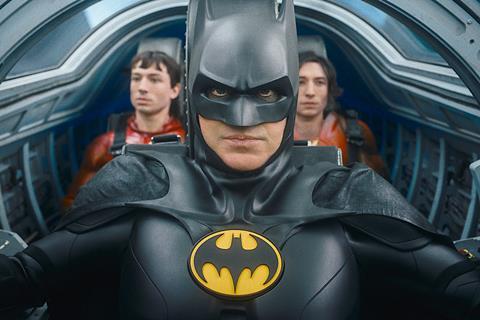 Dir: Andy Muschietti. US. 2023. 144mins
DC takes the multiverse for a spin in The Flash, an entertaining adventure that outruns its familiar narrative trappings thanks to a playful sense of humour and the arrival of an iconic character in a supporting role. Ezra Miller (Fantastic Beasts, We Need To Talk About Kevin) is compelling as the speedy superhero but just as important is Michael Keaton, returning as Batman for the first time in more than 30 years and serving as an unlikely mentor for the younger man once he tampers with the space-time continuum, bringing different dimensions and dangerous foes together.
An entertaining adventure that outruns its familiar narrative trappings
Warner Bros unveils the film in the UK and US on June 16, and there will be much media scrutiny of Miller, who in recent years has become more famous for their tabloid-friendly run-ins with the law than their on-screen work. What is uncertain is how much that will impact general audiences, although the stories and accusations will certainly recirculate over the next few weeks.
Barry Allen/The Flash (Miller) is getting used to life as a crimefighter, even if he's annoyed that he is not as beloved as superheroes such as Batman (Ben Affleck). But he also has other things weighing on his mind — namely, that his father Henry (Ron Livingston) has been unfairly incarcerated for the murder of his wife Nora (Maribel Verdu). Barry cannot prove his father's innocence but he discovers that, with his powers as The Flash, he can travel back in time, which gives him an idea: if he makes a slight alteration to the past, his mother will not be killed and his father will not be accused of the crime.
Unfortunately, Barry's plan backfires, causing unexpected ripples in the multiverse, and he finds himself in a new timeline where Superman's nemesis Zod (Michael Shannon) has returned to wreak havoc — and there's no Superman to stop him. In this alternate reality — where Barry is confronted with a younger, more immature Barry (also Miller) — he seeks out Batman, only to come face to face with a different caped crusader; the one Keaton played in the Tim Burton pictures.
The Flash offers plenty of fan service, paying homage not just to that 1989 Batman but also Man Of Steel, which featured Shannon's Zod. (There are plenty of other Easter eggs and cameos that Warner Bros. does not want spoiled.) Thankfully, director Andy Muschietti (It, It Chapter Two) does a decent job of ensuring that those digressions do not overwhelm the story, largely focusing on Barry's emotional journey to try to save his parents and later, after he realises his mistake, protecting the planet from Zod's ferocious villainy.
Miller has done fine work as tormented young men in We Need To Talk About Kevin and The Perks Of Being A Wallflower, and they play this superhero with sensitivity and a sarcastic streak. It's mildly amusing to watch Miller play two versions of Barry — the other, a hopeless screw-up — and it's a clever twist that the alternate-reality Barry accidentally ends up taking the main character's powers away from him. But while Christina Hodson's screenplay has its lighthearted moments, The Flash tends to be jokey rather than consistently hilarious, the comedy mostly built around the fish-out-of-water scenario.
Keaton's appearance is surely a sop to nostalgic Batman fans, but the Oscar-nominee brings real gravitas to his portrayal of Bruce Wayne; a greying recluse who hung up the cape a long time ago. In this alternate reality, Bruce is not aware of Superman or other superheroes, but he responds to the threat of Zod by reconnecting with his noble Caped Crusader past. Muschietti is especially effective invoking the gloomy grandeur of the Burton films, utilising Danny Elfman's evocative score to excellent effect as this older Batman takes Barry under his wing. The Flash is further helped by a Kryptonian who isn't Superman but, rather, Supergirl, played with fiery rage by Sasha Calle in a performance that mostly feels designed to whet our appetite for subsequent spinoff films.
Marvel has certainly capitalised on the popularity of multiverses in several recent blockbusters — to say nothing of the acclaimed indie Everything Everywhere All At Once, which operated in the same realm — so The Flash is hardly fresh in its time-travelling approach. (Somewhat self-consciously, the picture overtly references Back To The Future.) But, like its title character, The Flash zips along, although it does pause occasionally to ponder Barry's poignant dilemma. If he lets his mother die, the universe will be put back in alignment, but his own family will be shattered. The film finds the pathos in his inner conflict, Miller's mournful eyes a window into the slow burn anguish of this fleet-footed character.
Production companies: Double Dream, The Disco Factory
Worldwide distribution: Warner Bros.
Producers: Barbara Muschietti, Michael Disco
Screenplay: Christina Hodson, story by John Francis Daley & Jonathan Goldstein and Joby Harold
Cinematography: Henry Braham
Production design: Paul Denham Austerberry
Editing: Jason Ballantine, Paul Machliss
Music: Benjamin Wallfisch
Main cast: Ezra Miller, Sasha Calle, Michael Shannon, Ron Livingston, Maribel Verdu, Kiersey Clemons, Antje Traue, Michael Keaton