Sean Baker follows Tangerine with a study of poverty set on the outskirts of Orlando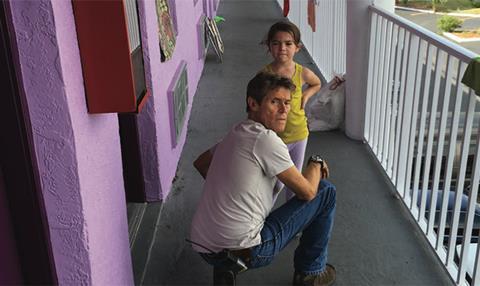 Dir. Sean Baker. US. 2017. 112mins
A remarkable study of poverty, family and personal responsibility, The Florida Project meticulously illustrates how life on the margins affects one impressionable six-year-old. In his follow-up to Tangerine, director Sean Baker again incorporates nonprofessional actors to present a corner of the world that viewers might be quick to ignore otherwise, pinpointing something heartbreaking and true about the ways that people fall into vicious cycles of crime and desperation.
Hired by Baker after he saw her on Instagram, Bria Vinaite gives a volatile performance
Premiering in Directors' Fortnight, The Florida Project will benefit from strong reviews, which, coupled with arthouse enthusiasm for Tangerine, should make this a festival and specialty favourite. Willem Dafoe's presence in the ensemble only further raises the film's commercial profile.
Set on the outskirts of Orlando, Baker's drama takes place largely at a couple of low-rent motels occupied by families in dire financial straits. Child actress Brooklynn Kimberley Prince plays Moonee, a bratty, vivacious girl unaware of the fact that her immature mother Halley (Bria Vinaite) has turned to prostitution to keep their heads above water. Along with her friend Scooty (Christopher Rivera), another motel resident, Moonee whiles away her summer vacation getting into trouble, never far from the watchful eye of the motel's gruff but considerate manager (Dafoe).
After shooting Tangerine on an iPhone, Baker (who co-wrote the screenplay) uses widescreen 35mm for The Florida Project, giving the dilapidated structures maximum vividness. But this isn't a cynical example of so-called "poverty porn." Instead, The Florida Project amplifies the characters' meagre surroundings so that the destitution is always present — while also suggesting that, for Moonee and her friends, this rundown world has its own kind of magic since they don't know any other existence.
The film daringly stays dispassionate about Moonee's antics, which are often infuriating. Running around unsupervised, sassing the adults they come across, and even accidentally setting an abandoned housing complex on fire, Moonee and her friends are nightmarishly wilful — not cartoonish portraits of little hellions but, rather, kids who don't know better. As The Florida Project progresses, we start to see that, because they don't have strong adult role models, they're merely mimicking the ignorant behaviour of their frighteningly young single parents.
Hired by Baker after he saw her on Instagram, Vinaite gives a volatile performance as Moonee's mother. Basically a big kid herself, Halley isn't raising her child so much as she's recruiting a best friend. The Florida Project reveals in a series of small moments just how much she's failing this girl, teaching Moonee to flaunt authority and act out in self-entitled ways. Vinaite relishes playing such a spirited, occasionally insufferable soul, but once the authorities start to intervene, she locates the character's caged-animal ferocity, giving us a hint of how this grubby survivor has managed to function.
Dafoe exudes exhaustion and infinite patience as the hotel manager, who has to constantly discipline his shiftless tenants when he's not doing all he can to help these down-on-their-luck individuals. He's especially good alongside Prince. Moonee's demanding manner is entirely in keeping with the way children can be — not to mention a dispiriting consequence of having Halley for a mother. But the young actress never stoops to being adorable, delivering an unadorned sketch of feral childhood that makes one grieve for the difficult life Moonee probably has in front of her and the lack of means available to change her destiny.
Production companies: June Pictures, Cre Film, Freestyle Picture Company
International sales: Protagonist Pictures, info@protagonistpictures.com
Producers: Sean Baker, Chris Bergoch, Shih-Ching Tsou, Andrew Duncan, Alex Saks, Kevin Chinoy, Francesca Silvestri
Executive producers: Darren Dean, Elayne Schneiderman Schmidt
Screenplay: Sean Baker, Chris Bergoch
Cinematography: Alexis Zabé
Production design: Stephonik Youth
Editor: Sean Baker
Main Cast: Willem Dafoe, Brooklynn Kimberley Prince, Bria Vinaite, Valeria Cotto, Christopher Rivera, Caleb Landry Jones