Roland Joffe's drama stars Forest Whitaker as Archbishop Desmond Tutu opposite Eric Bana as a convicted murderer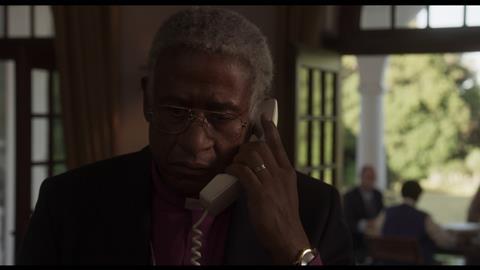 Dir: Roland Joffé. South Africa, UK. 2017. 115 mins
A fictional account of an encounter between Archbishop Desmond Tutu, then the President of the post-Apartheid Truth and Reconciliation Commission, and a convicted murderer seeking redemption, The Forgiven is a decidedly uneven piece of work. Its theatrical origins – it was adapted by Michael Ashton from his own play, The Archbishop And The Antichrist – are evident in some of the overly verbose dialogue and in pacing which, at times, can feel a little sluggish. However there are several blisteringly powerful scenes which lend the picture's message of understanding and unity a weight and authority.
The film comes to life in the most ambitious moments
Although perhaps not dramatically sure-footed enough to negotiate awards season, this is a film which could connect with theatrical audiences looking for worthy prestige dramas and message movies.This performance-led picture also won't necessarily suffer from being viewed on the small screen through streaming platforms. The presence of of Forest Whitaker and Eric Bana in the two lead roles should help raise The Forgiven's profile.
Physically imposing and augmented with a pendulous prosthetic nose, Whitaker is not obvious casting in the role of the diminutive Archbishop. He captures Tutu's ready, open smile and light, lilting voice, but there is little of the frailty and vulnerability of a man who is simultaneously battling cancer and struggling to build unity in a fractured country. Eric Bana is all tensed jaw, taut sinews and clenched fists in the role of Piet Blumfield, a prisoner at Pollsmoor penitentiary who writes an articulately provoking letter to the Archbishop, luring him for a meeting by quoting Milton and Plato.
But while Tutu approaches the encounter with optimism and an open-heart, Blumfield has hatred enough for both men. His argument, that only a race war can result in peace in South Africa, gets under the skin of the man of God. The powderkeg racial tensions in the prison would seem to back up Bloomfield's theory. The savage initiation rights have a bruising authenticity, and the prison gangs appropriate the vernacular of battle – they are 'soldiers' who 'salute' one another.
Meanwhile, Tutu is emotionally invested in the case of a missing teenage girl whose mother Mrs Morobe (Thandi Makhubele, quietly devastating) pleads with him for some kind of closure, even if it is just the opportunity to give her child a burial. She mentions that her daughter feared the police, in particular something called Operation Hacksaw. At a meeting in the prison a few weeks later, during one of his toxic racist rants, Blumfield mentions the name 'Hacksaw', to the obvious discomfort of Francois (Jeff Gum) a prison guard who shares with Blumfield a history and a knee-jerk resistance to the idea of a united South Africa.
There are a few too many inert scenes in whch the archbishop questions his relationship with God, and is gently bossed around by his loving wife (Pamela Nomvete). But the film comes to life in the most ambitious moments – a prison confrontation between Blumfield and the black African gang members, and most notably, a wrenchingly powerful courtroom sequence in which Mrs Morobe finally gets her closure. A tone deaf closing title song by Toni Braxton rather spoils the effect, however.
Production company: LB Entertainment, Light & Dark Films, Jeff Rice Films, Link Entertainment
International sales: 13 Films ross@13films.net
Producers: Zaheer Goodman-Bhyat, Craig Baumgarten, Roland Joffé
Screenplay: Michael Ashton
Cinematography: William Wages
Editor: Megan Gill
Production design: Warren Gray
Music: Zethu Mashika
Starring: Forest Whitaker, Eric Bana, Jeff Gum, Nandiphile Mbeshu, Osbert Solomons, Thandi Makhubele, Pamela Nomvete