Wes Anderson launches his fantastical France-set anthology at Cannes before a September global release through Searchlight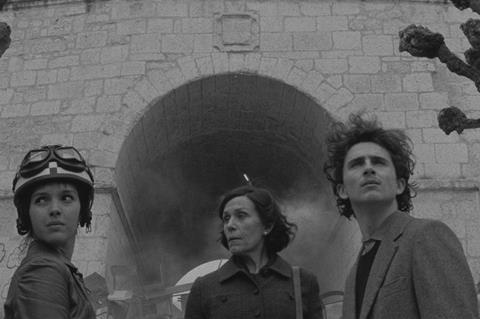 Dir: Wes Anderson. UK/France/Germany. 2020. 107 mins.
Artifice imitates life in The French Dispatch, Wes Anderson's exceedingly clever love letter to literary magazines such as The New Yorker. Told in chapters which represent individual reported stories that appeared in the now-defunct titular publication, the director's 10th feature is among his most visually remarkable, each frame filled with meticulously crafted small details that add up to a dense, inviting cinematic jewel box.
Anderson seeks to mimic the feeling of reading a great story, how the pictures you create in your mind are more vivid than real life (or a film adaptation) could ever capture
Yet the affection he has for these kinds of highbrow, piquant magazine pieces doesn't always translate into sparkling vignettes, resulting in a film in which the marvellous design can prove more engaging than the characters who populate it. The French Dispatch arrives in UK and US theatres on October 22 after premiering in Cannes, and there's no doubting the ready arthouse audience hungry for this film, which includes many of Anderson's regular performers and whose release was delayed due to the pandemic.
Sad news has come to the offices of The French Dispatch Of The Liberty, Kansas Evening Sun: the magazine's founder Arthur Howitzer, Jr. (Bill Murray) has died, his Will stipulating that the publication be shut down upon his demise. As the staff mourn his passing, we see a handful of the respected journal's profile pieces — including a look at Moses (Benicio del Toro), a criminally insane painter in prison for murder; the saga of a student revolutionary named Zeffirelli (Timothée Chalamet); and a reminiscence by Roebuck Wright (Jeffrey Wright), a writer who was to interview a chef but ended up embroiled in an unexpected tale of kidnapping.
Working again with cinematographer Robert Yeoman and production designer Adam Stockhausen, Anderson uses all of his usual tools to transform the film's whimsically named French community of Ennui-sur-Blase into an enchanted make-believe. Aspect ratios shift, the images glide from black-and-white to colour, the sets feel gloriously lived-in and tactile — there's even an extended animated sequence. Add to that a sprightly score from longtime collaborator Alexandre Desplat and it's clear that Anderson seeks to mimic the feeling of reading a great story, how the pictures you create in your mind are more vivid than real life (or a film adaptation) could ever capture.
While the time periods for the film's chapters aren't specified — although Zeffirelli's anarchist surely represents May 1968 — Anderson joyfully replicates and riffs on bygone cultural moments such as sophisticated television chat shows and the rise of postmodern art. (There are also jokes about French pop songs, ultra-serious theatre and Jacques Tati.) Above all, though, there's a respect for (along with a little ribbing of) sober-minded journalists trying to shine a light on their fascinating subjects. That's especially true in the Zeffirelli section, where writer Lucinda Krementz (Frances McDormand) becomes a little too embedded in her story, falling for the young revolutionary as we hear her affected prose in voiceover.
For all its exquisite construction, though, The French Dispatch doesn't have much of the sneaky sentimental undercurrent that makes Anderson's films more than just intellectual exercises. Of the three chapters, that involving Moses is easily the strongest, featuring not just a soulful del Toro but also Adrien Brody as a scheming investor and Lea Seydoux as the painter's unlikely muse. (She also happens to be a prison guard where he's staying.) It's a witty short story full of twists, as well as a resonant affection for its deeply fallible characters.
Unfortunately, the subsequent instalments prove to be lavishly adorned rather than richly involving. Zeffirelli's odyssey is a flawless pastiche of its era, while Wright exudes weary melancholy as a gay writer who has never found his place in the world. (It's hard not to see a little of James Baldwin in Wright's elegant portrayal.) But the actual storytelling in these chapters is less satisfying, leaving the viewer to focus on the packaging as opposed to the content.
The French Dispatch ends with a dedication to several New Yorker luminaries, all of whom advocated that magazines treat publishing as a noble profession, attacking reportage with the same gusto as a novelist or artist. The fact that the film's publication is closing its doors certainly indicates Anderson's concern that such a literary tradition is fading away. Indeed, it's the most poignant element of The French Dispatch, which is expertly crafted but only sporadically page-turning.
Production company: American Empirical
Worldwide distribution: Disney
Producers: Wes Anderson, Steven Rales, Jeremy Dawson
Screenplay: Wes Anderson, story by Wes Anderson & Roman Coppola & Hugo Guinness & Jason Schwartzman
Production design: Adam Stockhausen
Editing: Andrew Weisblum
Cinematography: Robert Yeoman
Music: Alexandre Desplat
Main cast: Benicio del Toro, Adrien Brody, Tilda Swinton, Lea Seydoux, Frances McDormand, Timothee Chalamet, Lyna Khoudri, Jeffrey Wright, Mathieu Amalric, Stephen Park, Bill Murray, Owen Wilson, Christoph Waltz, Edward Norton, Jason Schwartzman, Anjelica Huston