A young immigrant trans woman and her grandmother navigate their life in New York City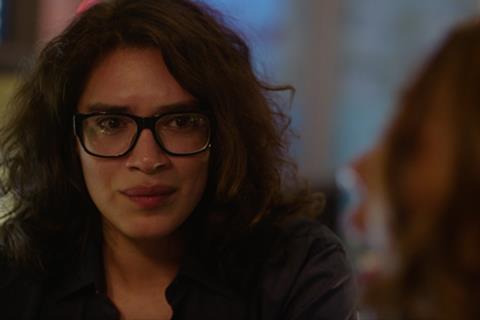 Dir: Flavio Alves. USA, Brazil. 2019. 88mins
A trans woman is confronted by a world that struggles to accept her in The Garden Left Behind, an assured, poignant first feature from Brazilian writer/director Flavio Alves. Distinguished by a cast in which the trans characters are played by trans actors, the film effectively uses the trials of an individual life to illuminate the prejudices faced by a wider community.
Admirably unsentimental, sympathetically observed and warmly played
Alves never lets a campaigning agenda stand in the way of an involving human story and a succession of festival prizes, including the Visions Audience Award at this year's SXSW testify to the film's ability to strike an emotional chord with programmers and audiences alike. Further festival screenings and potential theatrical play should lie ahead.
Tina (Carlie Guevara) is an undocumented Mexican-born trans woman who lives in New York with a grandmother (Miriam Cruz) who still refers to her as Antonio. The affectionate bond between them is one of the bedrocks of the film. Tina drives a limo to pay their bills and saves money for her gender reassignment surgery. Grandma tries to exert subtle pressure on her to stay home. Throughout the film, Tina constantly encounters those encouraging her not to rock the boat.
Much of the film is devoted to immersing us in Tina's daily life, how she thinks of herself and how she is regarded by others. While Guevara plays Tina with a positive, determined air, there is a sense in which she is trying to find a place in the world and build her self esteem. After two years together, boyfriend Jason (Alex Kruz) is happy to meet for sex but less keen to introduce her to any of his friends and family. It is a situation that Tina is finding increasingly more difficult to tolerate.
Our empathy for Tina deepens as we learn more about the people in her life. She is awaiting official permission for transition and meets regularly with the kindly Dr. Cleary (Ed Asner) to determine if she has a genuine case of body dysmorphia. Best friend Carol ( a lively, scene-stealing Tamara M. Williams) is eternally supportive and encourages Tina towards activism after a fellow trans woman is beaten in police custody.
More ominous is the figure of Chris (Anthony Abdo), a sullen neighbourhood store assistant who develops an unhealthy obsession with Tina. Initially, it is hard to determine whether he might be a shy suitor or a dangerous stalker. Eventually, he becomes a heavy-handed embodiment of the hate directed towards the trans community.
The Garden Left Behind is very engaging as a slice of life drama set in unfamiliar New York neighbourhoods that are atmospherically captured by cinematographer Koshi Kiyokawa. Melodrama starts to creep in as the story returns to the opening images of a distraught Tina strolling through threatening night time streets. Mostly, though, the film is admirably unsentimental, sympathetically observed and warmly played by a cast that also includes a brief appearance from Michael Madsen as a genial bar owner who offers Tina a job.
Production companies: Queens Pictures, Autonomous Pictures
International sales: Autonomous Pictures roy@autonomouspictures.com
Producer: Roy Wol
Screenplay: Flavio Alves, John Rotondo
Production design: Kimberly Matela
Editing: Frank Dale Arroyo, Alex Lora
Cinematography: Koshi Kiyokawa
Music: Robert Pycior
Main cast: Carlie Guevara, Michael Madsen, Edward Asner, Miriam Cruz