Christian Schwochow probes small-town dynamics in post-war northern Germany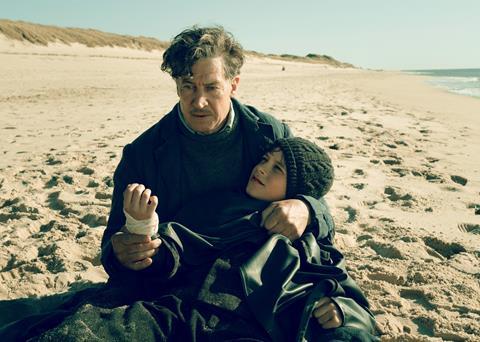 Dir. Christian Schwochow. Germany. 2019. 125 mins.
Christian Schwochow directs The German Lesson – adapted by his mother, Heide, from a seminal post-war novel - with a cut-above-the-pack flair which has long distinguished his work (Paula, etc). Shot in 2018, this war-time and immediate post-war drama has been a long time coming to the screen. A gorgeously-mounted, often-compelling yet ultimately unbalanced drama, it melds elemnts of The Go-Between with classic war-time dilemmas as a young boy is caught between his bullying Nazi-loving police officer father and a "degenerate" artist neighbour and long-time family friend. A major attraction here is the northernmost German coastal locations, shot in exquisite wide frame by Schwochow's long-time collaborator Frank Lamm.
This is a cerebral piece of work which tackles some of the war's longer, lingering questions in Germany
Premiering at the Zurich Film Festival 2019 in advance of its domestic German release, The German Lesson has an instant recognition factor in home markets. The book on which it is based, 'Deutschestunde', was written by the late Siegfried Lenz in 1968 and immediately became a classic German post-war text along the lines of 'The Reader'. Schwochow's mother, Heide, who has also written his films November Child, Cracks In The Shell and West, is faithful to the source material, even when the climax, which is more internalised than the escalating drama might have led the viewer to expect, becomes increasingly difficult to dramatise. There's a lingering sense that the denouement works better on the page, while Schwochow's work up to that point is a handsome delivery of the book's more dramatic aspects.
The director has certainly assembled a fine ensemble cast of young and veteran actors to bring this prestige piece of film-making to the screen. The central character Siggi Jepsen, the son of the Nazi-loving police officer Jens (Ulrich Noethen) in Germany's northernmost coastal community, is played by two young actors. We first see him in a prison, where he is played by Tom Gronau. Instructed to write an essay on The Joys of Duty, Siggi baulks at the prospect: when he is sent to solitary confinement to complete the task, it transpires that the young man has a disturbing history with the word 'duty' at the hands of his terrorising father.
Schwochow's work then jumps back to 1943, where young Siggi (now played by the striking Levi Eisenblätter) roams the untamed coastal landscapes of his childhood. His sister, Hilke (Maria Dragus), comes and goes. He is torn between obedience to his father and loyalty and love for their artist neighbour, Max (Tobias Moretti), an expressionist painter whose works have been labelled 'degenerate' by the Nazi high command. Despite the fact that they were close childhood friends, Siggy's father enthusiastically participates in the removal and destruction of Max's works', even long after the war has ended and the feud has turned septic and personal.
Caught in the middle – even more so when his injured older brother deserts from the army to his brutal father's disgust – Siggi tries to save the paintings but is tossed on a cruel sea between the adults. What is a sense of duty, asks the text, and where will it bring a boy, a man, and a nation?
This is a cerebral piece of work which tackles some of the war's longer, lingering questions in Germany and beyond, made flesh by some wonderful performances, in particular Eisenblätter as the young Siggy and Noethen as his insecure, bullying father. One of the film's notable achievements is to zone in on the German war-time small-town enforcer and the cowed community at large. Eisenblätter and Noethen make a finely-honed team at the centre of the piece, with the other characters spinning out from their dynamic. Bookend scenes from the unidentified borstal are less grounded – we don't know where or when these sequences take place in the timeline. When it comes to finding a resolution to themes which have no real answers. The German Lesson eventually struggles, awarding itself more and more time yet failing to justify that request.
This film is never anything less than a noble work by talented film-makers, however, in front of and behind the camera. It's easy to see where The German Lesson will find an appreciative audience outside of its home market, in select arthouse distribution (particularly in European markets) and on prestige cable with viewers who like to aim high and don't mind when they don't quite reach the desired destination.
Production companies: Network Movie, Senator Film Produktion
International sales: Arri World Sales
Producers: Jutte Lieck-Klenke, Dietrich Kluge, Ulf Israel
Screenplay: Heide Schwochow, from the book 'Deutschestunde' by Siegfried Lenz
Cinematography: Frank Lamm
Production design: Tim Bannen
Editing: Jens Kluber
Music: Lorenz Dangel
Main cast: Tom Gronau, Levi Eisenblätter. Tobias Moretti, Sonja Richter, Johanna Wokalek, Maria Dragus, Louis Hofmann.