Ramon and Silvan Zurcher continue their trilogy with this story of alienation playing in Berlin's Encounters sidebar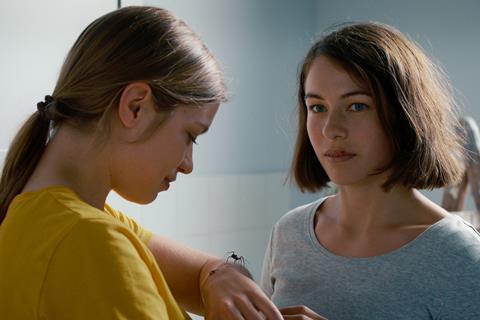 Dirs/scr: Ramon Zurcher, Silvan Zurcher. Switzerland. 2021. 98 mins
The second film in a trilogy around "human togetherness", The Girl And The Spider follows 2013's The Strange Little Cat as a mournful exploration of the deeper truths exposed by seemingly banal everyday experiences. The latest feature from twin brothers Ramon and Silvan Zurcher offers a delicately woven tale of longing, loneliness and the tear of separation painted in shades of melancholy. Festivals and arthouse audiences should response to its poetic handling and a needling, dust-dry drollery reminiscent of Roy Andersson.
Precisely observed but somewhat aloof in tone
One of the first images in the film is of a pneumatic drill splitting open a concrete surface. It is an image that recurs throughout, hinting at the emotions laid bare by the central events. Lisa (Liliane Amuat) is moving into a new flat. The bare rooms and empty walls provide a blank canvas for an unknown future. Family and friends lend a hand amidst the chaos of shifting furniture, building cupboards, encountering new neighbours and taking ownership.
Lisa's current roommate Mara (Henriette Confurius) is very pointedly not moving in with her. We are never entirely sure what their relationship has been. Were they just roommates? Mara acts like a jilted lover. As others weave in and out with tasks to perform, Mara seems to stand slightly apart from everyone, lost in dreamy contemplation. A ghost at this feast, she is an awkward, prickly figure, picking at a bleeding nail and conscious of the blister on her lip. "Have you got herpes?" asks Lisa's mother Astrid (Ursina Lardi).
Mara is desperately unsettled by the changes she is about to face. She stares doe-eyed at Lisa, constantly on the edge of making physical contact. Her lingering eyes speak of fondness but her actions are often capricious and cruel. She pours coffee on a dog and silences others with her brusque replies to innocent enquiries. She is a mysterious, intriguing figure but far from sympathetic. Despite Henriette Confurius's committed performance, it is hard to warm to the character.
Many of the characters are lost, like Mara, from the lonely old lady who lives upstairs to biddable handyman Jan (Flurin Giger) who winds up passed between several women like an unwanted parcel. Astrid is taken with older handyman Jurek (Andre M Hennicke) but neither of them is bold enough to act upon it.
Alexander Hasskerl's glowing camerwork hones in on facial expressions conveying secret smiles and hurts. He highlights eyes filled with longing, insecurity and fragile hope. Phillip Mould's effectively deployed musical score underlines the feeling of life as a whirling, relentless waltz marked by changing circumstances and churning emotions.
Precisely observed but somewhat aloof in tone, The Girl And The Spider builds into a symphony of separation and solitude. Perhaps too lugubrious and forbidding for some tastes, it could strike a particular chord in a Covid-19 era of isolation, lockdown and the absence of human contact.
Production companies: Beauvoir Film, Zurcher Film
International sales: Cercamon sebastien@cercamon.biz
Producers: Aline Schmid, Adrian Blaser
Editing: Ramon Zurcher, Katharina Bhend
Cinematography: Alexander Hasskerl
Prod des: Sabina Winkler, Mortimer Chen
Music: Phillip Mould
Main cast: Henriette Confurius, Liliane Amuat, Ursina Lardi, Flurin Giger.