Dir: Tate Taylor. US. 2016. 112mins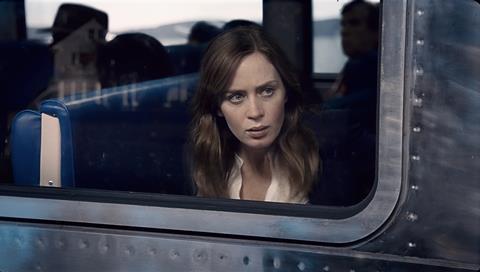 Flying off the rails at an alarming speed, The Girl On The Train fails as a compelling character study, struggles to satisfy as a psychological thriller and ultimately settles as an overheated potboiler that doesn't have the courage to go full camp. Based on the 2015 Paula Hawkins novel, the latest from director Tate Taylor (The Help, Get On Up) boasts plenty of potentially juicy plot points but is consistently undermined by an earnest execution that doesn't understand what a convoluted hoot it has on its hands.
Taylor aspires to gravitas, which only makes everything seem that much sillier.
Arriving in the UK on October 5 and the US two days later, The Girl On The Train will lean heavily on Emily Blunt's commercial appeal, looking for the audience who made Gone Girl a $369m hit, and certainly the 11 million people who bought the book might be persuaded to give this adaptation a try.
Blunt plays Rachel, an alcoholic New Yorker who rides the train to and from work every day, always taking a moment to obsessively gaze at the house where she and he ex-husband Tom (Justin Theroux) once lived. He still resides there with his pretty new wife Anna (Rebecca Ferguson) and their infant — a sad reality that Rachel cannot accept, as witnessed by the fact that she practically stalks them. But after spotting Anna's married nanny and neighbour Megan (Haley Bennett) involved in what appears to be an affair, Rachel intensifies her snooping, her curiosity deepening when Megan goes missing.
Initially, The Girl On The Train appears to be an examination of a disturbed, melancholy woman who has drowned her sorrows in booze, losing everything in the process. There's also an element of voyeurism involved with Rachel staring out the window of her train car, observing people in the houses she passes as she imagines how much happier their lives must be.
Soon, though, Erin Cressida Wilson's screenplay introduces darker character elements that Taylor and Blunt treat with such sincerity that they become risible. Rachel's drinking problem makes her susceptible to blackouts and violent episodes, but Taylor's gimmicky camera tricks and stuttering editing rhythms don't heighten our connection to her struggles but, rather, reduce her illness to narrative clichés. Likewise, Blunt is far too mannered as this drunken wretch, never really making her seem as monstrous or pathetic as the character is meant to be.
These limitations prove more distracting once The Girl On The Train becomes a whodunit and the frazzled Rachel finds herself at the centre of the investigation. Believing that a brief glimpse from her passing train of Megan embracing her therapist Dr. Kamal Abdic (Édgar Ramírez) means they're having an affair, Rachel befriends Megan's husband Scott (Luke Evans) to give him this clue — as well as informing a disbelieving detective (Allison Janney), who wonders if Rachel might be behind the disappearance herself.
Rachel is meant to be an unreliable protagonist — conveniently, she blacked out right during the time Megan went missing — but because the movie never makes the character's alcoholism and mental instability resonant, The Girl On The Train is deeply trashy despite its laboured air of sophisticated character drama.
Taylor tries to craft the film to be a sort of feminist statement about three very different women who have more in common than they realise. The movie opens with interludes that introduce each character, but just as Blunt can't transcend Rachel's melodramatic construction, Ferguson and Bennett are equally one-dimensional, giving us bland, put-upon heroines who don't spark much sympathy or interest. (And Bennett is particularly goofy portraying Megan's lascivious therapy sessions with the hunky Dr. Abdic.)
As Megan's disappearance drags on, The Girl On The Train grows more and more frantic, Taylor upping the suspense mostly by having characters get increasingly hysterical with one another. (That, of course, is when we're not being assaulted with shameless red herrings and mechanical backstory revelations that never feel remotely realistic.) In other hands, the film would be knowingly bitchy and tawdry, the characters' infidelities, obsessions and personal failings adding up to a pulpy mystery. Instead, Taylor aspires to gravitas, which only makes everything seem that much sillier.
Production companies: Dreamworks Pictures, Reliance Entertainment, Marc Platt Productions
US distribution: Universal Pictures, www.universalpictures.com
UK distribution: eOne, http://uk.eonefilms.com/home
Producers: Marc Platt, Jared LeBoff
Executive producer: Celia Costas
Screenplay: Erin Cressida Wilson, based on the novel by Paula Hawkins
Cinematography: Charlotte Bruus Christensen
Production design: Kevin Thompson
Editors: Michael McCusker and Andrew Buckland
Music: Danny Elfman
Website: www.thegirlonthetrainmovie.com
Main Cast: Emily Blunt, Rebecca Ferguson, Haley Bennett, Justin Theroux, Luke Evans, Allison Janney, Édgar Ramírez, Lisa Kudrow