Despite its starry cast, Netflix's latest adrenalised action-thriller is lacking in narrative colour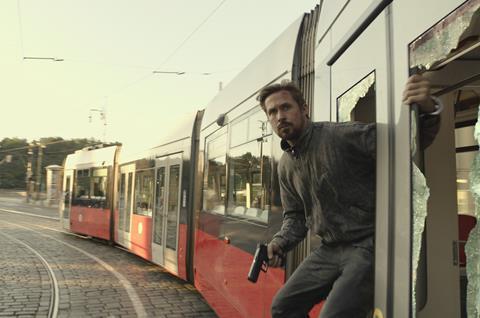 Dirs: Anthony and Joe Russo. US. 2022. 127mins
The empty-calorie action-thriller The Gray Man delivers gonzo set pieces and endless quips, each of those elements anaesthetising in its own way. The latest from directors Anthony and Joe Russo borrows giddily from the globetrotting adventures of Jason Bourne, James Bond and Ethan Hunt, casting Ryan Gosling as a lethal CIA operative who must go off the grid once his superiors want him eliminated for insidious reasons. (Chris Evans, sporting an ironic moustache, plays the psychopathic enforcer sent to exterminate him in between wry one-liners.) The film is adrenalised but familiar, sporting a sarcastic sense of humour in an attempt to mitigate what's so threadbare about the premise and increasingly over-the-top fight sequences.
The Gray Man never stops trying to achieve a blase hipness, but the snotty sarcasm isn't sharp enough
Releasing in US and UK theatres on Friday July 15 before arriving on Netflix globally a week later, The Gray Man is the sort of derivative, high-profile event picture that has become the streamer's signature. The reviews won't be glowing, but the star power is – Ana de Armas and Bridgerton's Rege-Jean Page are part of a large supporting cast – and should help attract viewers.
We quickly meet Six (Gosling), a Bourne-like assassin who's about to execute his latest government-sanctioned kill in Bangkok, assisted by a CIA agent he's never met before, Dani (de Armas) – but he quickly learns that his target is connected to the same top-secret US program as he is. Suspicious of his mission, Six acquires incriminating information about his boss, the coldhearted and corrupt Carmichael (Page), which sends him on the run, and prompts Carmichael to tap Lloyd (Evans), a one-time CIA operative who was dismissed for his unconscionable tactics, to hunt Six down.
The Russos (Avengers: Endgame) adapt Mark Greaney's 2009 novel, letting their camera fly around as Six tries to stay alive while attempting to rescue his retired former handler, Fitzroy (Billy Bob Thornton), and the handler's sickly niece Claire (Julia Butters), who Lloyd has captured to apply pressure on Six. The directors have claimed that they wanted The Gray Man's action to be more grounded in the real world than their Marvel pictures, but there's an enormous amount of CGI implemented, the sequences often going to preposterous, hyperbolic extremes.
If the storytelling was more original — of if the action's cheeky absurdity possessed more wit — The Gray Man could have been diverting popcorn fare. Certainly Gosling and Evans bring a sly irreverence to their performances, both actors investing in their characters' badass bona fides while refusing to take the proceedings too seriously. The screenplay gives Six and Lloyd plenty of opportunities to wisecrack although, as with the action sequences, there's an artificiality to the accumulated zingers — a mechanical sameness that becomes numbing.
The Gray Man never stops trying to achieve a blase hipness, which is meant to counter the supersized spectacle and the presumably gargantuan budget, but the snotty sarcasm isn't sharp enough, only underlining the picture's programmatic nature. (Also not helping matters is the Russo brothers' decision to score the occasional fight scene to a bygone pop song, the juxtaposition of intense hand-to-hand combat and a lighthearted tune a now-overused cinematic technique.)
Gosling applies the same detached cool to Six that he perfected more than a decade ago with Drive, playing a character who goes by a codename, his true identity and tragic backstory something that will eventually be revealed. His scenes with de Armas, his Blade Runner 2049 costar, have a nice contentious spark — Dani wants to help him, mostly to preserve her own career — but her stellar martial-arts prowess draws unflattering comparisons to her far more engaging spy in last year's No Time To Die.
As Lloyd — a menacing foe whose nerdy name is one of the film's unfunny running jokes — Evans brings some nonchalant swagger to his formulaic role. (By this late date, a villain who sadistically tortures his prisoners while showing no emotion is hardly shocking.) Of the large cast — which also includes a largely wasted Alfre Woodward as someone from Six's past — Page gives the most memorable performance, depicting Carmichael as a supremely arrogant CIA chief, smugly confident that he's smarter than all those around him. Unlike the posturing of Six and Lloyd, Carmichael exudes a brainy chilliness that makes much of the rest of the film simply seem glib. The Gray Man blows up buildings, crashes trains, explodes planes in midair, and kills dozens and dozens of people, but only Page truly commands your attention
Production companies: AGBO, Roth Kirschenbaum
Worldwide distribution: Netflix
Producers: Joe Russo, Anthony Russo, Joe Roth, Jeff Kirschenbaum, Mike Larocca, Chris Castaldi
Screenplay: Joe Russo and Christopher Markus & Stephen McFeely, based on the book by Mark Greaney
Cinematography: Stephen F. Windon
Production design: Dennis Gassner
Editing: Jeff Groth, Pietro Scalia
Music: Henry Jackman
Main cast: Ryan Gosling, Chris Evans, Ana de Armas, Jessica Henwick, Rege-Jean Page, Wagner Moura, Julia Butters, Dhanush, Alfre Woodard, Billy Bob Thornton