Hugh Jackman stars as 19th century entertainer P.T. Barnum in this musical extravaganza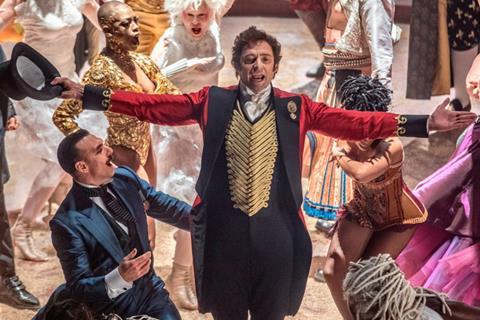 Dir: Michael Gracey. US. 2017. 105mins
The Greatest Showman tells the story of P.T. Barnum, a 19th century entertainer born of modest means who longed to be accepted by the upper crust of society, but this strained musical is content to play to the cheap seats. Earnest in the extreme and armed with lethal amounts of razzle-dazzle, the feature debut of commercial director Michael Gracey is an all-out assault of sentiment, pop songs and dime-store psychology that's somewhat held together by Hugh Jackman's likably shameless portrayal of this striving charmer.
Working his bulletproof grin and sparkly eyes to maximum effect, Jackson has no problem with the overblown showstoppers
Arriving in US theatres December 20 and the UK a week later, this Fox release will hope to capitalize on Jackman's appeal, which will be amplified by the presence of Zac Efron, Michelle Williams and Rebecca Ferguson among the supporting cast. Not terribly dissimilar from the crowd-pleasing La La Land ($446 million worldwide), which also focused on characters torn between career aspirations and domesticity, The Greatest Showman stands as one of the most viable counterprogramming options to The Last Jedi — although it will face direct competition from Pitch Perfect 3.
Inspired by the life of Phineas Taylor Barnum, who masterminded must-see spectacles involving human curiosities and circus acts, the movie follows as lowly commoner Barnum (Jackman) wins the heart of well-to-do local beauty Charity (Williams) and raises a family in New York; all the while holding onto the dream of making his name as an impresario. Finding fortune by creating a show featuring bizarre individuals, like a bearded lady and conjoined twins, the disrespect he feels from the city's elite provokes him to team up with Phillip Carlyle (Zac Efron), a snobby theatre producer who becomes his ambassador to high society.
Subtlety has no place in The Greatest Showman, which tends to hammer every element of its story right through the audience's skull. Whether it's the preaching of inclusiveness — eventually, Barnum realizes he shouldn't exploit his performers' oddities — or the brash, melodramatic songs that litter the narrative, Gracey goes for unabashed emotion in the hopes that it will make his themes more resonant.
Oscar-winner composers Benj Pasek and Justin Paul, who wrote the lyrics for La La Land, turn in a collection of songs that runs the gamut from pleasantly sappy to blandly percussive. In general, the tunes don't enlarge or enrich the characters but, instead, reiterate their basic drives. That's particularly frustrating in the case of Barnum, who is meant to be a complicated, ambitious man chasing the approval of those who look down their nose at his freak-show attractions — all the while neglecting his loyal wife and adorable daughters.
Working his bulletproof grin and sparkly eyes to maximum effect, the Tony-winning Jackson has no problem with the busy choreography and overblown showstoppers, but the film doesn't have the guts to really explore the character's inherent darkness. Gracey makes sure this benign musical never wades too far into murky moral waters, and therefore Barnum's flirtation with infidelity — in the form of the beguiling Swedish opera singer Jenny Lind (Rebecca Ferguson), who represents the finer things in life — lacks genuine stakes or pathos. As one might expect, cinematographer Seamus McGarvey and production designer Nathan Crowley drape The Greatest Showman in eye-popping glitz, adding to the film's knowing artificiality.
With all that said, the film clatters along with enough gusto that it's easy to tap into its mindlessness. For every caffeinated musical number, a relatively sedate sequence — such as one involving Carlyle and a pretty trapeze artist (Zendaya) who fall in love while serenading each other and twirling on a rope — hits all the sweet spots of a romantic song-and-dance movie moment.
Ferguson registers strongest among the supporting cast as a sophisticated artist who tempts Barnum away from his home life. (Loren Allred provides the character's heavenly singing.) But the rest of the ensemble struggles in thin roles, although Williams does what she can to make Barnum's ineffectual wife a smidge more interesting. Williams sings Charity's heartsick ballad herself, and the actress' vulnerable voice adds poignancy to a character who realizes her dreamer of a husband may be seduced by his latest obsession.
Production companies: TSG Entertainment, Laurence Mark Productions, Chernin Entertainment
Worldwide distribution: Twentieth Century Fox, www.foxmovies.com
Producers: Laurence Mark, Peter Chernin, Jenno Topping
Executive producers: James Mangold, Donald J. Lee, Jr., Tonia Davis
Screenplay: Jenny Bicks and Bill Condon, story by Jenny Bicks
Cinematography: Seamus McGarvey
Production design: Nathan Crowley
Editors: Tom Cross, Robert Duffy, Joe Hutshing, Michael McCusker, Jon Poll, Spencer Susser
Music: John Debney & Joseph Trapanese
Website: www.foxmovies.com/movies/the-greatest-showman
Main Cast: Hugh Jackman, Zac Efron, Michelle Williams, Rebecca Ferguson, Zendaya, Keala Settle