Lav Diaz delivers a dystopian future set in Manila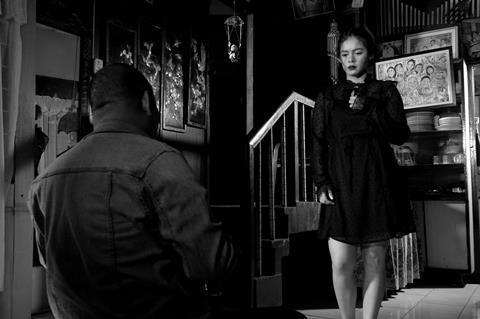 Dir. Lav Diaz. Philippines. 2019. 276 mins.
'The same but different' is a formula that could easily apply to Filipino writer-director and hardcore believer in cinematic duration Lav Diaz. His filmic DNA is so singular that one can usually recognise his signature in just a single shot – and those shots can themselves last a fair while. But there are big differences between the specific characters of each of his films. The Halt may not be an absolute high point in his prolific output, but it certainly stands out in its ambition and, indeed, its political rage.
A hugely demanding film by any normal standards
Ostensibly set in the year 2034, it effectively builds on present-day conditions in the Philippines by adding a couple of incongruous touches to turn the familiar world into a future dystopia – making The Halt something like Diaz's equivalent of Jean-Luc Godard's Alphaville. Narratively expansive as ever, The Halt doesn't use its running time of 276 minutes (making it medium-length by Diaz's standards) as economically as, say, the director's 2013 Dostoevsky-inspired Norte, the End of History, but it is considerably more cogent than his last feature, the awkwardly Brechtian 'musical' Season of the Devil.
This is, as ever, a hugely demanding film by any normal standards, but festivals with stretchable scheduling parameters will happily welcome it, and devoted Diaz fans will find it a satisfying venture into somewhat new territory.
The Halt takes us to Manila two decades from now, at a time when millions have died from a flu epidemic known as the 'Dark Killer' and volcanic eruptions have cast the nation into permanent darkness – hence a film that takes place entirely at night. The nation is ruled by a paranoid, posturing dictator, President Nirvano Navarro (Joel Lamangan), who claims to rule by divine right - his regime enforced by armed militia that executes dissidents on site, and by flotillas of flying surveillance drones (the one significant, highly effective special effect in what is otherwise hyper-minimalist sci-fi).
Navarro is protected by two special forces officers, lovers Marissa (Mara Lopez) and Martha (Hazel Orencio, a Diaz regular over the last decade). Marissa, however, is secretly seeing and falling for Haminilda, a.k.a. Hammy (actor-singer Shaina Magdayao), a history teacher who sidelines as sex worker 'Model 37', while trying to solve her memory problems with the help of psychotherapist and political theorist Dr Jean Hadoro (Pinky Amador). Also in the mix is lone wolf militant Hook Torollo (Filipino star Piolo Pascual, also seen in Diaz's 2016 A Lullaby for the Sorrowful Mystery), a renegade from Navarro's militia, now on a mission to assassinate the president and stop him implanting his apocalyptic 'Operation Black Rain'.
Beginning with docu-style footage of populous rallies in Manila today, the film quickly establishes that we're in a future world oddly similar to ours (in the city's cafes, people still use MacBooks and scoff blueberry cheesecake). Indeed, it's easy to recognise the monstrous Navarro as both a satirical version of former Filipino president Ferdinand Marcos and his successor today Rodrigo Duterte (plus, one suspects, a considerable side order of Trump). Joel Lamangan is hugely impressive in the role, by turns frightening and grotesquely comic, not least when having a child-like imaginary conversation with his absent mother. It makes a somewhat humanising, even poignant foil to scenes in which he feeds raw meat (supposedly his recent victims) to his pet crocodile.
As ever with Diaz, the narrative drifts in leisurely fashion, for long stretches following individual characters off on their own tangents. Among the digressions here is a rock club sequence in which a rough and ready indie band plays a cover version of a number by Hook's old combo the Blind Bougainvilleas. Indeed, this film's fictional world is one in which everyone seeks respite from the stresses of the world by listening to noise guitar, most of it provided on the soundtrack by Diaz himself - another string in his one-man-band bow, alongside writing, producing, editing and photographing the film (the latter in tandem with Daniel Uy).
Visually, the film is steeped in striking chiaroscuro, much of the exterior action taking place in torrential rain, while interiors favour the stark diagonally-shot compositions that are a Diaz trademark. It's also worth noting that in places the editing is unusually brisk by Diaz standards, with some shot lengths considerably shorter than usual; however, this doesn't stop the film having the hypnotic, maze-like quality associated with the director.
It's understood that Diaz's low-budget techniques involve a certain suspension of belief: thus, we accept that a powerful dictator only seems to have a staff of two, who cohabit under cheap and cheerful flatshare conditions (no Marcos-style palace for the president, either, but a series of drab temporary safe houses).
Diaz stretches his final act somewhat frustratingly, as Hook – en route to the film's open ending - finds new purpose among Manila's street children. But come the final shot, with its discreet visual hints of redemption and a new era, we've been on a filmic journey of the kind you only get when Diaz is at the helm – and a journey more overtly fuelled by political protest than in any of his recent films.
Production company: Sina Olivia Pilipinas, Spring Films
International sales: Indie Sales, info@indiesales.eu
Producer: Lav Diaz
Screenplay: Lav Diaz
Cinematography: Lav Diaz, Daniel Uy
Editor: Lav Diaz
Production design: Max Celada, Allen Alzola
Main cast: Piolo Pascual, Joel Lamangan, Shaina Magdayao, Hazel Orencio, Mara Lopez