Jonathan Majors and Idris Elba face off in Jeymes Samuel's vigorously entertaining Western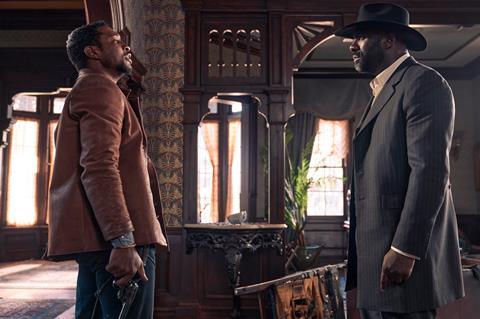 Dir. Jeymes Samuel. US. 2021. 137 mins.
Big, bombastic and full-blooded, Jeymes Samuel's neo-Western might tick off plenty of the tropes of the genre, but the outlaw energy he brings to the picture makes it feel, if not fresh exactly, then certainly a whole lot of fun. The aim of The Harder They Fall is to reframe the Old West to acknowledge the fact that many of the settlers were Black, and to have a blast while doing so: Samuel channels the B-movie swagger of the films which inspired him, to vigorously entertaining effect.
The personality of the film goes beyond that of the larger-than-life characters
Jonathan Majors (The Last Black Man In San Francisco) stars as Nat Love, a man driven to avenge the wrong done to his family, and to cause some mayhem along the way. Idris Elba is his nemesis, Rufus Buck, a murderous gang leader who has recently been freed from jail. A fair amount of posturing and pyrotechnics ensue, but Samuel's exuberantly brash directing style ensures that, as long as there are bullets to be fired and blood to be shed, the pace rarely flags.
It's an assured debut from Samuel, who is otherwise known as the British singer, songwriter and producer The Bullitts. In his musical incarnation, he was chosen by Jay-Z (who also serves as a producer on this picture) and Baz Luhrmann to be the executive music consultant for The Great Gatsby. A longtime fan of the Western genre, Samuel cut his teeth directing a 51-minute film, They Die By Dawn (2013), which featured a cast which included Rosario Dawson, Michael K. Williams and Erykah Badu.
This picture is a step up in terms of ambition and should connect with audiences beyond those who are traditionally receptive to Westerns; it will also likely catch the eye of studios looking for fresh talent to breathe energy into key franchises. Following its premiere at the London Film Festival, The Harder They Fall will screen at the Chicago Film Festival. Netflix plans a theatrical release followed by a launch on the streaming platform on November 6.
An opening sequence — a God-fearing family are terrorised by a man equipped with a pair of gold pistols and very little mercy — sets the scene for a fairly standard revenge narrative. A boy is orphaned that day, and he grows up to be Nat Love, a man on a mission to hunt down the gang who killed his parents. But this is a picture which leans on personality rather than plot, and there's plenty of that to compensate even when the story feels rote.
Majors is terrific in the central role, but many of the film's most memorable performances are delivered in supporting roles: Regina King is poised and deadly as "Treacherous" Trudy Smith; LaKeith Stanfield is a dapper killer with the morals of a snake, and RJ Cyler, as Nat's trigger-happy sidekick Jim, is a cocksure kid who has bought into his own mythology.
But the personality of the film goes beyond that of the larger-than-life characters. It's in Samuel's emphatic directing choices: the saturated colour palette, with its apple reds and an indigo so vivid it practically vibrates on screen; the muscular sound mix, which goes big on gut-shuddering bass, sometimes at the expense of the dialogue; the showy photography with its snaking camera and shots which capture the action reflected in everything from the eye of a dying man to the hammer of the pistol that killed him.
And most of all, it's in the music. Comparisons will no doubt be drawn between the film and Quentin Tarantino's Django Unchained. But the song choices give a hint of a far wider range of influences: reggae needle drops, including Barrington Levy's 'Here I Come,' are a nod to the film's namesake predecessor, 1972's The Harder They Come; soul standards indicate the impact of Black crime pictures like Shaft. Not Westerns, certainly, but an acknowledgement that Black cinema has always had its share of outlaws and renegades.
Production companies: Overbrook Entertainment, Netflix
Worldwide distribution: Netflix
Producers: Shawn Carter, James Lassiter, Lawrence Bender, Jeymes Samuel
Screenplay: Jeymes Samuel, Boaz Yakin
Production design: Martin Whist
Editing: Tom Eagles
Cinematography: Mihai Malaimare
Main cast: Jonathan Majors, Zazie Beetz, Delroy Lindo, LaKeith Stanfield, Regina King, Idris Elba