Dir/scr: Quentin Tarantino. US. 2015. 188mins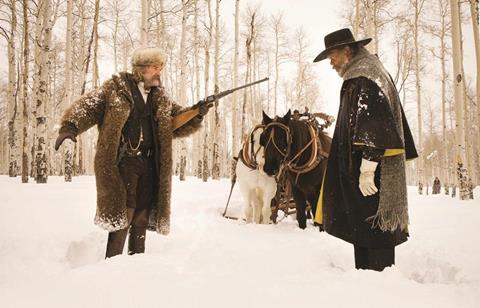 "The name of the game here is patience," one character advises another during the third hour of The Hateful Eight, and those are wise words to heed for anyone about to scale the eighth film from writer-director Quentin Tarantino, who in some ways has concocted his nerviest effort yet: a slow-burn, meditative chamber piece that only gradually reveals its grander, bloodier ambitions.
Conceptually, The Hateful Eight is brilliant, the second section folding back on the first half entrancingly
Tarantino's well-documented indulgences are fully on display here — and anyone who had hoped he would finally calm down on the gratuitous violence and his characters' flagrant use of a particular racial epithet will be sorely disappointed. But this tale of a group of disparate strangers trapped together during a powerful blizzard has a sneaky power to it, practically demanding a second viewing in order to fully absorb the narrative gambits at work — not always successfully, but consistently intriguingly and provocatively.
Set to hit North America on December 25 before expanding across the globe in early 2016, this Weinstein release will seek to continue Tarantino's recent commercial hit streak. (Django Unchained and Inglourious Basterds brought in a combined $747m worldwide.) The Hateful Eight isn't quite as action-packed as those previous films, however, and a protracted opening that meticulously introduces the characters but offers precious little bloodshed may leave some audience members cold. But the shootouts and face-offs come eventually, and with Weinstein unveiling the movie in 70mm and offering some screenings in a so-called road-show version — which features an overture and an intermission — The Hateful Eight will become a must-see for serious cinephiles.
Set in the mountains of Wyoming a few years after the Civil War, the film stars Samuel L. Jackson as Major Marquis Warren, a bounty hunter, who hitches a ride on the stagecoach of a fellow bounty hunter, John Ruth (Kurt Russell), who has in tow a dangerous fugitive named Daisy Domergue (Jennifer Jason Leigh).
Though both men are headed to Red Rock to collect their reward money, a snowstorm forces them to take shelter in a local shop in the middle of nowhere. There, they'll encounter such strange characters as Red Rock's hangman (Tim Roth) and a Confederate general (Bruce Dern) who shares a secret past with Warren.
Screened for critics in its road-show edition — which, including intermission, runs a little over three hours — The Hateful Eight has the sprawling length of an epic, not unlike other recent Tarantino films. (And like Inglourious Basterds, there are chapter titles.) But its close-quarters drama is actually more aligned with 1992's Reservoir Dogs, in which violent strangers figured out who was the rat in their midst while hiding out under one roof.
In The Hateful Eight, Tarantino seems to be testing both himself and his audience, the film's longer first half featuring almost no gunplay and, instead, investing in its characters' intricate back stories, which we see without flashbacks — except in one crucial instance. As they all make their way to the local shop, the memorably named Minnie's Haberdashery, The Hateful Eight exudes a foreboding sense of general unease, but mostly the film keeps us on edge by being deceptively straightforward.
These men (and one woman) have all seen their share of killing — a few were in the Civil War, on opposite sides of the conflict — and Tarantino envisions Minnie's as a kind of existential limbo where the characters' different viewpoints and ethnicities can clash with one another.
But after a shocking revelation ends the first half, The Hateful Eight returns from intermission to unload a bigger surprise that will force us to reconsider everything we've seen up to that point. It turns out that Tarantino has merely been delaying the bravura set pieces and fractured chronology that have long been his trademarks, and he brandishes them beautifully in the film's second half. It would be unfair to reveal any of the twists, but suffice it to say that the intentionally talky, static first section is a bit of a feint, the finale filling in blanks and offering new information about the grungy characters we've been observing.
Conceptually, The Hateful Eight is brilliant, the second section folding back on the first half entrancingly — which makes it all the more unfortunate that the film is filled with some of Tarantino's least-compelling characters. Whether it's Roth's affected English gentleman, Russell's snarling bounty hunter, or a racist hitchhiker who's set to become Red Rock's new sheriff (Walton Goggins), several of the major players are a little too broadly drawn.
Tarantino may be tinkering with Western archetypes, letting his protagonists become wry parodies of certain familiar Old West characters, but they're only sporadically funny or riveting. And that's troublesome when much of the first half involves them explaining their complicated pasts — and then the second half explodes or deepens those backgrounds.
And yet, The Hateful Eight's impact expands and grows richer the further away you are from the experience of watching it. With Inglourious Basterds and Django Unchained, Tarantino moved beyond postmodern narrative games to try to comment on history — especially in Django, which was the filmmaker's first serious attempt to examine the horror of violence as it applied to America's shameful slave past.
It's not a stretch to say that The Hateful Eight flirts with similar thematic depth, Tarantino bringing together Mexicans, blacks, Union soldiers and Confederate soldiers at Minnie's to, essentially, hash out the country's fractious divides among themselves. The filmmaker's use of the word nigger has been criticised before, and The Hateful Eight doesn't shirk from the epithet. But while Tarantino is presumably using it to expose the bigotry of the era, the somewhat one-dimensional characters rob him of that argument a bit: it feels excessive and inflammatory coming from the mouths of pungent ciphers.
Shot in 70mm, the movie achieves the feel of a bygone epic simply because it's projected on celluloid. (The towering Ennio Morricone score helps, too.) But beyond that, Tarantino achieves his sense of grandeur by having enough faith in his storytelling gifts to delay the pleasures we've come to associate with his films. (When they do arrive in The Hateful Eight, they're especially visceral precisely because we've been teased so long.)
Whatever one thinks of his aesthetics' limitations, he is a commanding conjurer of very specific cinematic universes. With The Hateful Eight, he remains adventurous and experimental, and his unapologetic boldness continues to make his movies events, even if you end up arguing with their approach.
As for Tarantino's cast, the standout is probably Leigh, whose Daisy Domergue is a figure of utter loathsomeness who slowly morphs into something even more sadistic and evil. Daisy may be as simplistically written as her cohorts, but the actress wrings every ounce of menace from the script's rough outline. Jackson has no problem essaying another of his patented badass characters for Tarantino, but at this stage we're not so surprised by the actor's effortless command of the filmmaker's funny-cool dialogue.
Production company: The Weinstein Company
US distribution/International sales: The Weinstein Company, www.weinsteinco.com
Producers: Richard N. Gladstein, Stacey Sher, Shannon McIntosh
Executive producers: Bob Weinstein, Harvey Weinstein, Georgia Kacandes
Cinematography: Robert Richardson
Production design: Yohei Taneda
Editor: Fred Raskin
Music: Ennio Morricone
Website: www.thehatefuleight.com
Main Cast: Samuel L. Jackson, Kurt Russell, Jennifer Jason Leigh, Walton Goggins, Demian Bichir, Tim Roth, Michael Madsen, Bruce Dern, James Parks, Channing Tatum