French actress Luana Bajrami makes her directorial debut with this sympathetic drama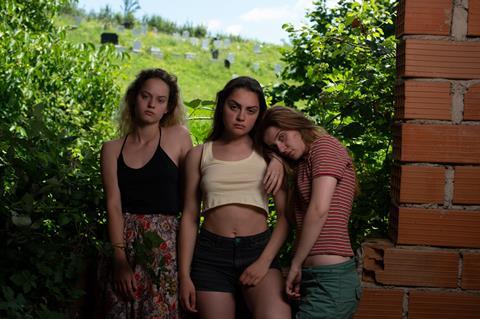 Dir/Scr: Luana Bajrami. France/Kosovo. 2020. 82 mins
Friendship is the best defence against an unjust world in The Hill Where Lionesses Roar. Luana Bajrami's assured, lush-looking directorial debut paints a plaintive portrait of three teenage girls kicking against their suffocating existence in a backwater of Kosovo. Critical acclaim and the platform of a Directors Fortnight world premiere should prompt festival invites and perhaps some theatrical interest – Le Pacte have already acquired the French rights.
The modest running time means that the film can feel sketchy and unresolved in places.
Best known for her Cesar-nominated role in Portrait Of A Lady On Fire (2019), the 20 year-old Bajrami reveals confidence and maturity in her move behind the camera. The film balances action and reflection as she immerses us in the world of three teenage girls living in a Kosovan village. There is a great feel for the rhythms and rituals of smalltown life, from the excitement of a local wedding to the torpor of drowsy, snail's pace summer afternoons where there is nothing to do but throw stones at glass bottles and dream of better times. The hill where they laze around and scream out their frustrations provides the film's title.
The headstrong Qe (Flaka Latifi), embittered Jeta (Urate Shabani) and the more sensible Li (Era Balaj) are hoping that a place at university will provide their escape route. As they wait to hear if they have been accepted, they voice a fervent belief that their future must lie elsewhere. Home is a place where men are either a threat or a liability, and where parents feel that they always know best. Qe offers scathing imitations of her hairdresser mother and vows that she will never spend her life working in a salon.
Cinematographer Hugo Paturel's warm, sun-drenched images conveys a land slightly out of time. Misty mornings shroud the village. A vast, empty swimming pool and abandoned house are regular meeting spots for the girls. Ruin and decay is creeping in to a village where cars sit alongside horse-drawn carts as modes of transport. The dreamy quality of their time together and the story of female solidarity invite comparisons with the films of Sofia Coppola or the oppressive atmosphere of Deniz Gamze Erguven's Mustang (2015).
The second half of the film has a different, more melodramatic mood as disappointments provoke the girls to undertake a series of robberies. If life feels like a prison then why not commit the crime? The "Lionesses" are soon self-styled outlaws, robbing jewellry stores and splashing their ill-gotten gains on a swanky green Jaguar.
The modest running time means that the film can feel sketchy and unresolved in places. The arrival of Zola-reading, French-Kosovan visitor Lena (played by Bajrami) provides a sounding post for the trio, but that character fades from the picture too soon. Li's easygoing boyfriend Zem (Andi Bajgora) is accepted into the tight-knit group with little question. The impact of the robberies and the hunt for those responsible is not a priority in the narrative.
Regardless of some reservations over plotting, The Hill Where Lionesses Roar impresses with the setting, sympathetic depiction of the three girls and their plight and especially in the performances with Flaka Latifi a standout as a young woman fuelled by a righteous anger and certain that she deserves better.


Production companies: Orezane Films, Vents Contraires, Acajou Productions
International sales: Loco Films international@loco-films.com
Producers: Pascal Judelewicz, Val Rahmani, Luana Bajrami
Cinematography: Hugo Paturel
Editing: Michel Klochendler, Juliette Penant, Luana Bajrami
Production design: Idaet Dogani, Blerim Shala
Music: Aldo Shllaku
Main cast: Flaka Latifi, Era Balaj, Urate Shabani, Luana Bajrami, Andi Bajgora