Tensions rise in Joaquin del Paso's disturbing drama about an all-male religious summer camp in rural Mexico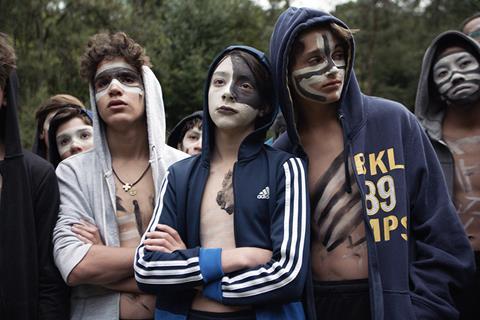 Dir: Joaquin del Paso. Mexico/Poland. 2021. 102 mins.
"The transition from boy to man is very delicate," says one of the fathers who has sent his son away to an exclusive summer camp in The Hole In The Fence, an unsettling coming-of-age drama that has very little room for delicacy or subtlety. Director Joaquin del Paso takes aim at plenty of targets — Catholicism, economic inequality, bigotry, toxic masculinity — to tell this story of a group of teenage boys undergoing a disturbing rite of passage, and the filmmaker doesn't seem too concerned if his points are obvious or if his cinematic references are readily apparent. A stronger display of sustained mood than a particularly revelatory societal commentary, The Hole In The Fence nevertheless puts the viewer in a persuasively queasy headspace.
A sociological snapshot of a patriarchal, religiously conservative culture that moulds impressionable teens into cruel misogynists
After screening at Venice and London, this Mexican-Polish co-production makes its way to Thessaloniki, with further festival exposure practically a given. But considering that The Hole In The Fence's dim view of humanity evokes jaundiced works from directors such as Michel Franco, Michael Haneke and Yorgos Lanthimos, international theatrical distribution is a real possibility — especially considering the film's marketable Lord Of The Flies-like narrative.
Working mostly with non-professional actors, del Paso takes us to Los Pinos, an all-male religious camp in the Mexican countryside that caters to wealthy families. The Hole In The Fence doesn't have a central protagonist, instead roaming across its large cast of characters, which includes a few dozen 13-year-old boys and their adult minders. The well-to-do boys are warned not to wander beyond the chainlink-fenced perimeter — the impoverished local villagers are described as desperate and dangerous — but when a hole is discovered in the fence, a growing fear arises that someone (or something) is running amok inside the camp.
That plot description may call to mind psychological horror films such as The Village, but del Paso (Panamerican Machinery) is after a sociological snapshot of a patriarchal, religiously conservative culture that moulds impressionable teens into cruel misogynists. The performances from the teens — including Yubah Ortega as the picked-upon Eduardo and Valeria Lamm as the cocky, bullying Jordi — are understandably unvarnished, but their raw, open expressions effectively capture the unformed nature of these insecure characters. When del Paso lets the teens run wild, engaging in homophobic taunts or increasingly sadistic horseplay, The Hole In The Fence gets at something hypnotically real about the rush of hormones and insensitivity in young males.
As Michael Stein and Kyle Dixon's icy electronic score makes plain, this idyllic forest locale is hiding dark secrets, and del Paso enjoys teasing the viewer with the potential menace on the horizon. Sometimes, the ominous tone borders on cliche — a slow zoom into a collection of seemingly innocent-looking bunnies feels like arthouse parody — but while there are twists concerning what exactly caused that hole, The Hole In The Fence is more chilling when it's a slightly exaggerated but still rather straightforward depiction of indoctrination. Playing one of the camp leaders, Monteros, Enrique Lascurain (another non-professional) convincingly embodies the sort of insidious male authority figure who can easily warp young minds without ever coming across as overtly evil.
Del Paso's blunt commentary about the inherent wickedness of men isn't very insightful, and so when the boys become more feral, transforming a pivotal capture-the-flag contest into a violent saga, the outcome is fairly predictable. For better or worse, a grim inevitability hangs heavy over The Hole In The Fence, as if the teenage animalistic behaviour and mob-rule mindset are foregone conclusions. (Not surprisingly, the meek do not inherit the earth here.) That can lead to a thematic repetitiveness, but del Paso's ability to dramatise how children learn about the world through problematic role models — whether it be men or religion — keeps the proceedings sufficiently gripping.
Alfonso Herrera Salcedo's lensing may give Los Pinos the appearance of a woodsy paradise, but not since Midsommar has such a sunny, bucolic setting contained this palpable an undercurrent of inexplicable terror. Static shots held at a distance from the characters are smartly used to suggest that these teens are at the mercy of unseen forces, and one particularly creepy POV creates the worrying sensation that the boys are being watched from afar — but by whom? It would be unsporting to reveal the answer, but suffice it to say del Paso's gaze is just as unblinking and critical.
Production company: Carcava Cine
International sales: Wild Bunch, aguilhem@wildbunch.eu
Producers: Fernanda de la Peza, Joaquin del Paso
Screenplay: Joaquin del Paso, Lucy Pawlak
Production design: Lucy Pawlak
Editing: Paloma Lopez Carrillo
Cinematography: Alfonso Herrera Salcedo
Music: Michael Stein & Kyle Dixon
Main cast: Valeria Lamm, Yubah Ortega, Lucciano Kurti, Erick Walker, Jacek Poniedzialek, Enrique Lascurain, Takahiro Murokawa, Santiago Barajas, Charles Oppenheim