A man's life is revealed in non-linear fashion in Francesca Archibugi's feather-light adaptation of Sandro Veronesi's novel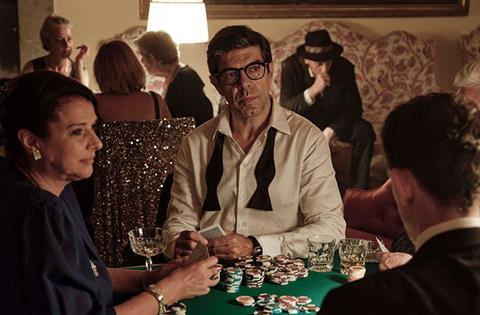 Dir: Francesca Archibugi. Italy, France. 2022. 126mins
Despite its many trials and sorrows, life remains a wonderful privilege in The Hummingbird (Il Colbiri). Francesca Archibugi's adaptation of Sandro Veronesi's 2019 novel flits back and forth through one man's existence, seeking to understand the relationships and incidents that marked him the most. The catalogue of heartbreak, loss, misunderstandings and missed opportunities results in a sentimental but strangely insubstantial melodrama. An older demographic may respond to its plush elegance and attractive locations, while the strong cast will be a bonus in some European territories.
The fragmentary nature of the storytelling and the constant shuffling of time makes it difficult to feel an emotional connection
The life of Marco Carrera, played by Pierfrancesco Favino, is the focus of The Hummingbird. It is almost a cradle to grave sweep as we visit key moments from his childhood, adolescence and adult years. A haunting memory can intrude at any time. Events in the present trigger a reflection on the past. Opening a door is all it takes to travel through time in a film that successfully sustains its non-linear approach.
Any initial confusion quickly fades as we are introduced to the young Marco Carrera (Francesco Centorame, a dead ringer for Favino) and his family in their sumptuous holiday home perched above an inviting beach they are obliged to share with their close neighbours. His architect mother Letizia (Laura Morante) despises the other family with their maidservant and airs. "The leftovers of a world that's about to disappear, thank God," she declares. Marco has fallen for the daughter Luisa (Berenice Bejo) and the couple will remain star-crossed throughout their lives, with the object of his desire always the right woman at the wrong time.
A diminutive figure as boy, Marco is nicknamed the Hummingbird and given growth hormones to help his development. The film becomes about the moments that change everything and the resilience that allows an ordinary man like Marco to face another day. It is the suicide of Marco's older sister that becomes a landmark in shaping his life and separating him from Luisa. Confronting mental illness is a recurring theme as Marco matures, becoming a father and a grandfather.
The Hummingbird is a very polished, well-heeled production that unfolds in luxury hotels and grand apartments, and takes in the twinkling lights of nighttime Paris and the lapping waters of the Tuscan coast. It is very easy on the eye and the soundtrack choices add to the plaintivel pull of the material; a Billie Holiday version of 'I'll Be Seeing You' is used repeatedly, as is The Clash's 'London Calling'.
It is the fragmentary nature of the storytelling and the constant shuffling of time that makes it difficult to feel an emotional connection to the tragic deaths, lucky escapes, separations and revelations that Marco experiences. He is also a very diffident, mild-mannered figure whose passivity sometimes makes him hard to read. Favino's measured, unfussy performance invests Marco with the timid air of a man who would never wish to give offence or cause upset. His impulsive decision to declare his love and marry air stewardess Marina (Kasia Smutniak) seems entirely out of keeping with his character – although he does discover a talent for gambling later in life.
Marco is firmly established as a bewildered observer of his own life but many of the other characters are more sketchy. Nanni Moretti plays psychoanalyst Daniele Carradori who initially exists purely for exposition. His first meeting with Marco includes a volley of questions handily filling in the viewer on all the missing details of his life. Marco's wife Marina seems to only operate in the realms of hysteria. Her restless mind and volatility result in tantrums, paranoia and betrayal. Bejo's Luisa is friendly and sympathetic but somehow always distant. There is a heavy reliance on prosthetics and thinning hair to create the illusion of ageing for many of the performers.
Full of incident and emotion, The Hummingbird still only skims across the surface of Marco's life. In the end this is an adaptation of a novel that just feels too novelettish.
Production companies: Fandango, RAI Cinema, Les Films des Tournelles, Orange Studio
International sales: Fandango Sales. sales@fadango.it
Producer: Domenica Procacci
Screenplay: Laura Paolucci, Francesca Archibugi, Francesco Piccolo
Cinematography: Luca Bigazzi
Production design: Alessandro Vannucci
Editing: Esmeralda Calabria
Music: Battista Lena
Main cast: Pierfrancesco Favino, Berenice Bejo, Nanni Moretti, Laura Morante, Kasia Smutniak.