Dir. Hany Abu-Assad. UK/Palestine/Qatar/Netherlands/UAE. 2015. 99mins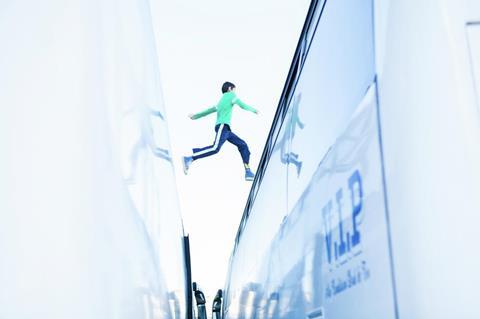 Director Hany Abu-Assad has often focused on films that give voice to the experience of everyday Palestinians, so it's no surprise that he would gravitate to the story of Mohammad Assaf, a Gazan singer who went on to win Arab Idol in 2013, becoming an underdog hero for his country. In its broad strokes,The Idol may seem like a very familiar a-star-is-born tale, but at just about every turn Abu-Assad transcends that simplicity for a more moving, complex examination of what Assaf had to go through to even enter the competition — and what the idea of "winning" means for someone faced with daily oppression.
Without being preachy, Abu-Assad uses the quiet determination on Barhom's face to suggest a lifetime of anguish finally being expressed through melancholy, gorgeous songs.
The Idol premiered in Toronto's Special Presentations section, but it seems likely to travel far beyond festivals, the film's accessible, real-life narrative an easy sell for art-house audiences. Especially in countries like the US, where American Idol has been a hit for a good long while, the film could do respectable business for a subtitled release, and Abu-Assad's pedigree — his movies have twice been nominated for Best Foreign Language Film Oscars — will only further sweeten The Idol's theatrical prospects.
The movie begins in Assaf's childhood, where he's played by Qais Attallah with a winning openness. Assaf and his sister Nour (Hiba Attahllah) want to form a band, performing at local weddings where he shows off his amazing voice. But after Nour is stricken with kidney failure, he must pursue his musical dreams by himself, spurred on by his ailing sister. Flashing ahead to 2012 when he's a young man, Assaf (now played by Tawfeek Barhom) drives a cab but has not yet abandoned his hopes of becoming a singer.
He sees only one chance, which is to enter Arab Idol and take part in try-outs happening in Egypt. But because Assaf doesn't have a visa, auditioning will prove a formidable challenge.
Abu-Assad's previous films (such as Paradise Now and Omar) have often been despairing dramas that speak bluntly about the difficulties faced by Palestinians. By comparison, The Idol is deceptively heart-warming and sweet, the nostalgic look at Assaf's early days offset by the suffering he sees around him in Gaza and the illness plaguing his beloved sister. (With subtlety, Abu-Assad, who also co-wrote the screenplay, occasionally inserts an image of a random Palestinian who has lost a limb, a silent reminder of the deadly tension in the region.)
When the film jumps ahead to 2012, The Idol zeroes in on Assaf's plan to be discovered as a singer, culminating in the Arab Idol competition. The movie becomes a bit more formulaic, but what's remarkable is how much emotion and commentary Abu-Assad brings to potentially clichéd material. In a sense, the filmmaker is subverting the predictable feed-good conventions to show us true hardship, including fraught border crossings, as opposed to the artificial stakes presented in most Western reality-competition shows. Without being preachy, Abu-Assad uses the quiet determination on Barhom's face to suggest a lifetime of anguish finally being expressed through melancholy, gorgeous songs.
Both actors playing Assaf have an understated charm, and Dima Awawdeh (who portrays a potential love interest also suffering from kidney problems) is radiant, becoming a worthy reason for Assaf to perform well on Arab Idol. Abu-Assad has often brought to the screen naturalistic performances that complement (but also sometimes underscore) the devastation surrounding the characters. (After a while in The Idol, the destroyed buildings encircling Assaf's home become a blur, a background of endless sadness.) If in the past Abu-Assad's movies could be criticised for stridency, The Idol finds him sacrificing none of his thematic drive while locating a more humanistic, inspirational tone.
Production companies: Mezza Terra Media, Majdal Films, KeyFilm, September Film, Doha Film Institute, Fortress Film Clinic, Rawabi, Image Nation Abu Dhabi, Cactus World Films, Full Moon Productions, Enjaaz
International sales: Séville International, anickp@filmsseville.com
Producers: Ali Jaafar, Amira Diab
Screenplay: Hany Abu-Assad, Sameh Zoabi
Cinematography: Ehab Assal
Editor: Eyas Salman
Production design: Nael Kanj
Music: Habib Shehadeh Hanna
Main cast: Qais Atallah, Hiba Atallah, Ahmed Qassim, Abd-Elkarim Abu-Barakeh, Tawfeek Barhom, Dima Awawdeh, Ahmed Al-Rokh, Saber Shreim, Nadine Labaki