Michael Fassbender is a stone cold killer in David Fincher's reunion with 'Se7en' writer Andrew Kevin Walker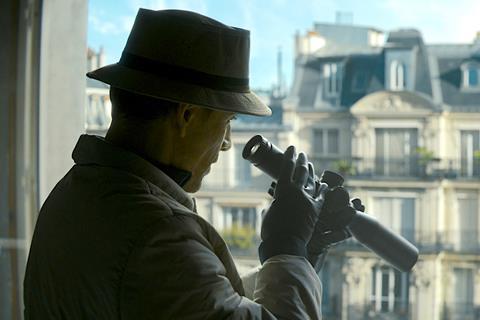 Dir. David Fincher. US. 2023. 118 mins.
David Fincher's return to hardcore genre territory after Mank – and his reunion with Se7en writer Andrew Kevin Walker – is a precision-tooled thriller with an acute banality-of-evil philosophical edge, as well as serving as a showcase for Michael Fassbender in the lead role. A Netflix title due for theatrical release in October followed by streaming in November, The Killer promises to be one of those rare features from the platform that will outlive brief social media buzz to leave a more lasting trace in the affections of genre connoisseurs.
The Killer gives Michael Fassbender his most substantial and challenging lead role in years
Based on a French graphic novel, the film follows the exploits of a ruthless hired assassin in the aftermath of a mission that goes wrong. The Killer (Fassbender) has no name that we ever learn, although he has a series of fake identities humorously borrowed from American TV comedies. From the opening credits – super-brief, but a streamlined variation of those telegraphic openers to the old TV Mission: Impossible – The Killer is a masterfully engineered piece. Throughout, Fincher pitches his own methodical control against The Killer's, but also signals the glitches in his protagonist's logic and flawed self-knowledge. International locations are elegantly handled without phoney glossiness, indeed with emphasis on a certain drab reality factor – not least, the drudgery of the Killer's perpetual trekking from location to location, airport to airport.
The first of these locations, or chapters, is Paris, where our man is holed up in a deserted office – a seemingly abandoned WeWork space – staking out his next target. In the process, his studiedly flat voice-over comments on the nature of his occupation, and the mundanity of its workaday practicalities ("It's amazing how physically exhausting it can be to do nothing").
Watching him do very little – survey, practice yoga, eat a burger – we listen to his extended monologue in which he espouses his personal and professional philosophy. His code is a fairly banal one, as he is only too aware: attention to detail, stay focused, it's a dog eat dog world… He comes across as an oddly bloodless, certainly unglamorous version of one of Jean-Pierre Melville's chilly underworld loners, or even a rogue philosopher from a Paul Schrader film.
But he is lethally flawed by hubris, and his supposedly simple hit fails, with terrible consequences for him and others. As he returns to base in the Dominican Republic, we also learn that he is not quite telling the truth about his absolute lack of empathy: he does have a single loved one, who has paid a horrific price for his error. Now begins a revenge mission that takes The Killer around the US, and that leaves a trail of meticulously dispatched corpses as he tracks down his lover's assailants and the person responsible for their hiring.
Brilliantly shot by Erik Messerschmidt in a style that sometimes evokes genre glamour but that also emphasises the grubby everyday – as in the toxic yellow tones of the opening section – the film proceeds with immaculately calibrated slow-burn reserve. That is, until a terrifically choreographed smash-'em-up fight sequence, after which Fincher hits the refrigerator button again, following The Killer on the inexorable path to his final appointments.
People who encounter him on his journey include a hapless Dominican taxi driver (Gabriel Polanco, terrific) and a New Orleans lawyer (Charles Parnell) who is The Killer's agent, and Tilda Swinton as a woman described (not inaccurately) as resembling a Q-Tip. She proves even cooler a customer than the protagonist, and Swinton gets to make a gourmet meal of her very tense scene.
The Killer's favoured music for distraction is a selection of vintage Smiths numbers (so that's the kind of fan who's still faithful to Morrissey), cutting in and out so that their lyrics occasionally provide ironic commentary. Fincher regulars Trent Reznor and Atticus Ross subtly ramp up the suspense with an electronic score that ranges from eerie ambient to minimal, ominously gurgling electronica.
Most of all, The Killer gives Michael Fassbender his most substantial and challenging lead role in years (arguably since 2015's Steve Jobs), and he executes it brilliantly, capturing the would-be zen headspace of a protagonist with apparently no interiority, yet with much to say about who he is and what he does. Fassbender's impassive features and monotone, muted deliver provide a sketch in negative of a character who is capable of anything, but only in the end capable of understanding something fundamental about himself. It's a compelling performance in a compelling film – one that's more than a sleek genre exercise, but is likely to reward repeated viewings, and not just for its directorial hyper-craft.
Production companies: Netflix
Worldwide distribution: Netflix
Producers: Ceán Chaffin, William Doyle, Peter Mavromates
Screenplay: Andrew Kevin Walker
Based on the graphic novel by Alexis 'Matz' Nolent and Luc Jacamon
Production designer: Donald Graham Burt
Music: Trent Reznor, Atticus Ross
Main cast: Michael Fassbender, Tilda Swinton, Charles Parnell, Arliss Howard