Dir/scr: Agusti Villaronga. Spain/Dominican Republic. 2015. 125 mins.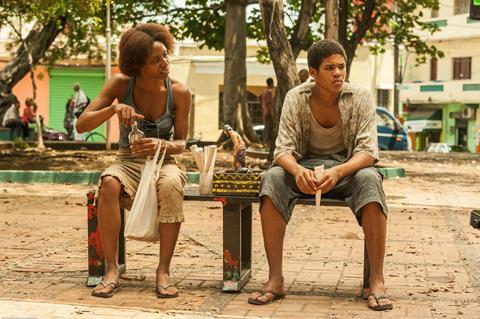 This raunchy, lurid portrait of Havana's urban underclass is set in the mid-1990s, during the 'Special Period' when the collapse of the Soviet Union, on which Cuba was dependent for 80% of its imports and exports, sent the island spiralling into famine, extreme poverty and the erosion of most of the last vestiges of public faith in Castro's social revolution. Taking a pulp-fiction view of these events, The King of Havana pumps up the volume but ends up playing more like a violent, schlocky, porno-melodrama than a critical portrait of a damaged country. In fact it makes City of God – of which there are distant echoes in Villaronga's high-octane shooting and editing style – look like a serious political drama.
This adaptation of a novel that relies on shock tactics for effect can't help but leave a bad taste in the mouth at the end of its entertainingly sensationalist two-hour ride
That said, this modern Threepenny Opera, based on the novel of the same name by Cuban dirty realist Pedro Juan Gutierrez, has a certain savage sense of humour, and an energy that keeps it firing on all cylinders. And if there's a pervasive, borderline offensive aura of misogyny and homophobia to the exercise, that's probably because it's a fairly accurate portrait of a society in which such attitudes were rife.
A more serious problem for audiences outside of the film's core Spanish speaking territories – and even here, to an extent – is the fact that the film's central character, a grown-up street kid, seems to keep most of his personality in the enormous penis that is his defining characteristic.
A fast-paced intro, interrupted by some classy animated credits, sketches in the backstory of Reinaldo (Tortolo), a 'mulatto' kid from the Cuban capital's Centro Habana barrio who loses his mother and brother in a freak accident for which he (rather inexplicably) takes the rap. Escaping from the grim juvenile reformatory as a late teen, he heads back to the roof terrace where it all went wrong years before – and finds shelter first with plump, raunchy neighbour Fredesbilda (Wilson), then, in another part of town, with her skinny daughter Magda (Ariosa), who, like her mother, makes a living by turning tricks.
Also living in the same filthy, crumbling Battista-era townhouse is transvestite hooker Yunisleidy (a tasty turn by Medina). Both are enamoured of Rey ('King') as the penniless young stud is soon nicknamed, mostly because of his huge male member, into which he has sewn two pearls, the better to satisfy the women (and occasional men) he services.
No love is lost between Magda and Yunisleidy, and Rey plays one off against the other, in a world whose hardscrabble struggle to survive leaves little room for romance. Jobs as a cemetery worker and a bicycle rickshaw driver bring Rey into contact with Havana's black economy at a time when gravediggers would extract gold teeth from corpses to make some money on the side, the streets were flooded with drugs and illegal hooch, and young Cubans could be reduced to performing sexy threesome dance-and-porn numbers for tourists.
Revelling in the amorality of a protagonist who thinks nothing of stealing an offerings box and saintly icon from a one-legged beggar, wallowing in dirt, bodily fluids and the stench of unwashed sex, The King of Havana does a decent job of channelling the sheer exuberance and will to live of the Cuban underclass at a time of near complete social disintegration – though the few explicit references to the Castro regime's desertion of the very people it was supposed to protect feel dutiful and staged.
But with its melodramatic lighting, gory taste for violence, vividly grubby production design and soapy orchestral soundtrack, this (admittedly faithful) adaptation of a novel that relies on shock tactics for effect can't help but leave a bad taste in the mouth at the end of its entertainingly sensationalist two-hour ride.
Production companies: Pandora Films y Tusitala (Spain), Esencia Films (Dominican Republic)
International sales: Filmax International, filmaxint@filmax.com
Producers: Luisa Matienzo, Celines Toribio
Screenplay: Villaronga, based on the book by Pedro Juan Gutierrez
Cinematography: Josep M. Civit
Editor: Raul Roman
Production designer: Alain Ortiz
Music: Joan Valent
Main cast: Maykol David Tortolo, Yordanka Ariosa, Hector Medina, Chanel Terrero, Jonathan Maravilla, Ileana Wilson, Jose Maria Sanchez