Dir. Nicholas Hytner. UK 2015. 104 mins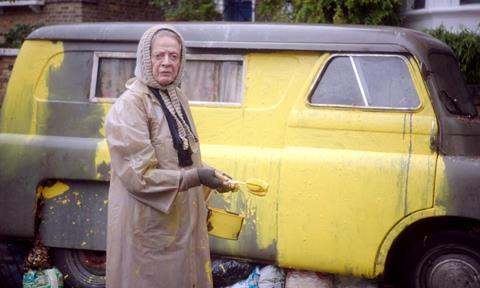 The unlikely, slowly deepening bond between playwright Alan Bennett and a cantankerous, malodorous homeless woman is recreated with warm affection in The Lady In The Van. The screen version of Bennett's theatrical hit, featuring original stage star Maggie Smith, is a guaranteed middlebrow crowd-pleaser offering a plaintive ode to friendship, community, British reserve and the kindness of strangers.
As audiences have come to expect from Bennett, the film sparkles with gems of dialogue and astute observations about human nature and everyday frailties
The chance to savour two national treasures for the price of one will make this essential viewing for the older Marigold Hotel demographic although the slight, sometimes mannered, nature of the piece suggests it is unlikely to match the scale of success achieved by previous stage to screen adaptations directed by Nicholas Hytner, notably The Madness Of King George and The History Boys(another Bennett transfer). The challenge will be to attract its core audience to the cinema when it has the look of something that will seem entirely at home on television.
In the early 1970s, Bennett moved into a house in Camden where he soon encountered Mary (Smith), a homeless woman who moved around the area like an unwanted parcel. She is unreasonable, unpalatable and delusional. She is barely tolerated by the local residents who shower her with clothes, food and Christmas gifts whilst secretly hoping that she will move on. She takes a special shine to Bennett and eventually moves her van into his driveway at the beginning of a temporary residency that was to last fifteen years.
The Lady In The Van takes a playful approach to a story that is " mostly true". Early on Bennett declares that writing is like talking to yourself and to prove the point the film has two Bennetts, "one who does the writing and one who does the living". Argumentative conversations between the two provide a commentary on the proceedings and on Bennett himself who discovers his life is a lot less interesting than the one Margaret claims to have had. The playfulness extends to brief cameo appearances from most of the original History Boys cast including Dominic Cooper, Russell Tovey and James Corden and there is even an appearance from Bennett himself in the closing scene.
The film very much underscores the belief that you should never judge a book by its cover. Mary is bundled up in smelly old clothes and shows little gratitude for any act of kindness towards her but over the course of the film an inconvenient woman is revealed to be a human being who is fluent in French and accomplished in more areas than anyone would have guessed. There is a poignancy to a life thrown off track by one tragic event.
As audiences have come to expect from Bennett, the film sparkles with gems of dialogue and astute observations about human nature and everyday frailties. An entertainingly imperious Maggie Smith delivers all one would expect of her in a display of wounded dignity and feisty resilience reminiscent of an Oscar-nominated Edith Evans in The Whisperers (1966). Awards consideration for her is inevitable although a more realistic prospect might by Alex Jennings who captures the lugubrious wit and timid nature of Bennett to a tee.
Hytner's breezy, enthusiastic direction serves the piece well although a final scene that stumbles in whimsy feels badly misjudged. He does bring out the best in a supporting cast of British stalwarts with Gwen Taylor nicely channelling Bennett favourite Thora Hird as Bennett's neglected mother.
Production Company BBC Films
Contact: Sony Pictures Classics
Producers: Kevin Loader, Nicholas Hytner, Damian Jones
Screenplay: Alan Bennett, based on his stage play
Cinematography: Andrew Dunn
Editor: Tariq Anwar
Production design: John Beard
Music: George Fenton
Main cast Maggie Smith, Alex Jennings, Frances De La Tour, Roger Allam, Jim Broadbent