In 1940s Kazakhstan, a young fruit-grower revives a medicinal strain of apple and attempts to solve a crime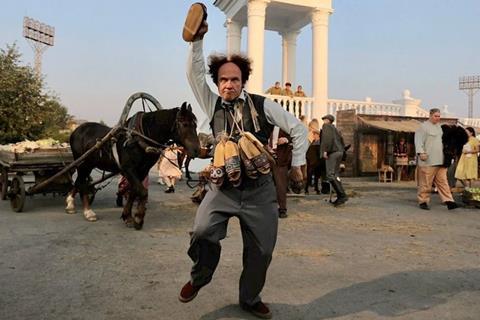 Dir. Alexei Fedorchenko. Russia. 2021. 110 mins.
Russian cinema's recent high-profile depictions of the country's twentieth century have been decidedly downbeat, offering chilly recreations of the Soviet years – Dear Comrades!, Beanpole, the epic multidisciplinary project DAU. So, not least as light relief, The Last Dear Bulgaria comes as an engaging departure. With its whimsical evocation of the 1940s and distinct cinephile tone, this sumptuously experimental piece is at once a historical mystery tale, a tribute to Soviet-era writer Mikhail Zoschenko and an extravagant adventure in formal trickery, The Last Dear Bulgaria defies easy categorisation, but its boldness and invention don't altogether pay off in a satisfying or entirely coherent narrative experience, suggesting limited exposure on specialist art cinema platforms.
Has the fragmented and disorientating sprawl of an ambitious modernist novel
With its whimsical evocation of the 1940s and distinct cinephile tone, this sumptuously experimental piece stands as a stark contrast to Fedorchenko's best-known film, lyrical 2010 road movie Silent Souls. The writer-director's central character here is Leonid (Ilya Belov), a horticulturist specialising in apples, whose father worked for years to create a strain called 'Dear Bulgaria', only for it to be almost entirely destroyed in an orchard fire.
Now, in World War Two, Leonid has been posted to Alma-Ata (now Almaty) in Kazakhstan. There he strives to regrow Dear Bulgaria from the last remaining apple and its pips, while also nurturing the seeds of a romance with young landlady Olga (Alena Bratchikova). Her main job is weaving reed mats for the local film studio – where an eccentric film director is currently shooting a historical epic. Although they are never named, the film is clearly Ivan The Terrible – which was indeed shot in Alma-Ata – and the director is Sergei Eisenstein, depicted here as a capering loon obsessed with Kabuki theatre and Mexican folk art.
The film is inspired, an end caption tells us, on elements of Before Sunrise – a 1940s work by Zoschenko, a Soviet writer best known as a humourist satirising everyday life in the USSR. Before Sunrise, however, was more a work of self-analysis – and it's that aspect of the writer that Fedorchenko places in the spotlight in the figure of chronically depressed scribe Semyon Kurochkin ·(a pseudonym used by Zoschenko)
While not growing apples, Leonid attempts to solve the riddle of Kurochkin, Olga's former tenant who has mysteriously disappeared, leaving behind notebooks full of autobiographical writings – dramatised on screen in a highly stylised split-screen fashion somewhat reminiscent of Peter Greenaway (who paid his own tribute to the Russian maestro in 2015's Eisenstein in Guanajato).
Long sections of the film follow Kurochkin (Konstantin Itunin) on his pained career – through experiences of war, through his fortunes as a writer, and through his relationships with various women, notably Nadia (Maria Morozova), whom he fixates on as the all-inspiring One That Got Away. These sequences, establishing Kurochkin as a tragic alter ego to Leonid, are lavishly and often beautifully executed, in an inventive display of Brechtian artifice (with production designer Alexei Maximov making amusingly versatile use of those all-purpose reed mats).
Taken as a whole, however, the film has the fragmented and disorientating sprawl of an ambitious modernist novel, with more subsidiary characters than it can easily accommodate (like a psychoanalytically astute painter-decorator, and a doctor specialising in a curious strain of green carrots), while subplots concerning both Leonid and Kurochkin include the complex back stories of their parents and childhoods. Unfortunately, the central characters aren't drawn strongly enough to provide focus, with Utinin's woebegone writer and Belov's candid but insipid nice-guy hero both lacking the charisma to compete with the dazzle of Fedorchenko's overall conception.
Lovers of Russian cinema will certainly enjoy the spoofing of Eisenstein, which is where Fedorchenko really goes to town– not least in a fantasy sequence mixing puppetry and Svankmajer-like animation. A wild-eyed, and wilder-haired Alexander Blinov lets rip with his ludicrously posturing visionary auteur but - while Eisenstein devotees could hardly object to the fond lampoon –it feels like a one-joke performance pushed beyond its limits. Eisenstein himself, meanwhile, might have thought Fedorchenko was going a bit far with his no-holds-barred production values – hordes of extras, impromptu dance sequences, real camels, fake elephants. But there's no denying that the director and DoP Artem Anisimov pull out all the stops – as does editor Darya Ismagulova, giving Eisenstein's famous 'montage of attractions' approach a hearty shove into the digital era.
Production companies: 29th February Film Company, SAGa Production
International sales: SAGa Production, info@sagafilmproduction.com
Producers: Andrei Saveliev, Alexei Fedorchenko, Dmitri Vorobiev, Artem Vasiliev
Screenplay: Lidia Kanashova, Alexei Fedorchenko
Cinematography: Artem Anisimov
Editor: Darya Ismagulova
Production design: Alexei Maximov
Music: Andrei Karasyov
Main cast: Ilya Belov, Konstantin Itunin, Alena Bratchikova, Javokhir Zakirov