Dir. Jan Matuszynski. Poland, 2016. 124 min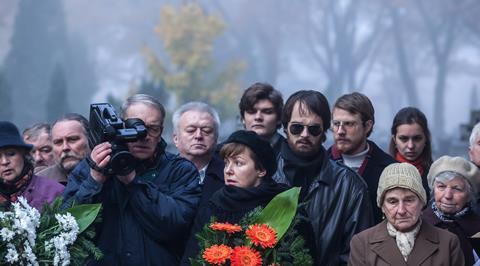 Jan Matuszynski, an established prize winning documentarian in his early 30s, has made his fiction debut with a feature that has the ostensible appearance of an everyday family chronicle covering 28 years from the end of the last century to the beginning of this one. But behind this facade of Polish middle-class life, he very quickly reveals the story of a profoundly dysfunctional family, sometimes too far-fetched to believe, but based on real facts which have been thoroughly researched for years by screenwriter Robert Bolesto.
This film is not about explaining life, but documenting its weirdness.
Authenticity rules the day here, the contrast between the banality of daily existence and extreme conduct is the main point of the picture, all of it defined by an insistence on staying close to the actual events and refraining from any attempt at psychological observations or analytical motivations. A festival item that will certainly travel extensively, The Last Family could have benefitted from some pruning and tightening of loose ends in the interests of the dramatic intensity, but that might have dulled the rough edges that give the story its particular and pretty unique character.
The Beksinski family was well-known in Poland, two of its members being actual cult figures in their country during most of the period the film takes place. The father, going by the unpronounceable name of Zdzislaw (played by the veteran Andrzej Seweryn) was a gentle family man who first dabbled in photography before he became famous for his bizarre, dystopic paintings, considered by some, but certainly not by all, to be inspired art works.
Zdzislaw also suffered from an acute case of arachnophobia, indulged in hardcore fantasies which he never allowed to enter his real life and always painted to the sound of music (mostly but not always classical).
The son, Tomasz (an over-excited Dawid Ogrodnik) was a manic-depressive with strong suicidal tendencies, a fanatical record collector responsible, to a great extent, for the introduction of Western pop-music to Polish radio. He was also a film buff often used as a movie translator and his relationship with women, once he did approach them, was feverishly despondent.
The mother, Zofia (a masterly performance by stage actress Aleksandra Konieczna), the real head of the family, keeps a tight balance between her two men, runing the household which also includes her own mother and her mother-in-law. She never stops worrying about her son's constant temperamental outbursts, his suicide attempts and his inability to lead an orderly existence, even while preserving the routines of everyday life for the peace and quiet of her husband, who works in his hampered office at the other end of the flat.
The film is almost entirely shot in two cramped Warsaw flats, practically extensions of each other, located in two opposing drab and grey blocs which are relics of Communist proletarian architecture.
Using mainly master shots which underline the limited space in which these characters have to move, the film is based on extensive documentation provided by Beksinski himself, who taped every single move he made - first on a small tape recorder and a stills camera, and later, once he could afford it, with the help of a camcorder from which he was never separated, not even at his wife's funeral.
Additional material has been provided via the many interviews conducted with Beksinski by a Paris art collector, Piotr Dmochowski (Andrzej Chyra), whose business contacts with the painter may have been less than neat. Finally, it is impossible not to mention the rich musical tapestry accompanying the film, anything from Tchaikovsky to the Moody Blues.
While Matuszynski makes a point of ignoring, on purpose, everything that is going on outside the two flats (Poland and Warsaw in particular underwent a major facelift during the period in question), he obsessively notes the passing time. Using titles to indicate dates, and following the course of events - whether dark and spooky or funny and touching - he followes the narrative all the way to its violent ending, which is rooted in real facts but never explained, possibly because no plausible explanation has ever been offered. But then, this film is not about explaining life, but documenting its weirdness.
Production company: Aurum Film
Producers: Leszek Bodzak, Aneta Hickinbotham
Sales: New Europe Film Sales, jan@neweuropefilmsales.com
Screenplay: Robert Bolesto
Cinematography: Kacper Fertacz
Editing: Przemyslaw Chruscielewski
Production design: Jagna Janicka
Sound: Jaroslaw Bajdowski, Kacper Habsiak, Marcin Kasinski (Dreamsound)
Cast: Andrzej Seweryn, Dawid Ogrodnik, Aleksandra Konieczna, Andzej Chyra