A defiant queen takes a stand in this debut set in 1500s Algeria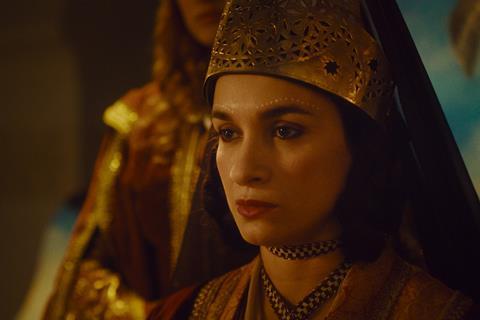 Dir/scr: Damien Ounouri, Adila Bendimerad. Algeria, France, Saudi Arabia, Qatar, Taiwan. 2022. 112mins.
Algeria, 1516. King Salim Toumi (Tahar Zaoui) forms an uneasy truce with the pirate and fearsome warrior Aruj (Dali Benssalah) in order to defeat the Spanish occupiers. But celebrations are short-lived and King Salim is murdered, throwing the kingdom into turmoil; while most of his court flees, one woman, Salim's consort Queen Zaphira (Adila Bendimerad) stands firm. A lavish, old fashion epic period drama, the picture is ambitious in scope and polished in execution. Although the filmmaking approach is solidly unsubtle, the female perspective on a traditionally male-dominated historical arena adds to the picture's appeal, as does the magnetic central performance from Bendimerad, who, in addition to playing Zaphira, co-wrote, co-directed and co-produced.
A rich and opulent spectacle, with gorgeous costumes and ambitious action sequences
The Last Queen is the feature film directing debut of both Ounouri and Bendimerad. Ounouri cut his teeth as a documentary filmmaker, with Xiao Jia Going Home in 2007, and Fidaï, which took home a prize at FEST New Directors/New Films Festival in 2013. He followed this with a mid-length fiction film, Kindil El Bahr, which premiered at Cannes Directors' Fortnight. Bendimerad produced and starred in Kindil El Bahr and is perhaps best known for starring in Merzak Allouache's The Rooftops. After a festival run which started in Venice's Giornate degli Autori and has taken in the likes of Hamburg, Thessaloniki and Red Sea, theatrically The Last Queen will likely connect most with a domestic audience. Elsewhere, the style of filmmaking may be slightly too mainstream to appeal to the arthouse market, but it could find a warm reception with Algerian diaspora audiences overseas.
The Algerian film industry hit film industry news earlier this year when a collective of Algerian filmmakers, including Ounouri and Bendimerad, signed an open letter calling for the government to release promised funds to support the embattled industry. But if the filmmakers were struggling with funding, there is no sign of it on screen; The Last Queen is a rich and opulent spectacle, with gorgeous costumes, ambitious action sequences and plenty of scimitar-based violence.
When we first meet Zahira – a real-life historical figure, albeit one whose mythic legacy is contested – she is not a particularly politically savvy operator. She pouts and sulks when King Salim announces that he must leave her to take care of matters of state. The king's other wife, Chegga (Imen Noel) is far more astute about the machinations of power and acts as his advisor. All this changes when Salim dies and Aruj, the dashingly handsome one-armed corsair, takes power.
His aspirations go beyond the crown and extend to the previous king's wife – he asks for Zahira's hand in marriage. She risks his wrath by angrily refusing, but one of the film's most successful elements is the frisson of sexual attraction between Zahira and the man who may or may not have had her king murdered. And while there are pacing issues and the storytelling can be a little exposition-heavy, scenes between Benssalah and Bendimerad – particularly an electrifying moment of verbal jousting while on horseback – are thrilling.
Production company: Agat Films, Taj Intaj
International sales: The Party Sales sales@thepartysales.com
Producer: Adila Bendimerad, Patrick Sobelman
Cinematography: Shadi Chaaban
Production design: Feriel Gasmi Issiakhem
Editing: Matthieu Laclau, Yann-Shan Tsai
Music: Evgueni & Sacha Galperine
Main cast: Adila Bendimerad, Dali Benssalah, Tahar Zaoui, Imen Noel, Nadia Tereszkiewicz, Yanis Aouine, Ahmed Zitouni, Tarik Bouarrara