Dir: Mark Pellington. US. 2016. 108mins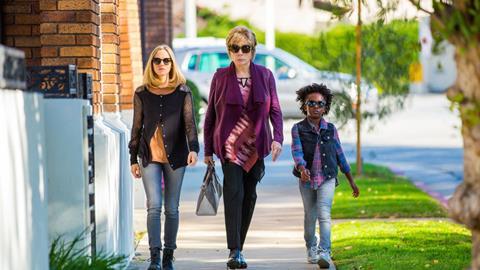 The good news about The Last Word is that it's a very fetching platform for Shirley MacLaine, ripping it up as a cantankerous, opinionated retiree who decides she wants her obituary written while she's still alive to ensure it meets her exacting standards. The bad news is that MacLaine's surliness can only take this undemanding, programmatic comedy so far. Offering predictably heartfelt messages about seizing the day, The Last Word can be very sweet and funny, but its lightness starts to feel cloying rather than ebullient.
MacLaine wields her caustic, no-nonsense comedic chops to put other characters in their place.
In recent years, films such as Grandma, I'll See You In My Dreams and Hello, My Name Is Doris have been modest indie successes, challenging an out-dated, sexist Hollywood truism that audiences won't watch movies starring veteran actresses. The Last Word hits US theatres on March 3, and Bleecker Street is no doubt hoping that this encouraging commercial trend will continue. To that end, MacLaine should help attract older audiences, while co-star Amanda Seyfried may draw a younger generation. But box-office grosses may rely on glowing word-of-mouth in the face of lukewarm reviews.

MacLaine plays Harriet, a former advertising executive who, now in her 80s, has plenty of money in the bank but little desire to go on living. After failing in a suicide attempt, this consummate micromanager and control freak enlists Anne (Seyfried), her local paper's obituary writer, to put together a proper remembrance. Harriet is thrilled to be able to focus on a new project, hoping this obituary will shape how others see her legacy as a fantastic businesswoman, wife and mother. But to Harriet's chagrin, nobody in her life has a nice thing to say to Anne when she interviews them for the project.

Directed by Mark Pellington, The Last Word chronicles Harriet's attempt to essentially rewrite her past. The cutesy concept, devised by screenwriter Stuart Ross Fink, requires the two main characters to spend a lot of time together and, not surprisingly, they don't get along at first. (Harriett is bossy and snide, while Anne has better things to do but is forced into this assignment by her editor.) Rest assured, though, eventually the mismatched women will begin to bond.

What gives the film its spark is MacLaine, who wields her caustic, no-nonsense comedic chops to put other characters in their place. Harriet's a bit one-note, but the Oscar-winning actress is such a bulldozer that she makes this once-powerful ad exec an unstoppable, wisecracking force.

Nonetheless, MacLaine never seems very challenged by the material or her supporting cast. Seyfried overdoes Anne's exasperation, and the character's uncertainty about her future — should she quit her steady job to pursue her dream of being a literary writer? — doesn't have much emotional pull. The only performer who can match MacLaine's fire is newcomer Ann'Jewel Lee, who plays an impoverished black girl who Harriet cynically befriends in order to bolster instances of selflessness in her obituary. Unfortunately, a broad, feel-good movie like The Last Word lacks the nuance to make this nervy white-saviour joke work — Lee is encouraged to flex so much attitude that it borders on caricaturish and racially insensitive.

As Harriet tries to make amends with former colleagues, her ex-husband (Philip Baker Hall) and estranged daughter (Anne Heche), The Last Word skates along on its superficial pleasantness, never subverting expectations or offering legitimate lump-in-the-throat moments. However, that doesn't stop Pellington from unveiling some terribly clichéd plot twists near the end, forcing a tear-jerking finale onto the audience that the film hasn't earned. For a movie about grabbing life by the reins and taking chances, The Last Word plays it awfully safe.
Production companies: Bleecker Street, Franklin Street Capital, Myriad Pictures, Wondros, Iron Hoss Films, Parkside Pictures
US distribution: Bleecker Street, www.bleeckerstreetmedia.com
International sales: Myriad Pictures, info@myriadpictures.com
Producers: Anne-Marie Mackay, Mark Pellington, Kirk D'Amico
Executive producers: Andrew Karpen, Dan Steinman, Teddy Schwarzman, Damiano Tucci, Phillip B. Goldfine, Dan Roth, Shirley MacLaine, Amanda Seyfried, Aaron Magnani, Kevin Forester
Screenplay: Stuart Ross Fink
Cinematography: Eric Koretz
Production design: Richard Hoover
Editor: Julia Wong
Music: Nathan Matthew David
Main Cast: Shirley MacLaine, Amanda Seyfried, Anne Heche, Thomas Sadoski, Philip Baker Hall