Dir: Athanasios Karanikolas. Germany. 2013. 77mins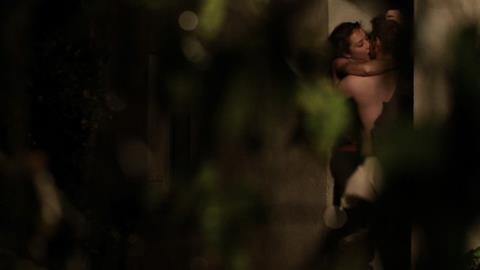 The suicide of a friend prompts a group of ten artsy, alt-dressing young Berliners to spend a weekend at a country farmhouse to process their grief in improv-driven, nebulously impressionistic drama Echolot from Greek-born director Athanasios Karanikolas. He seems to be trying to emulate the low-fi indie cool of US mumblecore but fails to raise the short-running film above a sense of inconsequentiality and self-absorption. As such interest beyond the festival circuit will be limited.
Romantic pretensions abound. Long shots of the landscape's natural beauty angle for moody lyricism.
We learn very little about anyone in the group (played by an ensemble of unknowns) or their dead friend Franz, the characters being so thinly fleshed out as to be barely distinguishable from each other. Slight, sometimes contradictory recollections are made by them about Franz in turn.
From first meeting the Austrian when he immigrated and feeling protective of him to a Baileys-drinking session and Franz's response to a declaration of love from a male friend he couldn't return in kind, these memories punctuate the film throughout. They not only feel clunkily contrived but are vague and provide little insight into these relationships. During a kissing session on the stairs two friends confess to one another they never really liked Franz anyway, but frustratingly they don't elaborate.
The friends also briefly debate the acceptability of Franz choosing to take his own life (the exact circumstances of the death are hazy), expressing varying views - from the notion anyone should be free to commit suicide and can't be forced to stay alive to make others feel better, to the unfair shock his act inflicted on those close to him. But for the most part dialogue is minimal, with banal activities stringing the loose, observational film together - firewood-collecting, smoking at the kitchen table, lying around napping or staring into space. A tousle-haired guy wanders around taking Polaroids.
There's also a good deal of making out (numerous scenes of pairs kissing or having sex are artily framed through leaves, or behind the plastic sheeting of covered furniture). The friends also party, pushing their loss into the background as they drink, dance and play live rock - music which, continuing off-scene in the background for some time, forms a soundtrack of sorts. Lyrics refer to a seismogram and we can assume the film is meant to function in a similar way, registering waves of motion around the tragedy (the title means "sonar" in German).
Romantic pretensions abound. Long shots of the landscape's natural beauty angle for moody lyricism. The camera lingers over one of the youths, pensive, as he stands outside staring at the night sky, a tear running down his cheek and thunder rumbling. A poem is read out and pondered. As the characters walk back through a sprawling field of cows at the close, we wonder what of any import the weekend achieved for them - and why we were gathered to watch.
Production company: Athanasios Karanikolas Berlin
International sales: Lasse Scharpen, lasse@shpn.de
Producer: Athanasios Karanikolas
Screenplay: Athanasios Karanikolas
Cinematography: Johannes M. Louis
Editor: Athanasios Karanikolas
Main cast: Martin Aselmann, Henning Bosse, Bettina Burchard, Anjo Czernich, Thomas Halle, Aenne Schwarz, Lena Vogt, Nina Horvath, Julian Keck, Arndt Wille