Dir: Chris McKay. US. 2017. 104mins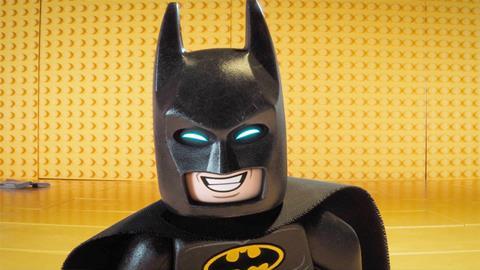 A sugar rush that struggles to sustain its initial burst of energy, The Lego Batman Movie overdoes everything — its action sequences, its three-jokes-a-minute comedic approach, its sneaky sentimentality.
The Lego Batman Movie consists of a pretty straightforward superhero narrative tied together by myriad random jokes.
But while this spin-off to 2014's more consistently inspired The Lego Movie is a decidedly hit-or-miss affair, it boasts enough giddy good humour and manic rambunctiousness to bludgeon the viewer into submission. As a result, one walks away from the experience equally entertained and exhausted.
Hitting US theatres on February 10, almost exactly three years after The Lego Movie (which grossed $469m worldwide), The Lego Batman Movie could post even better numbers because of its focus on the Dark Knight, one of the most reliably popular box office figures.
No doubt Warner Bros hopes Batman can once again bring in major grosses, betting that audience fatigue hasn't set in yet. (Batman v Superman: Dawn Of Justice, which earned $873m, came out only 11 months ago.)
As he did for The Lego Movie, Will Arnett voices Batman, who in the Lego universe has been conceived as a parody of the dark, brooding character made famous in comic books and the films of Tim Burton and Christopher Nolan. Pleased with his own awesomeness, and dedicated to living a solitary life so as to never need anyone, Batman squares off against his old enemy the Joker (voiced by Zach Galifianakis) while reluctantly taking under his wing an overeager orphan named Richard Grayson (voiced by Michael Cera) who will become his sidekick Robin.
The Lego Movie, directed by Phil Lord and Christopher Miller, revelled in the childhood pleasures of making up whole worlds through Legos, while at the same time mocking action movie conventions and critiquing societal conformity. The Lego Batman Movie doesn't have the same rich collection of themes, mostly spoofing Batman's self-seriousness and offering plenty of self-referential gags about the character's pop-cultural longevity.
In his feature directorial debut, Chris McKay ensures that the new movie is even more visually and comically hyperactive than the first film. Five writers are credited on the screenplay, adding to the sense that The Lego Batman Movie consists of a pretty straightforward superhero narrative tied together by myriad random jokes.
In the film's early stretches, that strategy succeeds. The Lego Batman Movie plays best as a cheeky satire of Batman movies, and the first few reels target everything from the calculated ominousness of comic book film's opening credits to Bruce Wayne's done-to-death tragic backstory of witnessing his parents' murder. (In other words, those who found Batman v Superman needlessly self-important and dour will appreciate the barbs The Lego Batman Movie hurls its way.)
Arnett again proves to be a perfect pseudo-Batman, using his low growl to mercilessly mimic Christian Bale's intense portrayal of the Caped Crusader. It's a one-joke premise, but Arnett makes the most of it, letting us see Batman as a raging, self-pitying narcissist whose monstrous ego is only overshadowed by his ridiculousness.
It is crucial that Arnett is such fun company because, once The Lego Batman Movie gets around to introducing its plot, the film starts to stall. The Joker has an elaborate plan to destroy Gotham City that is not particularly clever or funny, and the reveal of new characters, like Robin, does not significantly amplify the film's humour or stakes.
Although some of the story's emotional undercurrents have heft to them — Batman has to learn to let people be close to him — McKay's hyperactive pacing and pummelling action sequences don't allow for much breathing room. If the original film worked well for both kids and their parents, The Lego Batman Movie's panting, caffeinated busyness feels more suitable to younger viewers, leaving adults to be amused by the nods to the 1960s Batman television series and the Burton movies.
Cera makes for an adorably vulnerable and enthusiastic Robin, while Galifianakis brings a goofy, insecure dementedness to the Joker, who really just wants Batman to admit that he's the hero's arch-nemesis. Ralph Fiennes voices Bruce Wayne's loyal butler Alfred, who serves as the character's moral compass but doesn't have a lot to do. And Rosario Dawson is Batman's token love interest as Gotham's new commissioner, Barbara Gordon — a somewhat thankless role that Elizabeth Banks had a lot more fun with in The Lego Movie with a better-developed character.
Production companies: RatPac-Dune Entertainment, Lego System A/S, Lin Pictures, Lord Miller, Vertigo Entertainment
Worldwide distribution: Warner Bros
Producers: Dan Lin, Phil Lord, Christopher Miller, Roy Lee
Executive producers: Jill Wilfert, Matthew Ashton, Will Allegra, Brad Lewis, Zareh Nalbandian, Steven Mnuchin
Screenplay: Seth Grahame-Smith and Chris McKenna & Erik Sommers and Jared Stern & John Whittington, story by Seth Grahame-Smith, based on Lego Construction Toys, based on characters from DC Entertainment. Batman created by Bob Kane with Bill Finger. Superman created by Jerry Siegel and Joe Shuster
Production design: Grant Freckelton
Editors: David Burrows, Matt Villa, John Venzon
Music: Lorne Balfe
Website: www.legobatman.com
Main Voice Cast: Will Arnett, Zach Galifianakis, Michael Cera, Rosario Dawson, Ralph Fiennes