Paolo Virzi's English-language debut stars Helen Mirren and Donald Sutherland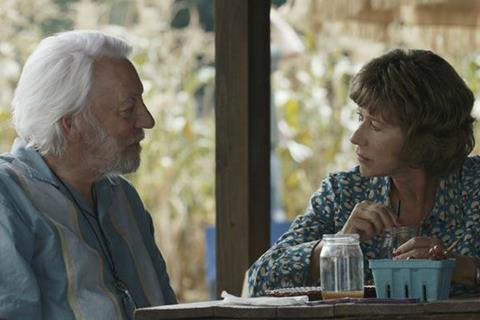 Dir. Paolo Virzi. Italy/US. 2017. 112 mins.
Donald Sutherland and Helen Mirren take to the road in Paolo Virzi's English-language debut The Leisure Seeker – the name of a 1974 Winnebago which is transporting this ailing, elderly married couple from Wellesley, Massachusetts to Hemingway's house in Key West, Florida. But it's a long, long road cluttered with clichés and stalled in softness, pot-holed by its self-serving use of Alzheimer's as a narrative convenience.
Mirren does all she can with the part, and her rapport with the dignified Sutherland is the film's great charm
Verzi (Human Capital, Like Crazy) has engineered this vehicle for two great actors which tries to trace the road taken by Alexander Payne's Nebraska or About Schmidt. Reuniting Sutherland and Mirren for the first time since 1990's Bethune, The Making Of A Hero, The Leisure Seeker is an adaptation of the novel by Michael Zadoorian which isn't improved by some clumsy stabs at relevance. Dating the action to 2016 and grafting on Donald Trump rallies and racial references seems like a blatant attempt by four credited screenwriters to sharpen it all up for a wider audience.
Misleadingly programmed in Venice's main Competition section and coming across like a sequel to Eleanor Coppola's Paris Can Wait, The Leisure Seeker opens in the US next January through Sony Pictures Classics before retiring into home viewing. Mirren and Sutherland, who both fully commit to their parts, should earn deserved praise, but the dialogue never feels natural even if the warmth is palpably there between their long-married couple, Ella and John.
The Leisure Seeker begins when adult son Will (McKay) arrives at their house for a hospital appointment to discover his parents have taken to the road in the battered old Winnebago. Ella is ailing from an unspecified disease – her ill-fitting wig a giveaway – and John is suffering from some form of dementia, perhaps Alzheimer's, though it is also not spelled out. What will prove difficult for any viewer with direct experience of this disease is the way The Leisure Seeker turns it on and off as the plot dictates. John is still a great driver, for example, and his fits of obstinacy are confined to wanting a hamburger or a cup of tea.
Chatterbox Ella hails from the south, having grown up between Charleston and Savannah (Mirren never quite fully convinces, but she still makes her character work). John, meanwhile, is a Hemingway-loving former academic from the East Coast. On-the-nose dialogue between their children Will (possibly gay) and his professor sister (Janel Moloney) reveals their parents were so in love "there was no time for us". Every now and again there's a cut to the shotgun they're carrying as they trip headlong through the clichés on the way down south (a burst tyre, a hold-up, an overnight in a luxury hotel where they dance to Donna Summer, a preoccupation with old boyfriends and girlfriends, worsening illnesses).
There are few narrative surprises here, although the makers are keen for critics not to give away the ending, it's pretty heavily signalled throughout. Mirren does all she can with the part, and her rapport with the dignified Sutherland is the film's great charm. Overall, The Leisure Seeker is paced to fit its title, while production credits are solid all round. Carlo Virzi's score fits the mood snugly as Janis Joplin sings Me And Bobby McGee as a recurring theme tune.
Production companies: Indiana Production, Rai Cinema
International sales: BAC Films Distribution
Producers: Fabrizio Donvito, Marco Cohen, Benedetto Habib
Executive producers: Alessandro Mascheroni, Dov Mamann, Daniel Campos Pavoncelli, Cobi Benatoff, David Grumbach , Mathieu Robinet, Gilles Sousa, Bryan Thomas
Screenplay: Stephen Amidon, Francesca Archibugi, Francesco Piccolo, Paolo Virzi, based on the book by Michael Zadoorian.
Cinematography: Luca Bigazzi
Editor: Jacopo Quadri
Music: Carlo Virzi
Main cast: Helen Mirren, Donald Sutherland, Christian McKay, Janel Moloney, Dana Ivey, Dick Gregory