Dir: Derek Cianfrance. US/Australia/New Zealand. 2016. 133mins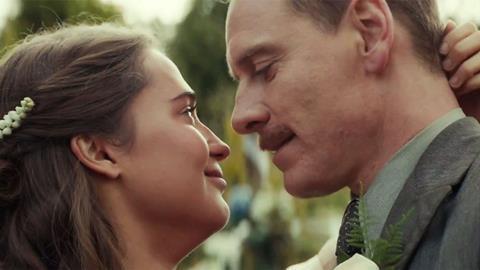 Poignant and frustrating in equal measure, The Light Between Oceans aspires to be an elegant melodrama, but the intelligence that director Derek Cianfrance and his capable cast bring to bear eventually becomes overwhelmed by the story's emotional manipulations. Although beautifully evoking a sense of place and time, this adaptation of M.L. Stedman's 2012 novel struggles to justify its ambitions as a tear-jerking tragedy.
The film's gentle, relentless air of potential heartache can be affecting, but much like Alexandre Desplat's decorous score, the stately, reserved tone ultimately becomes monotonous
Premiering in Venice and featuring Michael Fassbender, Alicia Vikander and Rachel Weisz, this period romance will appeal to adult date-night crowds who have been under-served during this recent summer movie season. Mixed reviews could temper excitement, however, and the film seems unlikely to build much awards buzz amidst the imminent arrival of more prestigious titles.
Set on a tiny island in Western Australia in the aftermath of World War I, Light stars Fassbender as Tom, who has returned from the horror of combat, gladly volunteering to become the new lighthouse keeper, a solitary job that will help him forget the carnage he's seen. He falls in love with a local beauty, Isabel (Vikander), whose brothers were killed in the war, and they quickly marry.
But after two miscarriages, Tom and Isabel lose hope that they'll ever have a child — that is, until a boat washes ashore carrying a dead man and an infant girl who is still alive. Tom thinks they should report their discovery to the authorities, but his wife implores him to pretend that the baby is theirs, a lie he reluctantly goes along with for five years. Eventually, though, his conscience gets the better of him once he meets the girl's true mother, Hannah (Weisz), a shattered woman who believes she lost her husband and child at sea.
Initially, Tom and Isabel's blossoming love story, set amidst the gorgeous Australian coastline, feels like a little slice of heaven on Earth. (Cinematographer Adam Arkapaw maximises every resplendent sunset and rolling ocean wave.) But as tragedy invades the couple's secluded paradise, Cianfrance (Blue Valentine, The Place Beyond The Pines) connects their anguish over the miscarriages with their lingering sadness at the devastation that World War I wrought on their countrymen.
Wanting to start a new life, Tom and Isabel are understandably intrigued by the chance arrival of the mysterious newborn, but their differing views on what to do — he wants to alert the police and then adopt her, while Isabel wants to just keep her — suggests a deep divide about how best to move on from the past. After Tom meets Hannah, he can't live with himself, realising that they have to turn themselves in. But that's a course of action with which his wife vehemently disagrees.
The film's gentle, relentless air of potential heartache can be affecting, but much like Alexandre Desplat's decorous score, the stately, reserved tone becomes monotonous, especially as the characters grow more rigid and one-note.
Light tries to present this scenario as a moral drama, but for that to work, it shouldn't be quite so easy to determine who is in the wrong in terms of the child's custody. No matter the trauma Isabel has experienced, her justifications for maintaining the lie are flimsy, not helped by Vikander's committed but simplistic portrayal. This is a decidedly interior performance from Fassbender, but the character gets lost amidst the heavy emoting.
The film's pat conflict extends to Hannah, who just wants her daughter back. Weisz journeys through a range of emotions in Light, and she's a figure of endless sympathy, but that only makes the central dilemma more cut-and-dried ethically. To be sure, Light skilfully touches on issues of motherhood, death, guilt and the passage of time, leading to a moving conclusion. Nonetheless, the appeals to the heart can't erase the flaws that are apparent to the head.
Production companies: Dreamworks Pictures, Reliance Entertainment, Participant Media, Heyday Films
Domestic distribution: Touchstone Pictures/Disney, http://movies.disney.com/all-movies
UK distribution: Entertainment One, www.eoneukslate.co.uk
Producers: David Heyman, Jeffrey Clifford
Executive producers: Tom Karnowski, Rosie Alison, Jeff Skoll, Jonathan King
Screenplay: Derek Cianfrance, based on the novel by M.L. Stedman
Cinematography: Adam Arkapaw
Production design: Karen Murphy
Editors: Ron Patane and Jim Helton
Music: Alexandre Desplat
Website: www.twitter.com/TLBOmovie
Main Cast: Michael Fassbender, Alicia Vikander, Rachel Weisz, Bryan Brown, Jack Thompson