Jon Favreau's thrilling 'photo-realist' Disney drama remains loyal to the original jungle monarch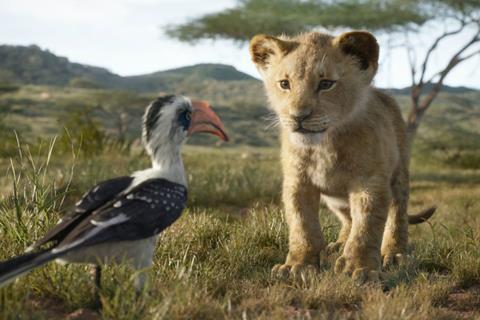 Dir: Jon Favreau. US. 2019. 118mins.
Like other recent Disney remakes, The Lion King largely lionises the original animated film, reluctant to risk alienating fans or to veer wildly from the source material. Nonetheless, director Jon Favreau (The Jungle Book) manages to give this version its own spark thanks to a willingness to embrace the story's inherent darkness and a photo-realistic computer-animation approach which amplifies the majesty of the tale's animal characters. Blessed with some excellent voice performances, this new King is familiar but still lively enough to encourage audiences to emotionally invest again in story they are already so familiar with.
There's a savage ferocity to these characters that accentuates their kill-or-be-killed reality
Disney will release the film across much of the world by July 19, looking to match (or better) the worldwide grosses of live-action remakes Beauty And The Beast ($1.3 billion), The Jungle Book ($967 million) and Aladdin (currently $924 million). The original Lion King was the biggest global hit of 1994 — it seems fairly certain that the remake will be among this year's top-grossing films too, buoyed by a faithful recreation of the original's beloved soundtrack which never quite tops the Elton John and Tim Rice originals — or, frankly, tries to offer substantially different versions of them (Pharrell Williams produced five songs on the track).
Favreau takes us back to the African savannah, where wise Mufasa (voiced by James Earl Jones) rules over a pride of lions, including his sprightly son Simba (JD McCrary). But when Mufasa's conniving brother Scar (Chiwetel Ejiofor) secretly murders the king — and makes Simba believe he was responsible — the cub flees, befriending two lovable outcasts during his exile: meerkat Timon (Billy Eichner) and a warthog named Pumbaa (Seth Rogen).
Even more than 2016's The Jungle Book, The Lion King achieves what looks like wondrous live-action filmmaking as the wild animals behave in realistic ways — except, of course, for the fact that they talk and sing. Creating digital environments based on actual African locations, Favreau and his effects team concoct an immersive landscape that, although occasionally set-bound, is visually resplendent. (Special credit to Caleb Deschanel, whose cinematography is a rich mixture of evocative shadows and beautiful, sun-splashed widescreen compositions.)
It's unfortunate, then, that this remake doesn't attempt to enrich a narrrative that, despite its primal prodigal-son stirrings, has always felt as if it could be fleshed out. At its weakest, this Lion King merely rehashes the original story, but even then, it's a luminous production which is satisfying enough to simply let the vistas enrapture the audience. And, while this remake is primarily geared towards families, Favreau doesn't shy away from the story's sombre, even scary underpinnings. If it's enormously cute to watch photo-realistic cubs scamper to and fro, it's equally unnerving when the wiry Scar enters the frame — or when his hellacious hyena henchmen threaten Simba. To be sure, the original's traditional animation had flair, but the remake's live-action-ish quality allows us to fully appreciate just how powerful and dangerous these creatures are. Mufasa's regal bearing and Scar's coiled fury have a potency that the 1994 version can't match — there's a savage ferocity to these characters that accentuates their kill-or-be-killed reality.
Favreau has also done a good job with his casting, picking Donald Glover to voice the adult Simba who, after long abandoning his destiny, will finally rise to the challenge of taking his father's place. Jeremy Irons gave us a cheeky Scar, but Ejiofor is far more ominous, while Rogen and Eichner are an amusing comic duo. Reprising his role as the mighty Mufasa, Jones provides the same velvety authority that has been his trademark for decades. While The Lion King's love story feels as rushed as ever, at least Glover and Beyoncé Knowles-Carter (as Nala) have a warm rapport. And John Oliver is in fine form as Mufasa's loyal aide Zazu, an anxious hornbill.
Yet for all the computer wizardry on display, it seems to be mostly in service of mimicking the sensation of watching the '94 movie, which can feel like a lot of effort exerted for a trivial objective. And yet, Favreau and his cast have zeroed in on what remains so moving about this material — its wrenching father-son portrait, its extolling of the need to grow up, and its clear-eyed divide between good and evil. It's easy to be swayed by the craftsmanship on display, even if one wishes all involved weren't so loyal to the original King.
Production company: Fairview Entertainment
Worldwide distribution: Disney
Producers: Jon Favreau, Jeffrey Silver, Karen Gilchrist
Screenplay: Jeff Nathanson
Production design: James Chinlund
Editing: Mark Livolsi, Adam Gerstel
Cinematography: Caleb Deschanel
Music: Hans Zimmer
Main voice cast: Donald Glover, Seth Rogen, Chiwetel Ejiofor, Alfre Woodard, Billy Eichner, John Kani, John Oliver, Florence Kasumba, Eric André, Keegan-Michael Key, JD McCrary, Shahadi Wright Joseph, Beyoncé Knowles-Carter, James Earl Jones