A drug dealer confuses business and friendship in Emre Erdoğdu's deft second feature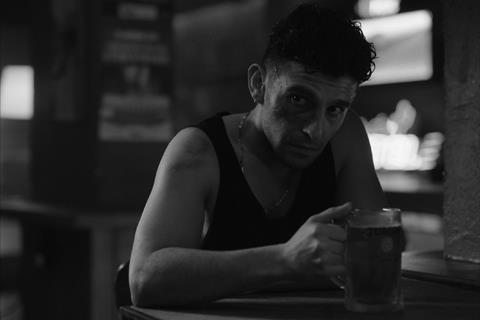 Dir/scr: Emre Erdoğdu. Turkey. 2021. 89mins
"My love is here!" announces film actor Enes (Ahmet Rıfat Şungar), when Yilmaz (Halil Babür) walks into the sullen gathering of phone-scrolling hipsters, a soiree described by the hostile bouncer as a "private party". Yilmaz's handsome face breaks into a smile; he thinks the bratty C-list celebrity is talking about him, rather than the wraps of coke in his backpack. Sharply written and stylishly executed in crisp black and white, The List Of Those Who Love Me is a perceptive portrait of addiction. But Yilmaz's weakness is not so much the class A drugs he hawks to a glittering in-crowd of film and TV creatives, but rather the gloss of approval he gains from the clients he considers to be his friends.
For all the discomfort of the themes, there's a great deal of knowing humour to the picture
The second feature from writer and director Emre Erdoğdu (his first was 2017's Snow, which won prizes at Adana and the Istanbul Independent Film Festival), The List Of Those Who Love Me is deft exploration of a similar kind of class-based culture clash to that which was the backdrop to last year's Black Nights directing prizewinner, Nisan Dag's When I'm Done Dying. Although the approach here is more meta and wry than that of Dag's picture, it's ultimately no less powerful – thanks in no small part to Babür's compelling performance. Further festival interest is likely and, given positive word of mouth, the film could make a ripple on the arthouse circuit.
The picture nails an uncomfortable dynamic: a co-dependency which straddles social strata, but which is weighted, as is everything, in favour of those in the more connected, powerful position. But Erdoğdu is at pains to point out that Yilmaz's primary motivation is not the money. By taking the financial aspect out of the equation – Yilmaz is clearly comfortable in his airy apartment, with its Raging Bull poster hung reverently over the bed – the film clears the way to interrogate his real impetus. What is it that drives Yilmaz to increasingly desperate lengths to source drugs after a government crack down scythes through his usual supply chain? He explains plaintively to the beard-stroking screenwriter who is one of his regulars that there's a responsibility to his clients. "These people are my friends." A telling flicker of disbelief crosses the screenwriter's face.
But for all the discomfort of the themes, there's a great deal of knowing humour to the picture. "Why is it in black and white?", asked the screenwriter, stroking his beard. He and Yilmaz are staring almost directly into the camera, a sly acknowledgement of this film's aesthetic choice. "I don't know…" says Yilmaz. It becomes clear that he is sharing his own half-formed footage, and that it's not particularly good. In return, Yilmaz promises to read a screenplay, drawing on his own experiences to judge a story which wallows in the assumed misery of life in the slums. "It's nice," he says doubtfully, before venturing that, "actually, it doesn't hurt that much to be an immigrant."
Erdoğdu's use of music underscores the central role of drugs in Yilmaz's social life: when the pockets of his bomber jacket, studded with the message "Forever or Never", are full, the score is bustling and busy. When the shelves are bare, the music fades. Canny camerawork is attuned to the subtle tensions that underpin the shallow interactions – the questioning glance from a stranger in a hip bar which reminds Yilmaz that, for all the celebrities he has on speed dial, he doesn't quite belong.
Production company: TN Yapım
International sales: TN Yapım info@tnyapim.com.tr
Producers: Tanay Abbasoğlu, Hazar Ergüçlü
Cinematographer: Emre Tanyıldız
Editing: Ayris Alptekin
Music: Ali Güçlü Şimşek
Main cast: Halil Babür, Hayal Köseoğlu, Ahmet Rıfat Şungar, Nazlı Bulum, Sermet Yeşil, Cem Uslu