Tessa Thompson's poised presence elevates Steve Buscemi's intimate drama about a helpline volunteer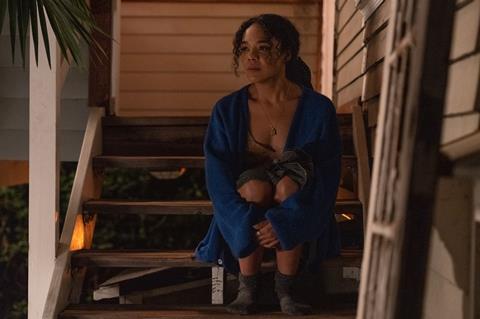 Dir: Steve Buscemi. US. 2022. 96 mins.
Beth (Tessa Thompson) wakes up in the dark, lies still for a few moments, her face a blend of trepidation and resignation. She cleans her teeth, rubs her neck in anticipation of the tension about to build, and settles down into her role as a helpline volunteer, fielding nighttime calls from the lonely, the desperate and the damaged in and around her unspecified US West Coast city. Low-key but sobering and sensitively handled, The Listener, Steve Buscemi's latest outing as a director, is arguably one of the more potent and affecting pandemic films to date, despite the fact that Covid-19 is rarely overtly mentioned. The cumulative stress of the pandemic is everywhere, as pervasive and ubiquitous as the omicron variant. Beth's lonely home-working set-up; the eerie quiet in the predawn hours; the brittle desperation in the callers' voices; the sheer volume of cries for help: it all captures the sense of teetering on the brink, the uncertainty, the unfamiliar anxieties of the first lockdown.
Not a showy film, but frequently an affecting one
This is Buscemi's fifth feature film as a director, and his first for fifteen years (the last was Interview in 2007, a two-hander in which Buscemi co-starred with Sienna Miller). In the intervening period, he has directed television, winning an Emmy for his short-form web series Park Bench With Steve Buscemi. Not a showy film, but frequently an affecting one, The Listener should find further interest on the festival circuit following its premiere in an out-of-competition slot as the closing film of Venice's Giornate degli Autori. While it might struggle to do notable numbers, the picture could connect with an arthouse theatrical audience. But with its intimacy and slightly claustrophobic atmosphere, it could work equally as well on the small screen.
There are passing similarities with other phone-based dramas: in common with Gustav Moller's police dispatch thriller The Guilty and Steven Knight's Locke, The Listener is carried by a single on-screen performance, with other characters appearing solely as voices. In this case, the heart of the film is Thompson's poised, reserved presence in the role of a woman performing mental calculations minute by minute on how best to serve each caller. How, in some cases, to keep them alive. Buscemi opts for a subdued lighting scheme — Beth wanders from room to room turning on table lamps, without making much difference to the dimly comforting glow. It's a canny choice. The low light serves to focus attention elsewhere, specifically on the story vignettes provided by each caller.
Beth empathises with an ex-con's anxiety about entering a store wearing a bandana mask ("The last time I did it, I got shot"). She conceals her irritation with an incel kid whose hate for himself and for women is poisoning his interactions with the world around him. She finds poetry in the voice of a psychiatric patient who is off her meds and rattling with pin-balling ideas. She cautions a homeless young person trapped in an abusive relationship. It's stressful, but all within her training and capabilities.
But then she gets a call from a brilliant, desperate woman (superbly voiced by Rebecca Hall) whose philosophical examination of suicide unsettles her. The veneer of studied neutrality and professionalism cracks and she reveals her own pain. Perhaps it's due to the way the role is written, perhaps it's due to the numbing effect of being buffeted by wave after wave of misery. But it's only when she is confronted by a woman toying with the idea of death that Beth comes fully alive as a character.
Production company: Hantz Motion Pictures
International sales: Bankside, yana@bankside-films.com
Producers: Wren Arthur, Steve Buscemi, Oren Moverman, Lauren Hantz, Bill Stertz, Sean King O'Grady, Tessa Thompson
Screenplay: Alessandro Camon
Cinematography: Anka Malatynska
Production design: Mboni Maumba
Editing: Kate Williams
Music: ASKA
Main cast: Tessa Thompson, Rebecca Hall