Documentary exploring life inside a bustling Lebanese refugee camp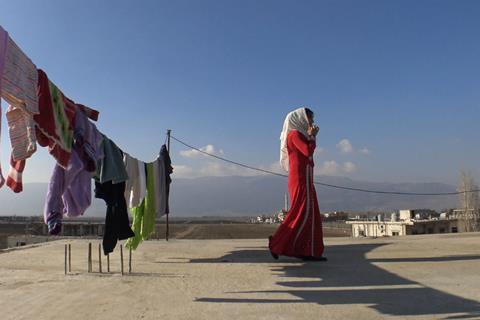 Dir: Leonard Retel Helmrich. The Netherlands. 2017. 115mins
Millions have fled Syria over the course of recent conflicts. Leonard Retel Helmrich's lyrical, calmly observed The Long Season focuses on one refugee camp in Lebanon, using a compassionate eye to reveal that, despite all the misery, mud and uncertainty, life goes on.
Helmrich generally keeps his distance, letting compelling personal stories unfold and develop
Putting faces and voices to the anonymous millions, Helrich draws us into the daily lives of individuals who, over the course of the film, start to feel as familiar as characters in our favourite television dramas. Balanced between hardship and hope, the film has enough human interest to travel widely after its world premiere at IDFA.
Camp Khiara in Bekaa Valley is just over the border from Syria in Lebanon; established by seasonal workers from Raqqa, it was left stranded when the city was captured by IS. There is little overt context or commentary as Helmrich guides us through a chaotic, ramshackle city of makeshift homes constructed from plastic sheeting, wood, bricks and any available available. There are signs of life everywhere: food is cooked, stoves are lit, children scamper through the rumble, stray chickens peck at the dirt, music is played and a lorry arrives selling fruit and vegetables. There is a sense of resilience among people who are doing everything to maintain the bare necessities of life.
The opening of the school season provides a further sign of hope. When children are asked to draw what they remember from home, they produce images of tanks, explosions, bombing and bloodshed. It is no wonder that some of the younger children can flip from adorable to hysterical in a heartbeat.
Having established a general sense of the camp, Helmrich starts to focus on particular individuals — especially the family of Abu Hussein, whose pregnant first wife Yisra is far from welcoming to his second wife Zahra. Son Maher is more concerned with arranging a marriage for himself, and starts to self-harm when his desires are thwarted. The family squabbling, tensions and simmering resentments could fuel a season of soap operas.
Generally, we are left with the impression that Camp Khiara is a place where the women work, organise and plan whilst the men supervise and chastise. The men do have an inventive line in insults, dismissing disagreeable situations with comments like "you have the mind of a chicken" or "your father has the mind of a fossil".
Helmrich generally keeps his distance, letting compelling personal stories unfold and develop in a way that can't help but draw us in. The pace can sometimes feel a little meandering and there are rare moments when the camera becomes obtrusive, verging on the voyeuristic. As a young girl runs to hide her tears, the camera follows and circles her seemingly desperate to capture this private moment on film.
School classes, a wedding day celebration, family battles all combine to give us a sense of what passes for a fragile normality within this community. Constantly in the background is the increasingly ominous news from Raqqa, and a sense that this temporary exile is unlikely to end any time soon. It is a situation faced with a degree of resignation. As Zahra says, "the hell here is better than the hell there".
Production company: Pieter van Huystee Films
International Sales: Films Transit International Inc. jan@filmstransit.com
Producer: Pieter van Huystee
Screenplay: Leonard Retel Helmrich, Pieter van Huystee
Cinematography: Leonard Retel Helmrich, Ramia Suleiman
Editors: Jos Driessen, Jelle Redeker
Music: Khyam Allami