Director Azazel Jacobs shows a lot of promise in this shrewd, if not altogether satisfying, Debra Winger-starring comedy for A24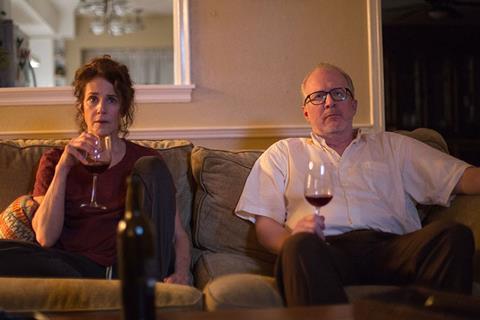 Dir. Azazel Jacobs, USA, 2017, 94 minutes
In The Lovers, the problem of adultery in a wilted marriage is treated with more adultery, this time between the very spouses who were cheating on each other. This sex comedy by Azazel Jacobs (Momma's Man) has a high concept that feels lifted from a French movie. It's America, though, so the clothes aren't as fashionable, and the lovers aren't quite as sexy. It aims relatively high – in terms of the age of its characters – and will target an older audience as it travels worldwide through Sony, which has taken all rights for this A24-backed feature.
The Lovers is an existentialist proposition masquerading as a sex comedy
The return of Debra Winger to the screen will bring her fans to The Lovers, and the film's frankness about sex in a longterm marriage could help find it a public. Middle-aged Michael (Tracy Letts) and Mary (Winger) are in a lifeless dead-end marriage that shows no sign of regeneration. Each is having an extra-marital affair. Michael is sleeping with tempestuous ballet teacher (Melora Walters), and Mary is with a younger actor (Aidan Gillen). Each of the new partners threatens to break off the affair if Michael and Mary stay married.
The Lovers is set in a non-descript anywhere that looks a lot like California. The wit is in the situation, rather than the dialogue. It also isn't about dazzling anyone visually, yet DP Tobias Datum does get the right look of people who feel trapped. Letts and Winger play an every-couple that may have seemed sexy to someone, sometime in the past. Each faces so much pressure to leave the marriage that you're left wondering why either affair continues. Aren't infidelities supposed to be about pleasure?
Jacobs who wrote the script, has put his characters in a quandary. They cheat on each other and lie about it, yet the alternative of being harangued by a new lover seems so unappealing that the prospect of sneaking sex with one's own spouse becomes tempting.
The Lovers is an existentialist proposition masquerading as a sex comedy. That concept comes as no surprise, given Jacobs's 2005 film, Momma's Man, a dark spare meditative comedy about an adult son living as a recluse in his parents' New York loft, featuring Jacobs's parents as the parents in the film and filmed in their own home. Now Jacobs has moved to a higher budget and out of his family environment, yet the surroundings in The Lovers are an unmemorable suburban house and drab offices, and the alternatives to a joyless marriage seem just as joyless.
Winger, in fine form despite a long absence from the screen, brings a mood of resignation to the role of Mary, who "works late" and endures complaints from her new lover that she's not there for him. Letts, as the paunchy and exhausted Michael seeking some excitement, is overpowered emotionally by the combative, petite Lucy (Melora Walters). The surprise is that he doesn't have a heart attack during an argument with her.
It's logical enough that Michael and Mary, overwhelmed by new lovers, might turn to each other. Dramatically, however, that shift feels abrupt, as the two jump back into bed again and again without discussing where else they've been having sex. This is the age of safe sex, after all, even for the middle-aged, and you would think that there might be some revealing pillow talk between husband and wife, given the ingenious plot twist.
The drama also suffers when the couple's son (Tyler Ross) makes a visit home with his new girlfriend. Knowing of his father's infidelities (but not his mother's), the young man launches into a rage against Michael that could have come out of any generic television family drama. It's a distraction that seems to have gotten less attention from Jacobs than the shifting bond between husband and wife.
Still, The Lovers is shrewd, even if it's not altogether satisfying. It reveals lots of promise in this young director. At the film's end, you're left wondering what clever title it might have in French. Winger and Letts bring some truth and imagination to a soured marriage that gets jumpstarted again in secret. And, certainly, Azazel Jacobs's sex comedy will make you think twice about having an affair.
Production company: A24
International sales: A24 international@A24film.com
Producers: Azazel Jacobs, Ben Leclair, Chris Stinson
Screenplay: Azazel Jacobs
Cinematographer: Tobias Datum
Editor: Darrin Navarro
Music: Mandy Hoffman
Main Cast: Debra Winger, Tracy Letts, Melora Walters, Aidan Gillen, Tyler Ross, Jessica Sula