Dir/scr. Matthew Brown. UK 2015, 108 mins.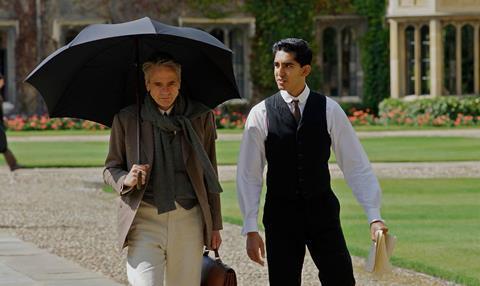 The true story of groundbreaking Indian mathematician Srinivasa Ramanujan, the "Prince Of Intuition" forms the basis of an inspirational tearjerker in The Man Who Knew Infinity. A well-heeled, sincere production following the memories of Ramanujan's English mentor and friend, the film is unashamedly middle-brow and sentimental but it tells such a good story that it is hard to resist. The old-fashioned virtues of a well told tale and a particularly fine performance from Jeremy Irons should endear the film to that supposedly under-served older demographic who like to turn out for a weekday matinee.
It tells such a good story that it is hard to resist
Initially, The Man Who Knew Infinity seems stifled by its own sense of craft, including cinematography by Larry Smith that bathes the screen in a golden glow and serves up beautiful images of India. It seems a little too Merchant Ivory, a little Laura Ashley. Then the story begins to take hold.
Ramanujan (Dev Patel) may have had no formal training but he is an instinctive mathematical genius. Employed in Madras as a clerk to Sir Francis Spring (Stephen Fry), Srinivasa is encouraged to send samples of his theories to Cambridge academic G.H. Hardy (Irons) who invites him to come and study in England. Treated as an exotic curiosity, Srinivasa struggles. The academic old guard close ranks. Hardy wants proof and rigour from work that just seems to come naturally to Srinivasa. The outbreak of the First World War stiffens the resistance to the presence of a foreigner and Srinivasa is worn down by the violence and humiliations routinely heaped upon him.
Infinity captures many aspects of the Ramanujan story from the man of humble origins struggling to gain acceptance for his brilliant mind, to a weary exile in a far, foreign land who is separated from his wife. Showing a more subtle side to his talent than his over-enthusiastic comic turns in the Exotic Marigold Hotel films, Dev Patel plays Ramanujan with the giddy excitement of a passionate, impetuous enthusiast exasperated that others cannot keep pace with his buzzing mind.
The most persuasive aspect of the film is the way a friendship slowly grows between Ramanujan and Hardy. Jeremy Irons is perfectly cast as the tweedy, cricket loving, pipe smoking academic who is much more at home solving complex equations than dealing with the messy emotional requirements of his fellow humans. It is a cliche of a character but Irons brings a warmth and attack to the part that transcends those limitations. There is a paternal concern and innate decency that is allowed to shine through his emotional reserve. You are left with the sense of a good man trying to do the best he can. You are so invested in his character and Hardy's point of view that Ramanujan is slightly edged out of his own film.
Irons also has a good rapport with Toby Jones as his generous-hearted colleague Littlewood. If someone is ill-advised enough to attempt another remake of The Lady Vanishes, they would make a marvellous Caldicott and Charters.
The cast is populated by eternally reliable British stalwarts including Kevin McNally, the late Richard Johnson and Jeremy Northam as Bertrand Russell. It is a quote from Russell that begins the film as he observes: 'Mathematics, rightly viewed, possesses not only truth, but supreme beauty."
Mathematics play a key role in the story but in a way that is entirely accessible, allowing the viewer to comprehend the advances that Ramanujan made and why his legacy remains so important almost a century after his death.
Production companies: Edward R Pressman Film Corporation, Animus Films, Cayenne Pepper Productions Ltd, Xeitgeist Entertainment Group, Marcys Holdings
International sales: Mister Smith Entertainment info@mistersmithent.com
Producers: Edward R. Pressman, Jim Young, Joe Thomas, Matthew Brown, Sofia Sondervan, Jon Katz
Screenplay: Matthew Brown based on the biography by Robert Kanigel
Cinematography: Larry Smith
Editor: JC Bond
Production design: Luciana Arrighi
Music: Coby Brown
Main cast: Dev Patel, Jeremy Irons, Devika Bhise, Toby Jones, Jeremy Northam