A re-run of 'Groundhog Day' for pandemically bored teenagers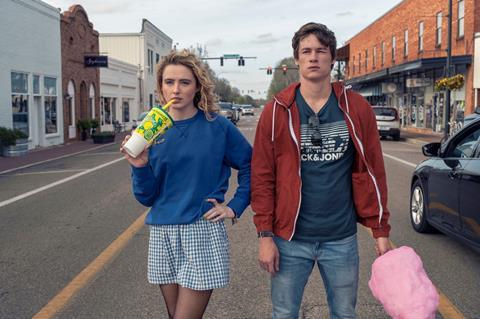 Dir: Ian Samuels. US. 2021. 99 mins.
Margaret (Kathryn Newton) and Mark (Kyle Allen) are stuck in a time loop, with everything they do feeling like something they've done a hundred times before. Day after day, it's the same-old, same-old squared: no surprises, no revelations, no point. The Map of Tiny Perfect Things wants to be a Groundhog Day for the YA crowd, but after recent rewind fantasies such as Palm Springs, Happy Death Day, and Edge Of Tomorrow, it's the audience that's liable to get a feeling of been there, seen that. Premiering February 12 on Amazon Prime, it's aimed at pandemically bored teens, and unlikely find an audience much beyond that demographic.
Undemanding, pretty and determinedly family-friendly
The film does start with a bravura opening sequence, as Mark shows off his charmed existence. Something falls, he's there to catch it; someone starts to slip into the pool, he's there to save them. What kind of superboy is this kid? It's a brightly shot, terrifically edited beginning and although Kyle Allen's smug confidence begins to grate early – he's like a young Joseph Gordon-Levitt, minus the vulnerability – it suggests viewers are in for some sort of fun fantasy.
Unfortunately, as we soon find out, Mark isn't magical. In fact, he's kind of a cheater – having lived out this same day, over and over again, dozens of times before, he already has the answers. The crucial difference, and critical problem, is that unlike Bill Murray's stuck-in-a-rut weather forecaster in Groundhog Day, Mark doesn't use that knowledge to grow as a person, to try and perfect himself without all that messy reincarnation stuff. He just wants to win the lottery, pull some pranks and maybe land a girlfriend.
The Map of Tiny Perfect Things eventually switches things up a bit by bringing on Margaret, who is uninterested in Mark, but in the same temporal predicament. Unlike him, though, she has given the situation some thought, and decided it has something to do with the fourth dimension. The two tentatively join forces, but remain somewhat at odds. The cluelessly self-involved Mark is still focused on getting Margaret to kiss him. Margaret, meanwhile, has other, more serious things on her mind – and, perhaps, a reason for not wanting a real tomorrow to ever come.
Kathryn Newton brings a nice, alert honesty to the super-smart Margaret, and screenwriter Lev Grossman's dialogue is sharp, at first. But eventually the endlessly ironic, ceaselessly self-mocking teen-speak gets a little repetitive, and the YA tropes – boy, aren't dads kind of adorably clueless! – are compounded by male screenwriter clichés. Because actually, by the end of the film, you realise this is Margaret's story. It's told from Mark's point of view, because – as in far too many rom-coms – he's the sadsack male who needs to be fixed by this quirky girl. But she's really the heart of this, and she should be its point.
Set in a sunny privileged suburb, The Map of Tiny Perfect Things is undemanding, pretty and determinedly family-friendly; there are no drugs or violence and the only gratuitous graphic images are of some product-placement Doritos. But even for a film about time loops, everything feels overly familiar. (Note to filmmakers: Simply referencing the film you're stealing from doesn't excuse the theft). And unlike Mark and Margaret's do-over day, in the end the whole thing slips by without leaving any impression at all.
Production companies: FilmNation Entertainment, Weed Road Pictures
Worldwide distribution: Amazon Prime
Producers: Ashley Fox, Akiva Goldsman, Gregory Lessans, Aaron Ryder
Screenplay: Lev Grossman, based on his short story
Production design: Kara Lindstrom
Editing: Andrea Bottigliero
Cinematography: Andrew Wehde
Music: Tom Bromley
Main cast: Kathryn Newton, Kyle Allen