Nia DaCosta directs Brie Larson as the returning Captain Marvel in this underpowered MCU instalment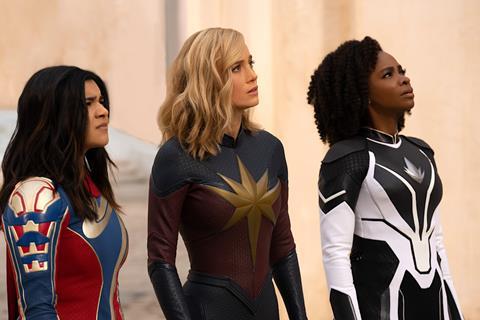 Dir: Nia DaCosta. US. 2023. 105mins
There is an appealing modesty to The Marvels, the shortest film in the history of the Marvel Cinematic Universe and among the most playful. Unfortunately, this relatively lighthearted instalment, which boasts likeable performances and some unapologetically goofy comedic moments, ends up feeling insubstantial rather than freewheeling. Brie Larson continues to make for a charming Captain Marvel, joined by Teyonah Parris and Iman Vellani playing two women profoundly impacted by this Avenger in different ways. But, after 33 chapters, the MCU seems to lack fresh ideas or the ability to wow, mostly repeating old strengths with diminishing returns.
The MCU seems to lack fresh ideas or the ability to wow
Opening in the UK and US on November 10, The Marvels is unlikely to come close to matching Captain Marvel's $1.1 billion haul from four years ago. Discouraging tracking numbers and lacklustre buzz have dogged this sequel, which may result in underwhelming box office. Lukewarm reviews are not going to help.
Larson plays Carol Danvers, better known as Captain Marvel, who discovers that when she uses her powers, she trades places with brilliant S.A.B.E.R. officer Monica Rambeau (Parris) and earnest teenager Kamala Khan (Vellani), who each have their own powers. Teaming up to determine why they are bonded together across time and space, they must battle the evil Dar-Benn (Zawe Ashton), who wants to destroy Captain Marvel for what she did to her home planet of Hala.
Directed and co-written by Nia DaCosta (2021's Candyman), the film requires viewers to be familiar with two Marvel television series: WandaVision, which featured Parris; and Ms. Marvel, starring Vellani as the titular New Jersey high-school student who is obsessed with Captain Marvel. If audiences have not seen those shows, The Marvels is still fairly easy to follow, although the picture underlines a growing criticism that Marvel has been spreading itself too thin across many films and TV shows, storylines and characters now all in service of sustaining a strained overarching narrative. Perhaps not surprisingly, then, The Marvels plays like just another episode of a protracted serial, without the gigantic stakes or epic drama of MCU's weightiest instalments.
To some degree, DaCosta combats that shortcoming by delivering a film that is less self-serious than most comic-book pictures. Not that The Marvels does not feature the usual fight scenes and planets in peril but, for the most part, the picture is almost more of a sitcom, with Kamala geekily fan-girling out about finally meeting her hero and the three women baffled as to why their powers are now linked together. Early on, the actresses lock into the right fun-loving tone, and The Marvels is at its best when it is simply our three leads riffing off one another. The jokey tone carries over to some of the film's weirder (and more hit-or-miss) gags, including the introduction of strange interstellar cats and an extraterrestrial culture that speaks entirely through singing.
It is in these offhand moments when The Marvels conjures up some of the inspired silliness of the Ant-Man series, which similarly acknowledged the comedic possibilities of comic-book cinema. But DaCosta wants to inject some poignancy into the proceedings as well, especially when Monica confronts Captain Marvel about their shared past, which has created emotional wounds between them. Without spoiling plot twists, let it be said The Marvels means to explore the downsides of being a superhero — namely, that you can still let people down or not live up to the image they have of you. Larson and Parris bring vulnerability to their characters' frayed relationship, and Vellani is enjoyably nerdy as a teen who discovers the potential of her powers, but the film is not especially compelling when it digs into more emotional terrain.
Saddled with a mediocre villain and a listless performance from Samuel L. Jackson as venerable MCU figure Nick Fury, The Marvels suffers from some of the same shoddy effects work that has hampered other recent instalments. Captain Marvel has always preferred to work alone, but she will come to understand just how much mightier she is when she is joined by Monica and Kamala, who are more than sidekicks ad teach her the importance of friendship while finding in each other something they havebeen missing. But the warm feelings this trio spark are insufficient in the face of a Marvel picture that is not just shorter than usual, but also underpowered. Carol Danvers and her friends jump across the universe with aplomb but, lately, the MCU is mostly running in place.
Production company: Marvel Studios
Worldwide distribution: Disney
Producer: Kevin Feige
Screenplay: Nia DaCosta and Megan McDonnell and Elissa Karasik
Cinematography: Sean Bobbitt
Production design: Cara Brower
Editing: Catrin Hedstrom, Evan Schiff
Music: Laura Karpman
Main cast: Brie Larson, Teyonah Parris, Iman Vellani, Zawe Ashton, Gary Lewis, Park Seo-joon, Zenobia Shroff, Mohan Kapur, Saagar Shaikh, Samuel L. Jackson