Jason Statham dives in at the deep end for a man-vs-shark update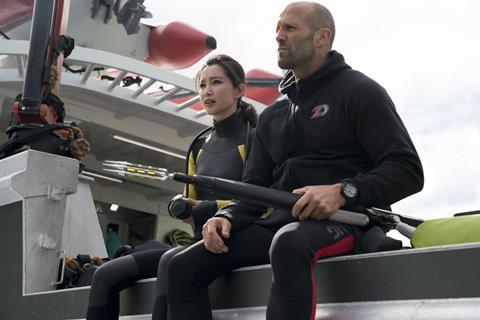 Dir: Jon Turteltaub. US/China. 2018. 113 mins.
Size often matters in the summer, but a sense of humour doesn't hurt. The Meg has both – a prehistoric shark that dwarfs a Great White and an action star who is willing to make fun of himself. "Man versus Meg isn't a fight," growls Jason Statham. "It's a slaughter."
But how big a bite of the summer box office this US/Chinese co-production will take is hard to call. Despite a $150 million budget, it features some decidedly uneven CGI, and is low on the edge-of-seat suspense that generates must-see word of mouth. At the same time, it's a likeable popcorn movie, with some good monster moments, an engaging international cast and Jon Turteltaub helming a family-friendly balance of laughter and mayhem. The Shallows in 2016 was a reminder of the summer appeal of a half- decent shark story; if you're not literally heading for the water, you want to be told that it's not safe anyway.
Li Bingbing adds emotional heft to proceedings, and her character is an equal to Statham's in the decision-making and much of the action
Statham plays Jonas Taylor, a deep-sea rescue expert whose career goes south when an unseen creature destroys a nuclear submarine before he has managed to evacuate everyone on board. Five years later he's enjoying a boozy early-retirement in Thailand when he is lured back into action in the Pacific to save his ex-wife and her research crew trapped at the bottom of the world's deepest ocean trench. Jonas's watery nemesis is back in business.
The 70-foot monster known as Megalodon is not as extinct as it was thought to be. As one of the team succinctly puts it, "That living fossil ate my friend!" It has also found a way out of the depths. Once they've saved themselves, the scientists seek to kill the shark before it reaches the all-you-can-eat buffet at a nearby Chinese beach resort.
A very long time in development, this adaptation of Steve Alten's book has emerged with the emphasis on humour-based thrills, which neatly dovetails with its action star's trajectory, given Statham's recent, very amusing self-parody in Spy. Here, the British actor delivers some deliberately clunky lines with his usual lack of nuance, a stiffly raised eyebrow (how he would have benefitted from a Roger Moore workshop) and a charismatic lack of care – and just about gets away with it. As for the wetsuit action, the former diver is understandably at ease.
Statham is surrounded by stock characters: the billionaire patron of the high-tech research centre who likes to hug but has a cynical eye on the bottom line (a good value Rainn Wilson); the motormouth coward whose supposedly comic whining quickly wears thin (Page Kennedy); and the menu of variously disposable scientists and assistants. Cliff Curtis, the talented Icelander Ólafur Darri Ólafsson and rising star Ruby Rose are among those with appealing presence but slim pickings from the script.
The exception is Chinese star Li Bingbing, who plays Suyin, a marine biologist, single mother (of a very cute kid) and unlikely love interest for the beefcake adventurer. Li adds emotional heft to proceedings, and her character is an equal to Jonas in the decision-making and much of the action, particularly at the controls of the film's futuristic one-person submersible, the Glider.
Other than the National Treasure movies, Turteltaub's CV hardly suggests he'd be the obvious choice to helm a film like this. And perhaps another director would have been firmer about some of the CGI – whether the murkiness of the deep-sea scenes or the implausibility of a beach attack (in the stunning Chinese resort of Sanya) in which an enormous animal swims undetected in presumably shallow water beneath thousands of swimmers. It all matters.
Equally, in the film's early stages there's none of the wonder or suspense that usually comes from the emerging realisation of a newcomer at the top of the food chain.
But just as this B-movie looks like it's heading towards a C, Statham finally swims into the water unprotected – with the deliciously deadpan declaration that "I'm proceeding to the enormous killer shark" – and The Meg comes alive. The resulting chase is spectacular, as is Jonas's attempt to rescue Suyin as her shark cage is about to be swallowed whole by the beast. And as the body count finally rises, with associated pathos, Turteltaub's hand becomes a little firmer on the tiller. By the end, he's even allowing himself a Jaws homage.
Production companies: Di Bonaventura, Apelles Entertainment, Maeday Productions, Flagship Entertainment Group Production, Gravity Pictures
Worldwide distribution: Warner Bros
Producers: Lorenzo di Bonaventura, Belle Avery, Colin Wilson
Screenplay: Dean Georgaris, Jon Hoeber and Erich Hoeber, adapted from the novel of the same name by Steve Alten
Production design: Grant Major
Editing: Steven Kemper, Kelly Matsumoto
Cinematography: Tom Stern
Music: Harry Gregson-Williams
Main cast: Jason Statham, Li Bingbing, Rainn Wilson, Winston Chao, Cliff Curtis, Ruby Rose, Page Kennedy, Jessica McNamee, Ólafur Darri Ólafsson, Robert Taylor, Sophia Cai, Masi Oka