A delightful family comedy moves from Sony to Netflix, where it should be welcomed with open arms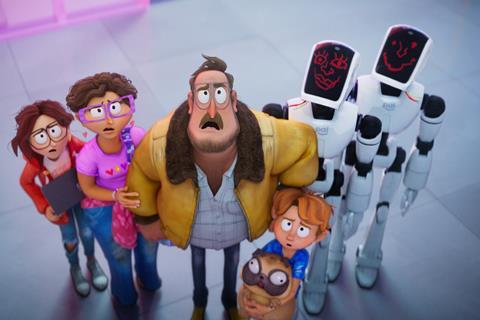 Dir: Mike Rianda. US. 2020. 111mins.
It's not a fair fight in The Mitchells Vs. The Machines, a thoroughly delightful comedy in which one lovably dysfunctional family saves the world from a robot uprising. Produced by Phil Lord and Christopher Miller, the filmmaking duo behind The Lego Movie and Cloudy With A Chance Of Meatballs, this Sony Animation feature offers plenty of laughs, heart and action. And although the story's apocalyptic premise may sound bleak, the picture zips along cheerfully, practically assuring us from the outset that everything will turn out okay for the film's nerdy teen protagonist and her equally offbeat brood.
Those watching this bighearted film will be forgiven for needing to wipe away a tear or two
Sony recently sold The Mitchells to Netflix, which will stream the picture worldwide (with the exception of China) starting on April 30. The Lord and Miller name will add clout, as will a voice cast that includes Abbi Jacobson, Danny McBride, Maya Rudolph and Olivia Colman. The Mitchells represents the first major animation since Raya And The Last Dragon, and as such should be welcomed with open arms by parents and children alike.
Katie Mitchell (Jacobson) is a soon-to-be college freshman who can't wait to go to film school, where she believes she will finally find people who appreciate her quirky creative sensibility. She and her well-meaning father Rick (McBride) used to be close, but lately all they do is fight — mostly over her frustration that he doesn't seem interested in the clever short films she makes on her laptop.
Hoping to reconnect before Katie leaves, Rick proposes that the whole family — including doting mom Linda (Rudolph) and dinosaur-obsessed little brother Aaron (Mitchells director Mike Rianda) — embarks on a cross-country drive to take her to school. Katie isn't thrilled by this development, but graver concerns soon present themselves once a high-tech AI programme named PAL (Colman) rebels, mobilising a robot army to enslave humanity. The seemingly unimpressive Mitchells soon become civilisation's last chance.
Rianda – in collaboration with co-director/co-writer Jeff Rowe – makes his feature debut here, delivering rousing entertainment that will be familiar to fans of Lord and Miller's earlier films — the pair won a best animated feature Oscar for producing Spider-Man: Into The Spider-Verse. Hip humour, sly pop-culture references and an energetic pace are to be expected — not to mention a sweet emotional undercurrent involving Katie and Rick repairing their strained relationship.
On paper, The Mitchells appears to be a disjointed mashup of genres — the road movie, the father-daughter drama and the man-versus-machine sci-fi thriller — but the filmmakers nicely integrate all the elements with consistently funny jokes and the careful development of the Mitchell family members. While the story focuses on Katie and Rick, enough attention is paid to Linda (who for years has quietly been the glue that holds the family together) and Aaron (who is scared to say goodbye to Katie, his best friend) that we recognise each character's idiosyncrasies while also understanding how much they all mean to each other.
The picture doesn't skimp on sprightly action sequences involving the Mitchells staying a step ahead of the robot army, and Rianda doesn't allow the proceedings to get too scary. (The humans who are rounded up are put in clear cubicle cells — there's no killing or even any blood.) And yet, The Mitchells boasts enough tension that we feel the burden on this family to defeat the vengeful PAL — although that doesn't preclude some of the film's most stressful moments from being supplemented with inspired gags. The best running joke involves the Mitchells adopting two of PAL's robots (Fred Armisen and Beck Bennett), who are susceptible to their commands — even if, amusingly, they're always confused by human behaviour.
The voice cast is uniformly strong, with Jacobson and McBride standouts as a restless teenager and a regretful father who stopped communicating long ago. The Mitchells injects some social commentary by suggesting that smartphones keep us disconnected from those closest to us, but those observations are lightly done, never overshadowing the appealing character design and the vivid backgrounds — in particular, PAL's ominous Silicon Valley headquarters which, as one character observes, looks like a Journey album cover.
In much the same way, Mark Mothersbaugh's winking score occasionally pays homage to the now-cheesy 'futuristic' soundtracks of 1980s sci-fi films such as Tron, amplifying the breezy vibe. But that playful tone may leave viewers unprepared for The Mitchells' moving final stretch. The machines may not have feelings, but those watching this bighearted film will be forgiven for needing to wipe away a tear or two.
Co-director: Jeff Rowe
Production company: Lord Miller
Worldwide distribution: Netflix
Producers: Phil Lord, Christopher Miller, Kurt Albrecht
Screenplay: Mike Rianda and Jeff Rowe
Production design: Lindsey Olivares
Editing: Greg Levitan
Music: Mark Mothersbaugh
Main voice cast: Danny McBride, Abbi Jacobson, Maya Rudolph, Eric Andre, Olivia Colman, Fred Armisen, Beck Bennett, John Legend, Chrissy Teigen, Blake Griffin, Conan O'Brien