Dir. Herman Yau Lai-to. Hong Kong, 2016, 94 mins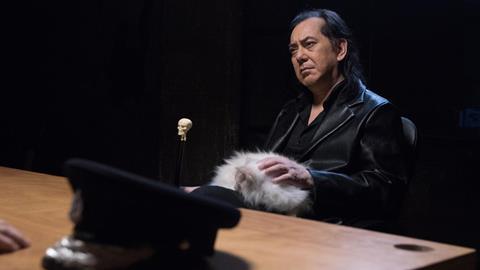 Prolific Hong Kong filmmaker Herman Yau sets his sights on the city's recent political unrest for The Mobfathers, his second new film (after Nessun Dorma) to debut at this year's Hong Kong International Film Festival. Starring Chapman To as one of five gang bosses vying for the triad Dragon Head leadership, this is a thinly-veiled allegory of Hong Kong's ongoing desire for universal suffrage.
Beneath this satirical veneer is a trembling fear that hong Kong may soon be lost to a powerful, and wholly unaccountable collective
Johnnie To used a similar format to put Hong Kong-China relations under the spotlight in his Election films a decade ago, but The Mobfathers is neither as polished nor as subtle. China will be ruled out for distribution, and business outside of Hong Kong may be limited due to the film's rough finish and overtly local focus. But its firm footing in the gangster genre, coupled with the re-teaming of Yau with the actor Anthony Wong - who plays the omnipotent Godfather - may pique interest for die-hard aficionados further afield.
After serving five years for brawling, Chuck (Chapman To) - head of the Metal Gang - is released into a volatile triad climate, narrowly escaping an assassination attempt the moment he leaves prison. The three-yearly Dragon Head elections are imminent, where a small collective of senior "uncles" select the nominal leader of the five Hong Kong gangs. But when the Godfather (Anthony Wong) is diagnosed with terminal cancer, he sets out to restructure the crime organisation to his liking.
At home, Chuck finds his wife (Bonnie Xian) tiring of life as a mobster's moll, and his mischievous young son, Chuck Jr. (Leander Lau) is already proving to be a hothead in the primary school playground. Best buddy Luke (Philip Keung) has done his best to keep things on an even keel in Chuck's absence, but the emergence of Wulf (Godfrey Wong) - a gay former undercover cop who is now the leader of the Fire gang - looks set to derail Chuck's chances of winning the Dragon Head and control of the streets.
Needless to say, the real power lies not with Chuck, Wulf or anyone working at street level, but with the Godfather's central committee of ageing mobsters. When Chuck and Wulf are nominated as the election's official candidates, Chuck turns on his supposed benefactors, not only demanding that each member of the five gangs is permitted to vote, but that they should also select their own candidates. The uncles are obviously reluctant to surrender their authority to the people, and begin to orchestrate assassinations and foment general unrest amongst the triad populace to further their agenda and enforce their control.
Audiences won't require a particularly in-depth knowledge of Hong Kong current affairs to spot the stark similarities to the city's turbulent climate of the past 18 months. In 2017, Hong Kong will hold open elections for the new Chief Executive (the city's political leader), and while its residents will be allowed to vote for this position for the first time, China's Central Government has insisted on approving all candidates before they can run.
In addition, China has been accused of instigating random acts of violence at otherwise peaceful protests in Hong Kong - whether it be at the Occupy Central rallies, Umbrella Protests or the recent Chinese New Year "fish ball revolution". Chapman To and Anthony Wong are two of only a select few high-profile celebrities to publicly support the protests and demand universal suffrage, so it is with no small amount of irony that Wong portrays the figurehead as frail, disease-ridden and woefully out-of-touch.
It is these allegorical elements that raise The Mobfathers above similarly low-budget gangster comedies and thrillers of recent years. Erica Li's screenplay is otherwise a pretty formulaic offering, featuring all the street brawls, domestic tensions, double crosses and roguish behaviour that have become de rigueur for the genre. Brimming with chopper-wielding violence, Yau frequently falls back on sub-par computer-generated effects to a degree that might sink a less important film. Production values are similarly modest, while performances are broad and simplistic beyond the two leads.
The Mobfathers opens in Hong Kong cinemas on March 31, where it hopes to strike a chord with local audiences and help vent some of their frustrations. Herman Yau may play the situation largely for laughs, but beneath this satirical veneer is a trembling fear that the city may soon be lost to a powerful, and wholly unaccountable collective.
Production company: HK Film Production Limited
International sales: Golden Scene, felix@goldenscene.com
Producer: Chapman To
Screenplay: Erica Li
Cinematography: Joe Chan
Editor: Azrael Chung
Production Design: Chris Pong@[elf], Irving Cheung@[elf]
Action Co-ordinator: Jack Wong
Music: Brother Hung
Main Cast: Chapman To, Tarah Chan, Anthony Wong, Gregory Wong, Philip Keung, Bonnie Xian, Carlos Chan, Danny Summer, Dragon Li, Albert Cheung, Ken Hung, Deep Ng, Kenny Wong, Tony Ho, Kathy Yuen, Wylie Chiu, Benson Ling, Leander Lau