Actor-director Thomas Salvador gives a muted performance against the majesty of the Mont Blanc mountain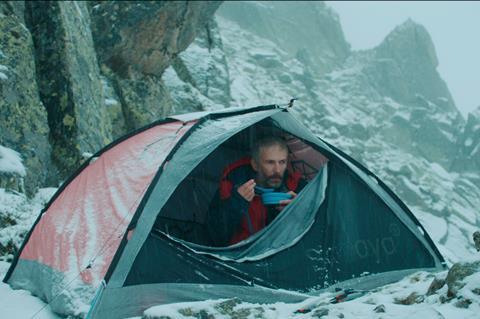 Dir: Thomas Salvador. France. 2022. 115mins
What goes up doesn't immediately come down in actor-director Thomas Salvador's strange and visually ravishing follow-up to his equally quirky debut feature, the 2014 'alt-superhero' yarn Vincent. Set almost entirely on the snowy peaks and rockfaces of the Mont Blanc massif above the town of Chamonix, it's ostensibly the story of a mild-mannered French guy who, apparently on a whim, quits his job, pitches his tent up there amidst the glaciers, and feels no desire to return to civilization.
This is a film with a shy and sly sense of humour
Its pace may be a little too glacial for those who like their mountain stories to deliver one dramatic avalanche after another. But patient arthouse audiences will be amply rewarded not only by The Mountain's stunning Alpine photography and the delicate love story nestling at the heart of the film, but also by one of the most delightfully unexpected plot twists seen at Cannes this year. If the film has a weakness, it's the emotional inscrutability of the main character, played by Salvador himself. Sometimes, however, in a work in which nature, landscape and climate take starring roles, Salvador's muted performance of a man who is attempting to lose himself in his surroundings feels right.
Salvador's reserved character Pierre delivers his longest dialogue near the beginning of the film, when he's in Chamonix giving a sales pitch for a robotic arm made by his company. When his colleagues return to Paris, Pierre stays on. Aside from one ice-climbing foray with a local guide, we never do find out how this beginner manages to hone his mountain skills so quickly – but soon enough he's pitching his tent at a snowy base camp below the Aiguille du Midi cable car station and venturing further and further on daily hikes and climbs. That top station – the destination of the world's highest vertical-ascent cable car – is for a long time the closest Pierre comes to the human melee below. It's here that he has an awkward lunch with his mother and two brothers, who have come all the way from Paris to try to talk him down. It's here too that he strikes up a tentative friendship with Léa – empathetically played by Louise Bourgoin – the chef of the cable car station restaurant, who agrees to bring him provisions from Chamonix.
It feels right that we know next to nothing about Pierre's life in Paris, about what, if anything, he is running from. As we watch him trudge in crampons up icy slopes or abseil across a rockface, we begin to realise that perhaps the majesty of the mountain is the only explanation we need. A delicate, luminous soundtrack by electronic DJ and composer Chloé Thevenin, a.k.a. Chloé, works closely with experienced DoP Alexis Kavyrchine's limpid widescreen photography, capturing dreamlike views through drifting clouds and golden-hour moments when peaks become tinged with bronze. At the same time, there is a disruptor at work even in this supposedly pristine natural setting: climate change. Early on, we see Pierre descending steps at a visitor's centre past year markers that chart a glacier's retreat. Even when he reaches the '2003' label, the steps below to a dirty patch of ice seem endless.
To reveal much at all about the film's abrupt change of register around two-thirds of the way in would be unfair. Suffice to say that if The Mountain has been a very austere, mid-life-male variation on Into The Wild up to now, it soon feels like we are watching a Gaspar Noé movie, with a little dose of Miyazaki thrown into the mix. The really intriguing thing, however, is the fact that the film's supernatural final act doesn't try too hard to explain itself. Is it carrying a metaphor about global warming? Or poking fun at climate change deniers? Because this is, after all, a film with a shy and sly sense of humour – one of its best jokes being that Pierre means 'rock' or 'stone' in French.
Production company: Christmas in July
International sales: Le Pacte, c.neel@le-pacte.com
Producer: Julie Salvador
Screenplay: Thomas Salvador, Naila Guiguet
Editing: Mathilde Muyard
Cinematography: Alexis Kavyrchine
Music: Chloé Thevenin
Main cast: Thomas Salvador, Louise Bourgoin, Martine Chevallier, Laurent Poitrenaux, Andranic Manet