This long-delayed 'X-Men' spinoff whimpers into cinemas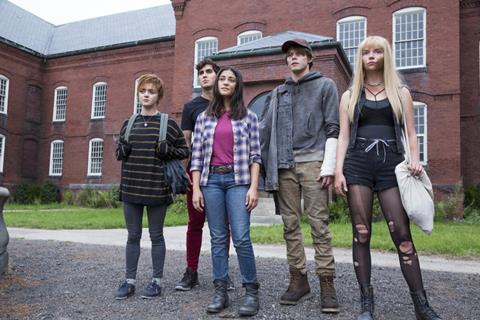 Dir: Josh Boone. US. 2020. 98mins.
Three years after wrapping production, The New Mutants finally arrives in theatres, and while some may assume the delay signalled a disaster, what emerges instead is merely a film so meagre that it barely leaves an impression. This failed X-Men spinoff flirts with horror and teen drama in its depiction of troubled young people trying to come to terms with their superpowers, but director Josh Boone mostly recycles the thematic tropes that have always been at the core of this franchise — except without the wit or passion that once made them so vital.
Disney is essentially dumping this woebegone project
Disney is essentially dumping the woebegone project, which has been pushed around the release calendar several times, forgoing distribution on its streaming service to let it wither in multiplexes. The New Mutants has star power thanks to Maisie Williams and Anya Taylor-Joy, but considering the years of bad press that have hovered over the film — and the fact that there isn't a Wolverine or Deadpool in sight to lure comic-book fans — few will be rushing out to see this mediocrity.
As The New Mutants begins, Native American teenager Dani (Blu Hunt) has just survived a mysterious, devastating attack that killed everyone on her reservation. Scared and confused — she can't quite remember what happened — she wakes up in a hospital run by the kindly Dr. Reyes (Alice Braga), who explains that she has untapped mutant powers which she will be able to safely cultivate in this secure facility. Soon, Dani meets the other residents, including Rahne (Williams), who develops a crush on her, and the antagonistic Illyana (Taylor-Joy). However, the rest of them all know what powers they have — Rahne, for instance, can transform into a wolf — but Dani doesn't, although her cohorts suspect her arrival may explain strange supernatural happenings around the hospital.
Based on a comic-book storyline that started in the 1980s, the film introduces us to a world in which everyone knows about the X-Men; The New Mutants' characters are hopeful that once they master their powers, they will be selected for Professor X's School For Gifted Youngsters. But this spinoff isn't content to follow in the franchise's footsteps: an ambitious mash-up of The Breakfast Club, One Flew Over The Cuckoo's Nest and every horror film in which a creepy old hospital contains dark secrets, The New Mutants wilfully eschews the more cheerful, stirring superhero tone of the X-Men series, which launched in 2000.
The franchise's misunderstood mutant characters have often served as a pointed metaphor for feeling like an outsider — especially for stigmatised LGBTQ+ people — and The New Mutants makes that overt through the romantic relationship that develops between Dani and Rahne. (Tellingly, several of the characters have been sent to this hospital to be "cured," a reference to the odious gay conversion centres that claim to "fix" young homosexuals.) Hunt and Williams have a warm rapport, suggesting that Boone (who previously made The Fault In Our Stars) has some talent for adolescent love stories.
But as with last year's Dark Phoenix, which effectively ended the franchise at Fox and paves the way for Disney to fold the series' most enduring characters into the Marvel Cinematic Universe, this spinoff rehashes old ideas. Too much of The New Mutants involves teen insecurities, the excavation of unremarkable buried trauma and inadequate scare/action sequences. The film is moodily shot by David Lynch cinematographer Peter Deming, and production designer Molly Hughes gives the hospital an appreciably spooky aura. But The New Mutants' greatest failing is that, even as a spinoff, its drama is puny and its spectacle nonexistent.
Taylor-Joy (equally superb in The Witch and Emma.) mostly camps it up with a thick Russian accent and mean-girl attitude, while Stranger Things' Charlie Heaton overdoes his Southern accent as Sam, a fun-loving mutant whose goofy demeanour is a mask to conceal a family tragedy he is trying to forget. Henry Zaga plays the spoiled, pseudo-suave Roberto without much self-mocking humour, turning the character into a hunky bore. Of the main cast, Williams comes across best, giving the openhearted Rahne enough shading that we can imagine the terrors she has endured from those who persecuted her because of her powers. She's that rare sign of life in a film that feels like stale product.
Production companies: Kinberg Genre, Sunswept
Worldwide distribution: Disney
Producers: Simon Kinberg, Karen Rosenfelt, Lauren Shuler Donner
Screenplay: Josh Boone & Knate Lee
Production design: Molly Hughes
Editing: Robb Sullivan, Matthew Rundell, Andrew Buckland
Cinematography: Peter Deming
Music: Mark Snow
Main cast: Maisie Williams, Anya Taylor-Joy, Charlie Heaton, Alice Braga, Blu Hunt, Henry Zaga, Adam Beach