Dir/scr: Tarik Saleh. Sweden/Germany/Denmark. 2017. 110 mins.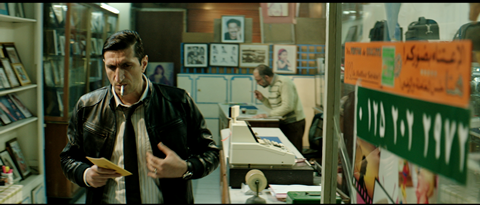 A true-life celebrity murder case that ran for years in the Egyptian media is the springboard for Swedish director Taleh's latest feature, a nuanced police procedural set against the background of the Tahrir Square protests of January 2011 which, like Andrej Zvyagintsev's Leviathan, charts one man's deluded attempt to do the right thing in a world where money and power are the only moral arbiters.
This draws on vintage European and Stateside models in its take on systemic police corruption and its moody noirish feel
A moody, intense Fares Fares (launched by Jalla! Jalla! and now an increasingly familiar Hollywood character actor) commands attention as a weary urban cop mired in a world of backhanders and political influence, who decides, cussedly, and masochistically, to investigate a powerful parliamentarian and businessman in connection with a sleazy murder charge.
There's none of the melodrama that tends to infect even edgy homegrown 'auteur' films from Egypt in this Sundance World Cinema Dramatic Competition premiere, and none of the prudishness either: this even becomes a visual joke in one key scene when the camera pans away from a couple about to get down and dirty, only to catch them in the act in a wardrobe mirror. Set in Cairo but shot in Morocco and Germany, The Nile Hilton Incident draws more on vintage European and Stateside models in its take on systemic police corruption and its moody noirish feel: The French Connection, Heat and Jean-Pierre Melville are all there in the mix, while the Tahrir Square protest backdrop recalls the way the Rodney King riots were used in another rotten police saga, Dark Blue.
Though few outside the Arab world will have registered the news story that underpins the plot, the film's uniquely Egyptian twist on the contemporary hard-boiled dirty cop genre will lend it some heft in receptive arthouse markets. It doesn't hurt that this is a good-looking package, with Krister Linder's pulsating electronic soundtrack and veteran French DoP Pierre Aim's depiction of a user-unfriendly urban jungle where murky haze or harsh dazzle seem to be the only available lighting settings.
The investigation that comes to obsess Fares' character, police major Noredin, is based loosely on the case of a glamorous Lebanese pop star, Suzanne Tamim, who was found dead in her Dubai apartment in July 2008. In May 2009, a prominent Egyptian Shura Council lawmaker and businessman was convicted of her murder, along with the hitman he had paid to carry out the killing. When both men were found guilty and sentenced to death, justice seemed to have been served on a rich and powerful member of the Cairo establishment – but it didn't last long, with Egypt's Supreme Court quashing the earlier ruling on a technicality in March 2010, and commuting the politician's sentence to 15 years.
Saleh, a former graffiti artist and documentary maker whose 2010 crime thriller Tommy steered him into noir territory, plays fast and loose with the facts, characters and dates, condensing the story arc down to ten days and shifting the action forward to January 2011, when the revolution that would eventually topple president Hosni Mubarak kicked off. The murder takes place not in Dubai but in the luxury Cairo hotel that gives the film its name (now the Ritz-Carlton).
World-weariness and self-disgust mix with a certain dangling-cigarette cool in the character of Noredin, a pill-popping, dope-smoking, leather-jacketed cop inured to the bribes, deals and favours that go down in a precinct presided over by his police chief uncle, Kammal. Noredin takes the same backhanders and protection money as his colleagues, but it's clear he didn't sign up for this. When Kammal assigns him to the case of Lalena, a celebrity singer who was found murdered in a room at the Nile Hilton, he becomes doggedly absorbed in the investigation, persisting even when it leads to the door of Hatem Shafiq, a construction magnate and member of parliament who beams down from billboards across the city with the promise that he is "building the new Cairo".
Genre touches – forays into a Cairo underworld of sleazy drinking dens, opium parlours and sexy cabaret joints, some touches of bitter humour, a steamy liaison with a femme fatale torch singer – are mostly well blended in with the film's social commentary. One important strand of this focuses, through the character of a Sudanese chambermaid who witnessed the crime, on the dire plight of sub-Saharan immigrants in a country where life is already tough enough.
There's a small loss of impetus in the closing scenes, when the street protests that exploded on 25 January provide rather too neat a conclusion to a necessarily messy story. But at least it allows a film poised between righteous anger and resigned cynicism to remind us how this particular revolution ended up. When a protestor stops others beating up the gun-toting Noredin because "we are not like them", the irony is deafening.
Production company: ATMO
International sales: The Match Factory info@matchfactory.de
Producer: Kristina Aberg
Executive producers: Fares Fares, Tom Persson, Mikhael Alstrom, Lars Rodvaldr, Tarik Saleh, Kristina Aberg, Emil Wiklund, Jon Wigfield
Cinematography: Pierre Aim
Editor: Theis Schmidt
Production designer: Roger Rosenberg
Music: Krister Linder
Main cast: Fares Fares, Mari Malek, Yaser Maher, Ahmed Seleem, Slimane Dazi, Hania Amar, Hichem Yacoubi, Mohamed Yousry