Despite a strong cast, Disney's over-lavish live-action film disappoints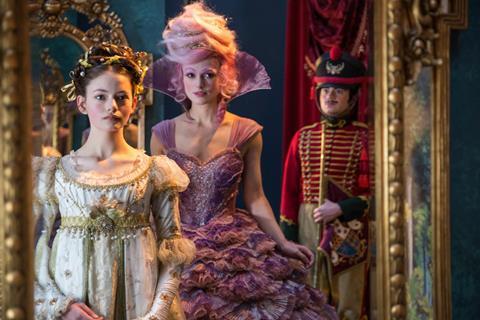 Dirs. Lasse Hallström, Joe Johnston. US. 2018. 99mins
A teenager mourns her dead mother while going on a fantastical adventure in The Nutcracker And The Four Realms, which is dutifully lavish but only intermittently magical. Both overstuffed and underwhelming, Disney's spectacle-driven reimagining of the beloved holiday staple tries to serve many masters, and the result is a family film straining to be both timeless and timely, simultaneously old-fashioned yet cheekily irreverent.
The Four Realms aspires to be a throwback holiday classic, using its period trappings as an excuse to be knowingly antiquated in its championing of reliable, comforting themes such as love, family and community
The music by Tchaikovsky is, as always, enrapturing, and directors Lasse Hallström and Joe Johnston laudably endeavour to tell a heartfelt story about grief and female empowerment. And yet, they can't quite crack the movie's blockbuster blandness. Opening globally from November 2, and boosted by a cast that includes Keira Knightley, Helen Mirren, Morgan Freeman and rising star Mackenzie Foy, The Nutcracker And The Four Realms should expect solid grosses enhanced by audience familiarity. Holiday competition will come from The Grinch and Ralph Breaks The Internet.
Set in late-1870s London, the film stars Foy as Clara, a bright 14 year-old still reeling from her mother's sudden death. On Christmas Eve, she reluctantly joins her family at her godfather Drosselmeyer's (Freeman) ball, where he gives Clara a special music box left behind by her mother. But she must find a key to open the box, which leads her to a magical realm populated by, amongst others, the enchanted, daffy Sugar Plum (Knightley).
The Four Realms has been directed by Lasse Hallström and Joe Johnston, with news reports suggesting that Hallström handled the initial production and Johnston oversaw about a month of reshoots due to Hallström's unavailability. Without speculating about how the change might have affected the film, it does feel like other recent live-action Disney fairy tales — particularly last year's Beauty And The Beast — in its desire to be a rousing spectacle, a lush storybook fantasia and an effects-laden action extravaganza. In addition, the filmmakers incorporate elements of Marius Petipa's ballet — acclaimed dancers Sergei Polunin and Misty Copeland shine briefly — while also referencing Pyotr Ilyich Tchaikovsky's gorgeous original themes within James Newton Howard's score.
A film this packed with ambitions and opulence requires a grounding human element, and Foy (best known from the Twilight films and Interstellar) does her best to provide a rooting interest. Her Clara is bereft, struggling after the loss of her mother (her gentlemanly father, played by a muted Matthew Macfadyen, puts on a brave face, but he too is hurting).
Unfortunately, Ashleigh Powell's screenplay unsuccessfully sells Clara's transformation into an action hero who takes her rightful place as queen of this fantasy realm. Without question, Hollywood needs more stories about powerful young women, but The Four Realms doesn't make Clara's inner journey particularly inspiring or moving. In theory, Clara's encounters with Sugar Plum, the dashing Nutcracker (Jayden Fowora-Knight) and the fearsome Mother Ginger (Helen Mirren) are coming-of-age metaphors that allow this teenager to process her sadness and move on with her life. But plot busyness and excessive CGI smother the genuine sentiment that occasionally emerges.
The Four Realms benefits from Guy Hendrix Dyas' sumptuous production design and Linus Sandgren's lovely lensing. Despite the film's moments of strained, wisecracking humour and Knightley's hammy, cutesy-pie performance as Sugar Plum, it aspires to be a throwback holiday classic, using its period trappings as an excuse to be knowingly antiquated in its championing of reliable, comforting themes such as love, family and community. However, that cosy tendency rubs up against a narrative that grows increasingly feverish as the fate of these magic realms hangs in the balance and all-out war commences.
Perhaps not surprisingly, what is most resonant about this Nutcracker is what has been so stirring about the material for generations. The gracefulness of the music, the elegance of the movements, and the story's conjuring of the warmth and poignancy of Christmastime remain formidable. Those elements dance through the Four Realms, although they never fully transport the audience.
Production company: The Mark Gordan Company
Worldwide distribution: Disney
Producers: Mark Gordon, Larry Franco
Screenplay: Ashleigh Powell, screen story by Ashleigh Powell, suggested by the short story "The Nutcracker And The Mouse King" written by E.T.A. Hoffmann and the "Nutcracker Ballet" by Marius Petipa
Production design: Guy Hendrix Dyas
Editing: Stuart Levy
Cinematography: Linus Sandgren
Music: James Newton Howard
Main cast: Keira Knightley, Mackenzie Foy, Eugenio Derbez, Jayden Fowora-Knight, Matthew Macfadyen, Richard E. Grant, Sergei Polunin, Misty Copeland, Helen Mirren, Morgan Freeman