Dir. Jérôme Salle. France, 2016, 122 mins.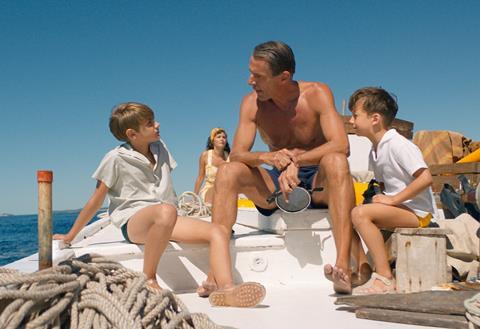 Director Jérôme Salle trawls through some very familiar waters with The Odyssey; like its subject, the legendary underseas explorer Jacques Yves Cousteau, this soggy-bottomed biopic about a father's troubled relationship with his son and heir is lavishly-financed, better under-water, and goes on for a long time.
Given Niney's tendency to smoulder up whatever screen he's on, this film about Jacques Cousteau never quite finds its sea legs with the main character.
Outside France where he is a national treasure, Cousteau's name will resonate with older audiences which remember the 1960s TV series The Undersea World of Jacques Cousteau on board The Calypso and his later work as an empassioned environmentalist. Pierre Niney, the star of another successful French-language biopic Yves Saint Laurent (2014) and so effective in this year's Frantz, may also draw the curious for a tense performance as Cousteau's favoured son Pierre. Sequences of exploration, whether on land or far-flung seas, are lovely to look at; but The Odyssey becomes waterlogged in a strained family drama, Audrey Tatou looking on from the sidelines in a succession of angry wigs.
Named presumably after Cousteau's second TV series, The Cousteau Odyssey (1977) as opposed to aspirations for Homeric significance, Jérôme Salle's (Zulu) film takes a literal approach to the task of chronicling Cousteau's (played with gravitas by Lambert Wilson) relentless rise to international fame, even as his relationship with his family becomes shipwrecked on his hubris. The film is possibly at its best in the opening sequences set in the 1940s and '50s which detail a happy family unit with wife Simone (Tatou) and the beginnings of ex-military man Cousteau's success.
As Cousteau helps develop the aqua-lung and pioneers underwater photography, moving on to the purchase and restoration of The Calypso, exploration and the start of a relationship – which he would later regret – with Big Oil, The Odyssey has the makings of a fascinating story. Wife Simone is supportive; the world is out there, fresh and un-exploited; and his young boys are charming, even as Pierre is consistently rash in his decision-making. (As the film starts with Pierre's fatal plane crash, there's a structural inevitability at play here – we know we'll spend 30 years coming back to this moment, and the film will be all about how it's delivered.)
But Cousteau's career is rapidly subsumed to biopic conventions. His explorations take a secondary importance to his lack of appreciation for his wife and children – whom he sends to boarding school – poor financial management of his company and womanising. There's industrial-level chain-smoking. The decision (cute at the time) for the crew to wear Smurfy red beanies is sneered at as an example of his arrogance and ambition. Even the destruction of the environments Cousteau so adored and his conversion to environmentalism are framed as a way for him to reconcile with Pierre, who marries a model and becomes an activist in some cursory scenes.
Although it's long, The Odyssey tends to hurl itself through plot points, torn between Jacques and Pierre and fame and greed and environmentalism and whatever else comes its way on the tide. Cineastes will be disappointed that even his Palme D'Or winning 1956 documentary The Silent World gets short shrift. Both leads are strong, however, and Niney is charismatic enough to pull the viewer along.
Nothing was spared in Salle's attempt to bring Cousteau's life to the screen, with complex underwater work and plentiful location shooting (mostly subbed by Croatia and South Africa); production designer Laurence Ott has enjoyed himself and the results are often more than handsome. Alexandre Desplat lends his easily-recognisable strings to every high and low which only seem to emphasise this very conventional biopic's familiarity.
Production companies: Pan-Europeene, Fidelite Films, Casa Productions, Curiosa Films, Moana Films, Wild Bunch, TF1 Films, Versus Production
International sales: Wild Bunch
Producers: Philippe Godeau, Olivier Delbosc, Marc Missonier, Nathalie Gastaldo, Eric Vidart Loeb
Screenplay: Jérôme Salle, Laurent Turner
Cinematography: Matias Boucard
Production designer : Laurence Ott
Editor: Stan Collet
Main cast: Lambert Wilson, Audrey Tatou, Pierre Niney, Benjamin Lavernhe