Filmmaker Sophie Linnenbaum makes an inventive debut with this political satire set in a parallel cinematic world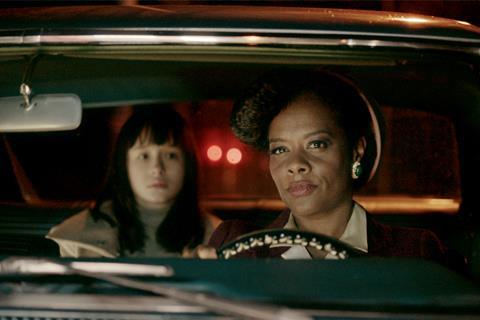 Dir: Sophie Linnenbaum. Germany. 2022. 120mins
Cinematic metafiction takes an exuberant and elaborate, if undeniably contrived, turn in The Ordinaries, the debut feature of German writer-director Sophie Linnenbaum. Featured in Munich's New German Cinema strand, this fanciful comedy occupies a rarefied conceptual zone somewhere between Pirandello and Charlie Kaufman. Somewhat hampered by its own complexity, it's nevertheless breezy fun carried off with brio but concealing a more impassioned social agenda that is apparent on the surface. It should travel – and possibly inspire remakes – and will definitely open up major prospects for director Linnenbaum, known for her 2017 short Pix and work on TV series including Deutscher and teen drama Skam Germany.
The Ordinaries shows ambition and craft on a mightily impressive level
The Ordinaries is set in a parallel world of cinema fiction, one where the population is divided into Main Characters and Supporting Characters. In a drab, grey city ruled over by the monolithic Institute – a storyworld manifestly redolent of old East Germany, with overtones of Terry Gilliam's Brazil – the Supporting Characters troop off to work every morning; effectively extras, often seen standing stationary in the background of scenes until the shout of "Action!" allows them to move.
One young Supporting Character is teenager Paula Feinmann (Fine Sendel), who lives with her anxious mother (Jule Böwe) and dreams of becoming a Main Character, like the long-lost father she idolises. Hoping to graduate, Paula attends a Main Character School where she's in training with a 'heart reader' – a device that picks up her emotions and turns them into off-screen music, although Paula's orchestrations are a bit discordant. Meanwhile, Paula hangs out with her best friend Hannah (sparky Skam Germany alumna Sira Faal), whose privileged upbringing in a Main Character household affords her a life of full colour, as opposed to the pallidly functional beige and queasy pastel of Paula's home.
But there is another layer in this world – that of the excluded Outtakes, a subclass ruthlessly oppressed by the Institute, and a culture that Paula begins to explore as she goes in search of her mysteriously undocumented father. Her allies on this mission are Simon (Noah Tinwa), a young Outtake who runs a black market trade in bottled sound effects, and Hannah's family's cross-dressing, or 'Miscast', housemaid Hilde (a drolly lugubrious Henning Peker).
Linnenbaum and co-writer Michael Fetter Nathansky generate every possible spin they can from their central concept; tricksy business such as a witty split-screen screen (shades of Doris Day vehicle Pillow Talk), the random jump-cuts that affect Simon, and the jazzy MGM-style song-and-dance number ("Emotions! Emotions!") that is the signature routine of Hannah's parents. Beneath the goofiness, however, is a serious – at moments, slightly laboured – political point, for The Ordinaries is a protest against social repression, racial exclusion in particular. A bus scene shows Outtakes subject to segregation in the style of South African apartheid or Jim Crow-era America, while Hannah's kid brother subscribes to paranoid notions very like today's extreme-right 'replacement theory'. Linnenbaum's casting, whether colour-blind or strategically casting black actors in certain roles, takes the edge off the obviousness, although the end-credits use of protest number 'It Isn't Nice' by Barbara Dane and the Chambers Brothers lays the cards decisively on the table.
The narrative is twisty and ingenious, and Lindemann sustains the premise throughout in dialogue, visuals and soundtrack. Yet everything depends on the viewer grasping all the intricacies of the theme, which sometimes prove so byzantine that the stakes can feel too technical for us to invest in whole-heartedly. Lindemann has created a fantasy universe run along systematic, quasi-bureaucratic lines, somewhat like those of Pixar's Inside Out and Soul – but the super-efficient Pixar storytelling machine was able to streamline those complexities rather more efficiently than this film, and you can imagine a Hollywood remake deploying armies of writers and rewriters for ruthless fine-tuning.
Nevertheless, The Ordinaries shows ambition and craft on a mightily impressive level, in every department from production design (channeling 50s/60s East Germany), through richly textured, astutely pastichey cinematography and playfully layered sound (Fabian Zeidler's score, Nicolas Voss's sound design). The cast give their all, often slipping note-perfect into self-reflexive renditions of performances-within-performances.Fine Sendel (a young veteran of TV series including Tina Mobil) is particularly engaging as the intrepid ingenue heroine, and Jule Böwe affecting as her mother, striving to express tenderness beyond the strictures of the looped dialogue that comes as standard with her supporting status.
Production company: Bandenfilm
International sales: Match Factory info@matchfactory.de
Producers: Laura Klippel, Britta Strampe
Screenplay: Sophie Linnenbaum, Michael Fetter Nathansky
Cinematography: Valentin Selmke
Production design: Josefine Lindner, Max-Josef-Schönborn
Editor: Kai Eiermann
Music: Fabian Zeidler
Main cast: Fine Sendel, Jule Böwe, Henning Peker, Sira Faal