Dong Seok-Ma is a no-nonsense cop in Yun-Sung Kang's gritty crime thriller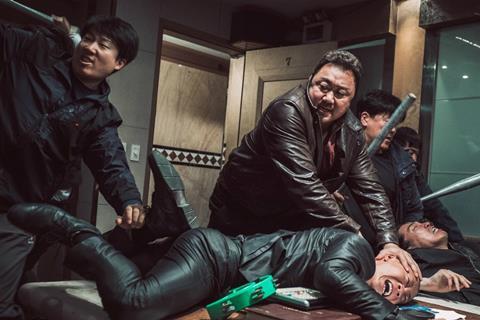 Dir: Yun-Sung Kang. South Korea. 2017. 121mins
Based on the 'Heuksapa Incident', a real-life gang turf war that carved up Seoul's Garibong district, Yun-Sung Kang's The Outlaws is a robustly entertaining crime picture. Uncompromisingly bad ass cops go up against ruthless Chinese gangsters in a propulsively action-heavy bloodbath which combines axe-based mayhem with some genuinely funny light relief. Boisterous and bloody-minded, the film has already proved to be one of the year's significant hits domestically.
The filmmaking approach aims for visceral realism which captures messy violence
Although the film lacks the polish of top tier arthouse material, the forceful energy of its narrative, together with star Dong-Seok Ma's enjoyably fractious turn as beefy serious crime cop Seok-do Ma, could help the film connect with fans of Asian genre cinema, both on the festival circuit, and perhaps theatrically. Although it could certainly work on VOD platforms, this is the kind of film which would play best with a receptive and vocal audience.
Detective Ma's entrance into the film captures his distinctive approach to crime fighting with an exemplary piece of character setup. Two hot-headed low lives have got into an argument which quickly escalates when one pulls a blade and the other grabs a carving knife from a market stall. Detective Ma strides into the frame, barking into his mobile phone, and, without interrupting his conversation, delivers his trademark open handed slap with one meaty paw, disarming the combatants and dispensing his unique brand of no nonsense law enforcement.
Ma, who will be familiar to audiences from Train To Busan and The Good, The Bad, The Weird, more or less carries a film which has no shortage of colourfully extreme characters. His interview technique is highly effective. "To the truth room," he shrugs, when one hapless gangster isn't sufficiently forthcoming with information. The truth room is a corner of the office which is concealed by what looks like a shower curtain in which Detective Ma slaps some justice into resistant wrongdoers.
As they hustle the hustlers and punch their way through routine policing assignments, it seems that Detective Ma and his men are separated from the bad guys by a badge alone. This is necessary perhaps – the new wave of Chinese gangsters, freshly smuggled into Korea, contains some of the most cold-blooded customers ever to cleaver up a rival and shove his body parts into a suitcase.
The filmmaking approach aims for visceral realism which captures messy violence rather than stylised and elegantly choreographed fight sequences. The camera is belligerently gung ho, flinging us into the fight whether we want to be there or not. The underlit, slightly murky look of the photography does occasionally make it hard to work out just whose limbs are being hacked off, but then arguably it also compliments the grubbiness of the story. This is not a movie which is meant to look nice, after all
The editing is as brisk and decisive as a knife fight; the score brings swagger and sleaze to the picture, but it's frequently drowned out by all the shouting and stabbing. A thrilling climactic fight sequence in an airport bathroom ensures that the film goes out on a high – unlike some Korean films, The Outlaws resists the temptation to overpad the ending with needless exposition.
Production company: Hong Film, B. A. Entertainment
International Sales: M-Line Distribution sales@mline-distribution.com
Producer: Hong-baek Kim
Screenplay: Yun-Sung Kang
Cinematographer: Sung-lim Ju
Editor: Sun-min Kim
Music: Mowg
Main cast: Dong-Seok Ma, Kye-sang Yoon, Chae-yun Cho, Gui-hwa Choi