Christian Bale leads a cast of grotesques in Scott Cooper's over-ripe Edgar Allen Poe 'origin story' for Netflix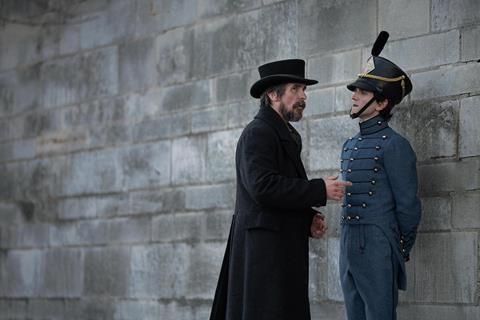 Dir/scr: Scott Cooper. USA. 2022
Louis Bayard's well-received 2006 novel The Pale Blue Eye seems, at first look, to be ripe for cinematic adaptation; there's a series of grisly murders, a hard-bitten detective, an 1830 period setting and, most alluringly, the presence of a young, pre-published Edgar Allan Poe as a military cadet embroiled in the case. Yet something has clearly been lost in translation from page to screen, as that intriguing set-up has been bludgeoned into an overlong, leaden and unsubtle drama that can't even be lifted by its stellar cast.
Rather than lean into the increasingly gothic elements of this spiralling story, the film takes itself far too seriously as a character study of a tortured man
That impressive roster of names, including Christian Bale, Timothy Spall, Charlotte Gainsbourg, Gillian Anderson, Robert Duvall, Toby Jones and Harry Potter star Harry Melling, should be enough to draw attention for the film's December 23 limited UK theatrical release and, more specifically, its January 6 bow on Netflix. How many of those viewers will make it to the final credits is, however, questionable. Cooper has previously made rather more nimble films like Crazy Heart, Out Of The Furnace and Antlers; it seems as if the scale of this adaptation — and the fact that he's been trying to make it for over a decade — has dulled the thrilling aspects of this narrative.
Indeed, an oppressive air of the prestige period drama hangs heavy over the film from its opening scenes, with cinematographer (and regular Cooper collaborator) Mason Takayanagi capturing the grand and snowy vistas of southwestern Pennsylvania (standing in for upstate New York) — a similar landscape to that which he shot for Joe Carnahan's The Grey. Here, however, the action is rather more staid, even though a West Point military academy cadet has seemily hanged himself and then, horrifically, had his heart removed post-mortem.
When a pompous army general pays a visit to gruff local police sergeant Augustus Landor (Bale, reuniting with Cooper following Out Of The Furnace and Hostiles) to demand his assistance, lines are immediately drawn. Whereas the West Point men are clipped, straight-backed and live a life of rules and regulation, Landor is shabbily dressed, frequently drunk and mumbles his way through proceedings like a hard-bitten 1950s PI. That dichotomy between civilisation and savagery should make for some compelling character work, but everyone is drawn in the broadest of strokes that dilute any tension — not helped by the fact that several key scenes serve simply as exercises in exposition.
With clues to the case few and far between, Landor enlists the help of young cadet Edgar Poe (Melling) to act as a spy, infiltrate the academy's central clique and see what he can find out. Poe, an aspiring poet and fellow drinker, is also something of an outsider, and finds a kinship with Landor that, at times, feels far deeper than their partnership would suggest. Melling delivers a heavily-accented turn as the tortured, poetry-loving Poe, who often gets lost in his own floral language; when he falls for Lea (Lucy Boynton), the daughter of academy doctor Daniel Marquis (Jones), things get even more overwrought.
That it's treated as something of a Poe origin story serves to constrain The Pale Blue Eye — connections to The Tale-Tell Heart obviously run through from the title (in Poe's story, a vulture's pale blue eye is the catalyst for muder) to the case, while ravens make a frequent appearance. Rather than lean into the increasingly gothic elements of this spiralling yarn (which reach a fever pitch worthy of Poe's own work) the film takes itself far too seriously as a character study of a tortured man.
That extends to the cast who, responding to the plodding, tonally haphazard screenplay, turn in performances which, alongside Melling's unrelenting intensity, run the gamut from Bale's earnest but lacklustre embodiment of the troubled Landor to Timothy Spall's po-faced (no pun intended) academy head and Gillian Anderson's hysterical pantomime dame of a doctor's wife. And while the film may be focused on the murder of men, the narrative's treatment of its few women — and, in particular, Landor's ill-fated daughter, who is reduced to mere plot device — is similarly foul play.
Production companies: Cross Creek Pictures
Worldwide distribution: Netflix
Producers: Scott Cooper, Christian Bale, Tyler Thompson, John Lesher
Screenplay: Scott Cooper, from the novel by Louis Bayard
Cinematography: Masanobu Takayanagi
Production design: Stefania Cella
Editing: Dylan Tichenor
Music: Howard Shore
Main cast: Christian Bale, Harry Melling, Gillian Anderson, Lucy Boynton, Charlotte Gainsbourg, Toby Jones, Robert Duvall, Timothy Spall