Cheerfully charming debut about three middle-aged former martial arts students who unite to avenge their sifu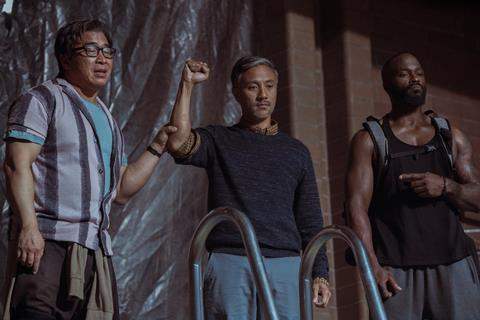 Dir: Bao Tran. USA. 2020. 108 mins
For his debut feature The Paper Tigers, writer-director Bao Tran gives the old martial arts chestnut of students seeking to avenge the death of their slain master an eminently relatable spin. Rather than taking place in the hallowed temples of ancient Asia, the quest here occurs against the altogether less mythic backdrop of contemporary Seattle. Furthermore, the protagonists are not furious protégés in their prime but frustrated middle-aged men whose skills have diminished in tandem with life's inevitable disappointments. It's a premise which enables Tran to pay tribute to the cultural significance of kung fu cinema while emphasising the enduring use of martial arts principles in overcoming everyday challenges.
The emotional beats land just as well as the punches
Receiving its world premiere at the Fantasia International Film Festival, this heartfelt indie production should enjoy further exposure at genre oriented or Asian themed events. Although the film's relatively small scale would seem to limit any larger prospects, its endearing character dynamics and nicely judged sense of nostalgia should lead to fruitful streaming revenues in the long run.
Almost 30 years ago, Danny (Alain Uy), Hing (Ron Yuan) and Jim (Mykel Shannon Jenkins) were firm friends who trained with Master Cheung (Roger Yuan). Since then, they have not only drifted apart but lost individual contact with their sifu. Danny is juggling his corporate career with divorced dad duties; Hing is surviving thanks to disability cheques after taking a nasty fall on a construction job; and Jim is still training but harbours a grudge against Danny from back in the day. However, a belated reunion is brought about when Master Cheung dies in suspicious circumstances and teenage rival Carter (Matthew Page), now a proud instructor, insists that they honour their late mentor by determining whether he has in fact been murdered.
This amateur investigation prompts a re-immersion in the local martial arts community which now includes arrogant young pretenders who have trained themselves through YouTube videos and a gym that serves as a breeding ground for underworld assassins. The three middle-aged men rebuild their friendship by throwing themselves into a series of bouts against better conditioned opponents. These matches leave their egos as bruised as their bodies, but also see them inch closer to pinpointing the killer's identity.
It's a largely harmonious blend of action, comedy and drama which derives much of its buoyancy from three well-cast leads who generate a credible sense of reconnection. Uy deftly handles the most developed character arc which sees his flailing father Danny belatedly realising that reviving the principles of his youth may be the key to a better relationship with his son Ed (Joziah Lagonoy). This leaves the muscular Jenkins to bring the intensity and the affable Yuan to provide humour as the still enthusiastic disciple whose ardent belief in his master's teachings is embarrassingly undermined in practice by a bad leg. Yet the biggest laughs come from Page as the pompous, steroid-enhanced Carter, a Caucasian who has appropriated an Asian identity and communicates almost entirely through philosophical sayings ("When the hands cross, all will be revealed.") It's a performance that risks tipping into caricature, but the genial tone ensures that Carter is portrayed as a fully fledged member of an inclusive community.
If the film doesn't quite transcend its budget restrictions, it's nonetheless cleanly shot by cinematographer Shaun Mayor while the showdowns are distinguished through varied location choices (a drained swimming pool, a dojo, the Chinatown pier). The contained and somewhat playful nature of some of these fights means that the action on display is not exactly jaw dropping but Ken Quitugua provides precisely detailed, suitably grounded choreography which adheres to genre tradition by revealing character traits through motion. Although amusement is mined from having these 'tigers' pull hamstrings in a bid to recapture past form, Tran also reinforces the importance of learning from mistakes to make incremental improvements. Indeed, the real adversary facing these faded heroes is fragile masculinity with the emotional beats landing just as well as the punches thanks to Kris Kristensen's measured editing.
The Paper Tigers will resonate most strongly with Asian American audiences who should delight in how backstory scenes recreate a particular 1990s milieu through flickering VHS footage. However, its affectionate use of genre tropes and amiable performances make it a pleasing diversion for any mature martial arts movie fan.
Production companies: Persistence of Vision Films, E3 Productions, BNG Films, MADMOTO Productions
International sales: AMP International, james@amp-film.com
Producers: Michael Velasquez, Al'n Duong, Yuji Okumoto, Daniel Gildark
Screenplay: Bao Tran
Production design: Wing Lee
Editing: Kris Kristensen
Cinematography: Shaun Mayor
Music: Daniel L.K. Caldwell
Main cast: Alain Uy, Ron Yuan, Mykel Shannon Jenkins, Jae Suh Kim, Matthew Page