Layla Mohammadi is a standout in Maryam Keshavarz's crowdpleasing Iranian-American drama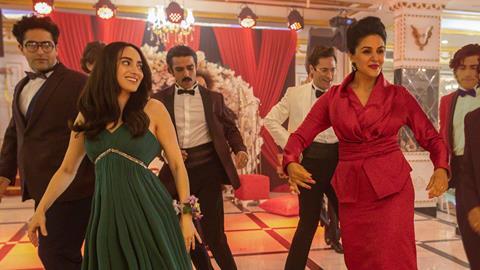 Dir/scr: Maryam Keshavarz. US. 2023. 107mins
Unpicking the snagged threads of family history brings peace, love and understanding in The Persian Version, Maryam Keshavarz's joyous autobiographical tale which takes personal dramas and teases out wider reflections on the challenges of a dual cultural heritage and the quest for individual identity. The combination of exuberant energy, wise-cracking humour and warmhearted emotion makes for a captivating crowdpleaser, as evidenced when it won the Audience Award in the US Dramatic Competition selection at Sundance.
What impresses throughout is Keshavarz's control of the narrative and command of the medium
It's Keshavaraz's second such award at Sundance after her debut film Circumstance in 2011. She dedicates this, her third feature, to her mother, her grandmother 'mamanjoon', her daughter and "all the fierce Iranian woman". By the end of the film, you feel she has done them justice.
The early stages of The Persian Version have a real bounce in their step. The editing brings snap and crackle to the breezy pace as we are plunged into the world of Leila (Layla Mohammadi), who swaggers through the streets of New York, heading to a Halloween party in a costume that earns the comment " nice cultural commentary". The combination of a hot pink tankini and a shimmering blue naqib is a striking visual nod to her Iranian-American roots. She certainly catches the eye of English actor Max (Tom Byrnem in Hugh Grant mode) who is currently on Broadway in 'Hedwig And The Angry Inch'. Their brief night of passion is unexpected for many reasons – not least the fact that Leila has recently split from her wife Elena (Mia Foo).
Leila provides a caustic commentary throughout the film, sometimes directly to camera. She reflects on her life as a neurotic writer/filmmaker with lots of hang-ups about her dual heritage identity, and there are echoes of vintage Woody Allen or Lena Dunham in her witty self-examination. Keshavarz keeps the mood buoyant as the film provides a potted history of American-Iranian relations using tightly-edited, fast paced montages of photos, newsreels and animation. Titles provide the time and location of a story that journeys from the 1960s to New Jersey in the 2000s. Leila is always acutely aware of being caught in the middle; celebrating both Thanksgiving and Persian New Year, for instance. At school in America, she is called a "smelly terrorist" – at school in Iran the epithet is "smelly imperialist."
The only girl in a family with eight brothers, Leila's greatest source of conflict is with her formidable mother Shirin (Niousha Noor). As the focus shifts from Leila's chaotic personal life to Shirin's story, there is a more measured, thoughtful feel to flashbacks that tell of Shirin's early life and the mysterious scandal that Leila feels might be the key to understanding everything There is a growing appreciation for a woman who was married at 13, moved the family to America and showed a remarkable tenacity in raising her children and becoming the family breadwinner after the heart problems faced by Leila's doctor father Ali Reza (Bijan Daneshmand).
The Persian Version is full of revelations and insights, family gatherings, bedside vigils and a terrific group dance to Rostam Batmanglij's reworking of Cyndi Lauper's 'Girls Just Want To Have Fun'. What impresses throughout is Keshavarz's control of the narrative and command of the medium. She seems to be constantly dipping into a dressing up box of styles as the film moves from screwball comedy to family drama, Scorsese-like intensity when Shirin becomes a successful realtor in the 1990s to spaghetti western vengeance as a young Ali Reza (Shervin Alenabi) faces a day of reckoning in the 1960s.
Keshavarz uses every craft element to serve her vision, from the lush cinematography of Andre Jaeger, to the eye-popping colours in the production design and a terrific ensemble cast. The host of notable performances include Bella Warda as a wise, perceptive Mamanjoon, a tremendous Niousha Noor as Shirin and Kamand Shafieisabert as the young Shirin. The stand-out is Layla Mohammadi who captures all the contradictions and complexities of Leila from anger to defiance, longing to resilience. In the end, her struggle is to be true to herself, just like her mother before her.
Production companies: Stage 6 Films, MaraKesh Films, Archer Grey, AGX, A Bigger Boat, City Boy Hands
International sales: UTA. RonsonR@unitedtalent.com
Producers: Maryam Keshavarz, Anne Carey, Ben Howe, Luca Borghese, Peter Block, Corey Neal
Cinematography: Andre Jaeger
Production design: Firat Yunluel
Editing: Abolfazl Talooni, Joanne Yarrow
Music: Rostam Batmanglij
Main cast: Layla Mohammadi, Niousha Noir, Kamand Shafieisabet